Multivendor marketplaces have become increasingly popular. Nowadays, anyone can create an online marketplace using WordPress without having coding experience. At the same time, it's easier for any online seller to sign up for a marketplace and start selling products without launching his/her own eCommerce website.
But how did this phenomenon come about?
In this blog, we'll jump into the evolution of multivendor marketplaces, tracing their roots back to the early days of eCommerce. From there, we will discuss how WordPress has become as a powerful platform for creating multivendor marketplaces.
But it doesn't stop there! We'll also explore the key characteristics that make WordPress multivendor marketplaces unique and appealing. We'll discover the essential features and functionalities that empower vendors to showcase their products, manage their inventory, and connect with customers seamlessly.
So, if you're ready to embark on this exciting journey of discovery, strap yourself in and get ready to uncover the fascinating WordPress multivendor marketplace history. Let's get started!
First Thing First: What's the Concept of a Multivendor Marketplace?
The concept of a multivendor marketplace revolves around creating an online platform where multiple sellers can come together to sell their products or services to a wide range of customers.
Unlike traditional eCommerce models where a single retailer sells its own products, a multivendor marketplace acts as an intermediary, providing a platform for various sellers to showcase and sell their offerings.
In a multivendor marketplace, the platform owner provides the infrastructure, technology, and tools necessary for sellers to create their own virtual storefronts within the marketplace. Each seller has their own account and manages their products, inventory, and pricing.
Customers visiting the multivendor marketplace have access to a diverse range of products or services from multiple sellers, often in various categories or niches. They can browse through different seller profiles, compare prices, read reviews, and make purchases directly from the sellers.
Related: What is a Marketplace: History, Types, Features, and More Facts You Should Know
WordPress Multivendor Marketplace History- A Historical Evolution Towards Popularity
The story begins with the emergence of WordPress as a widely used content management system (CMS) for websites and blogs. Originally launched in 2003 as a blogging platform, WordPress quickly gained popularity for its intuitive interface, customizable themes, and extensive plugin ecosystem.
Recognizing the potential for expanding beyond traditional blogs, developers, and entrepreneurs started exploring ways to transform WordPress into a full-fledged eCommerce solution.
That's how WooCommerce came to the scenario. WooCommerce is a WordPress plugin that helps to create online stores without any hassles. Let's talk about that.
Rise of WooCommerce- The eCommerce Plugin for WordPress
One of the pivotal moments in the history of WordPress Multivendor Marketplace was the introduction of the WooCommerce plugin in the year September 7, 2011.
It was founded by three young innovators named Adii Pienaar, Magnus Jepson, & Mark Forrester. It was initially launched by the company name WooThemes. Later in May 2015, WooThemes was acquired by another tech giant Automattic and renamed to WooCommerce.
With its easy-to-use interface and powerful functionality to create an online store instantly, it becomes everyone's go-to solution for creating eCommerce stores.
As an open-source plugin for WordPress, WooCommerce currently holds a record of around 40% of eCommerce market share.
But WooCommerce didn't satisfy the urge of creating multivendor marketplaces because that time it had no multivendor support.
To fill that void, developers started building WordPress multivendor plugins.
As a result, the first full-fledged WordPress multivendor plugin- Dokan came to the scene followed by some other plugins.
Now let's discuss how the multivendor plugin makes it easier to create WordPress multivendor marketplaces.
Rise of WordPress Multivendor Plugins
To turn a WordPress eCommerce site into a multivendor website, you'll need a WordPress multivendor plugin.
Nowadays there are several popular WordPress multivendor plugins available around you. Some noticeable plugins are Dokan Multivendor, WC Vendors, WC Marketplace, and YITH WooCommerce Multivendor.
Dokan was the first full-fledged WordPress multivendor plugin that has made the process of turning any website into a multivendor marketplace in a few clicks.
Dokan was first released in March 2014 as a theme for WooCommerce. After getting a huge positive response, weDevs – the team behind the Dokan theme decided to release it as a plugin for WordPress.
As a result, in September 2014, weDevs released the first version of the Dokan multivendor plugin. And as of now, Dokan is the most popular WordPress multivendor plugin with more than 60K active installations.
WordPress Multivendor Marketplace Growth in Recent Years
If we look back a few years back, creating a multivendor marketplace wasn't easy. Even though there was the availability of top multivendor marketplace solutions like Dokan, still you had to manually implement out-of-the-box features like vendor analytics, user switching, etc.
But nowadays, you can literally design and implement anything related to the multivendor marketplace using the top available multivendor solutions.
Even you can handle a sudden spike of traffic on your multivendor marketplace without slowing down your site. Multivendor solutions have had such support in recent times.
Also, tracking shipping status, handling TAX, creating booking or auction marketplace, managing downloadable products, etc., all have become much easier nowadays. Regardless to say, these were the nightmares for a multivendor marketplace owner to manage a few years back.
In short, now we can say that if you imagine anything, you can implement that with the available multivendor marketplace solutions.
Multivendor Marketplace VS eCommerce Single Store- What are the Differences?
An eCommerce single store is like a grocery shop, on the other hand, a multivendor marketplace is like a shopping mall. You'll get a number of shops in a shopping mall. That's the difference in general.
Here we have created a comparison table between the multivendor marketplace and the online single store for you. Check it out to get a more clear idea:
| | | |
| --- | --- | --- |
| | Online Single Store | Multivendor Marketplace |
| Structure | Operated by a single retailer or brand | Hosts multiple independent sellers |
| Product Variety | Typically focuses on a specific product range | Offers a wide range of products from various sellers |
| Competition | Limited or no direct competition within the store | Sellers compete with each other for customers |
| Commission/Fees | No need to share any commission or fee with anyone | Sellers have to share a commission or fee for each sale with the marketplace owner |
| Administrative Effort | The sole responsibility for all administrative tasks | The marketplace owner manages the overall platform and support |
| Customer Base | Relies on its own customer base and marketing | Provides access to a larger customer pool |
It's important to note that each model has its own advantages and considerations.
A multivendor marketplace offers a broader product selection and allows independent sellers to reach a wider audience. On the other hand, an online single store provides more control over branding, inventory, and customer experience.
The choice between the two depends on the specific goals, resources, and business model of the seller or platform owner.
Related: Online Store vs Marketplace: Everything You Need to Know
WordPress Multivendor Marketplace Characteristics- 7 Key Points for a Successful Multivendor Marketplace
There are hundreds of multivendor marketplaces available right now around the world. And this number is increasing every day. If you want to adhere to this race, you have to ensure some common characteristics on your site that online buyers and sellers expect from a marketplace.
To help you in this regard, we have researched and prepared a list of characteristics that a marketplace should implement. First, take a quick look at the list:
Easy Vendor Registration and Store Setup Process
Multiple Commission Management System
Simple Product Management and Inventory Control Policy
Advanced Shipping Management System
Multiple Payment Gateway Setup
Public Review and Rating Method
Easy-to-Use Search and Filtering Options
Now let's explain each of the points so that you can easily understand what's this list about. Here is our first point-
1. Easy Vendor Registration and Store Setup Process
To make your newly created marketplace successful, you'll need vendors on your site. You can attract vendors with a stunning designed registration form. By providing an easy-to-use registration process, sellers can quickly join the marketplace and set up their individual stores.
A seamless store setup experience allows vendors to customize their stores to align with their branding and product offerings. You should ensure smooth store setup settings so that vendors can upload their logos, write compelling store descriptions, and choose from various themes or templates to create visually appealing storefronts with ease.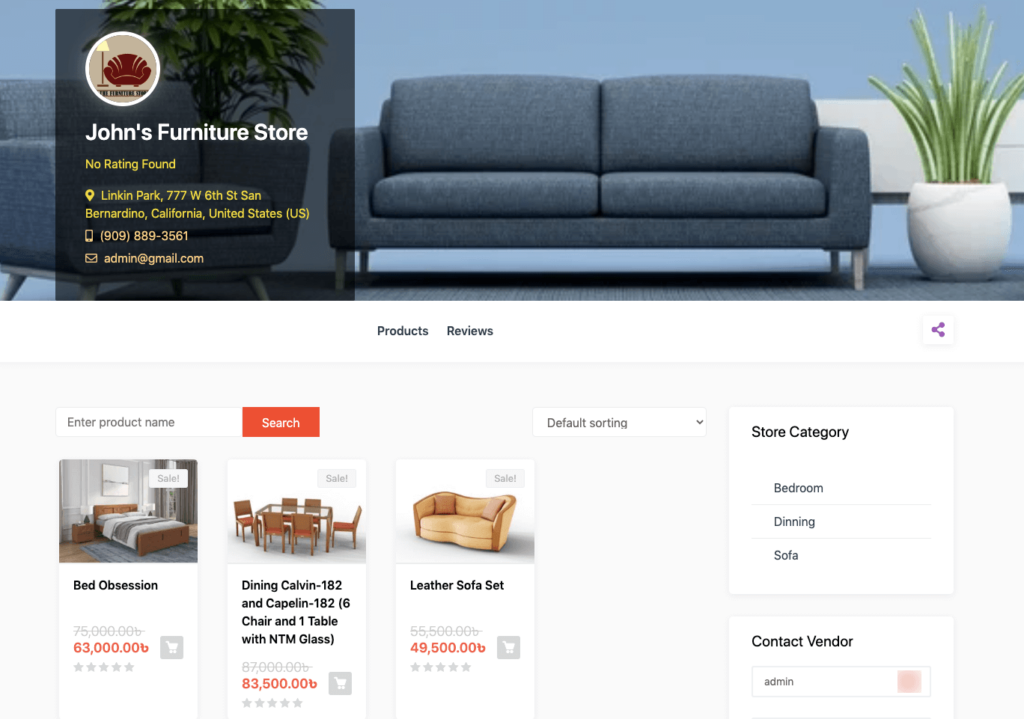 2. Multiple Commission Management System
Let's say you're a vendor in a multivendor marketplace, and you've made a sale. With commission management, the marketplace ensures that you and the platform operator are both rewarded fairly for your efforts.
The platform sets a predetermined commission rate or fee structure, clearly outlining the percentage or amount that will be deducted from each transaction as the platform's commission.
This transparent system benefits both vendors and the marketplace operator. As a vendor, you can have peace of mind knowing that your earnings and the corresponding commission are accurately calculated and recorded. The marketplace operator, on the other hand, can generate revenue to sustain and improve the platform.
3. Simple Product Management and Inventory Control Policy
Product management enables vendors to efficiently add, edit, and update their product listings. Vendors can categorize their products, set pricing, and specify variations if applicable, such as size or color options. This ensures that customers have clear and accurate information when making purchasing decisions.
Inventory control is another important aspect of product management.
Vendors need to track and manage their available stock to prevent overselling or discrepancies between online listings and actual inventory.
So, make sure your marketplace allows vendors to easily manage their products and inventory.
4. Advanced Shipping Management System
Imagine you're a vendor in a multivendor marketplace, and you've just received an order for one of your products. With the shipping management feature, you can easily manage the entire shipping process.
You can set your shipping rates based on factors like product weight, destination, or shipping method. This flexibility allows you to account for different shipping scenarios and offer competitive rates to your customers.
Also, shipping management enables you to choose from various shipping carriers, such as UPS, FedEx, or local postal services. You can select the carrier that best suits your needs in terms of cost, reliability, and delivery speed.
Your marketplace should provide integration with these carriers, allowing vendors to generate shipping labels and track shipments directly from their vendor dashboard.
5. Multiple Payment Gateway Setup
By integrating popular and trusted payment providers like PayPal, Stripe, or Razorpay, you give customers the convenience of choosing their preferred payment method. This flexibility not only enhances the overall shopping experience but also increases customer confidence in making transactions within the marketplace.
Secure transactions are of utmost importance in a multivendor marketplace. Customers need to feel safe when sharing their payment information.
By implementing robust security measures, such as SSL encryption, you can protect sensitive customer data. As an admin, you prioritize the security of transactions to maintain the reputation and credibility of the marketplace.
6. Public Review and Rating Method
As an admin, you understand the importance of creating a platform where customers can share their experiences and opinions. By enabling reviews and ratings, you empower customers to express their thoughts about the products they have purchased.
This feedback not only helps other customers make informed decisions but also acts as a valuable resource for vendors to understand their strengths and areas for improvement.
Reviews and ratings also serve as a mechanism to ensure the overall quality of vendors and their products within the marketplace. Customers can rate their shopping experience and provide detailed reviews about the products they have received.
This feedback becomes a powerful tool for you as an admin to monitor vendor performance and take necessary actions to maintain the marketplace's reputation.
7. Easy to Use Search and Filtering Options
Implementing robust search functionality is crucial to ensure that customers can easily discover products within the marketplace. This includes implementing a search bar prominently on the marketplace website, allowing customers to enter keywords or product names to find relevant results.
Filtering options enhance the search experience by allowing customers to refine their results based on specific criteria. This could include filters such as price range, brand, category, color, or any other attributes relevant to the products offered in the marketplace.
By providing a variety of filters, customers can quickly narrow down their search and find products that meet their specific requirements.
These are the common types of characteristics that every multivendor marketplace should implement to ensure a smooth user experience. But if you want to create a particular type of marketplace like an auction or booking marketplace, you should implement these characteristics:
Easy to Handle Auction Process
An online auction marketplace is a virtual platform where individuals or businesses can buy and sell goods or services through a bidding process. It operates similarly to a traditional auction, but it takes place online, allowing participants from various locations to participate in real-time.
Nowadays, creating an auction marketplace is not complicated. The Dokan multivendor plugin has a dedicated auction module to easily create auction marketplaces. If you want to create an auction marketplace, you can do it within a few hours using the Dokan plugin and its auction module.
This is an example of what Dokan powered auction marketplace looks like:
Simple Booking System
A booking marketplace is an online platform that facilitates the booking and reservation of various services or accommodations. It connects service providers or hosts with potential customers, allowing users to search, compare, and book services or experiences conveniently through a centralized platform.
Again, the Dokan multivendor plugin has a dedicated feature to create any type of online booking marketplace. You can simply use this module called "Dokan WooCommerce Bookings" to ensure all the booking functionalities on your booking marketplace.
Here is an example of how Dokan booking features work:
Bonus: Types of Multivendor Marketplace That You Can Create with WordPress
You can create any kind of online marketplace using WordPress. Here are the main types of multivendor marketplaces that you can create anytime in WordPress:
General Marketplace: This is a versatile multivendor marketplace that allows vendors to sell a wide range of products across different categories. Amazon, eBay, Walmart, etc. are examples of the online general market.
Niche Marketplace: A niche marketplace focuses on a specific industry or product category. For example, it could be a marketplace exclusively for handmade crafts, organic products, or vintage items.
Service Marketplace: In a service-based marketplace, vendors offer various services rather than physical products. It could include freelancers offering graphic design, web development, and writing services, or even professionals providing home repair, tutoring, or event planning services.
Rental Marketplace: This type of marketplace facilitates the rental of products or services. It could include platforms for renting vacation homes, equipment, vehicles, or even event spaces. Vendors can list their available rentals, and customers can book them for a specific period, making it a convenient platform for both providers and renters.
Digital Products Marketplace: This marketplace focuses on selling digital goods such as software, ebooks, music, or online courses. It provides content creators and experts a platform to monetize their digital creations.
Multivendor Marketplace History- Key Takeaways for You
eCommerce has changed the way of business worldwide in recent days. Now almost everything is available online. You can buy anything anytime from anywhere.
In this blog, we have tried to address when did this actually happen- the evolution of eCommerce. We have shown how the online multivendor marketplace concept became so popular and people built different solutions to create an online multivendor marketplace within a few hours with a minimal budget.
If you still have queries regarding multivendor marketplace history, you can let us know in the comment box below without hesitation. We would love to hear from you. Thank you.
Subscribe to Dokan blog
We send weekly newsletters, no spam for sure!