Today, we bring you another exclusive interview this week with one of our most loyal Dokan Multivendor users. This time it is Melissa McGovern, a founding partner of Hawk and Peddle. They are one of the rapidly growing multi-vendor marketplaces of UK. We, the weDevs team feel extremely delighted to be a part of their successful journey.
Know About Our Valued Dokan Customer
We had the opportunity to have an interesting conversation with Melissa. We discussed –
the origin of their idea
the business model
challenges and obstacles
experience with Dokan and lots of other things.
Keep on reading this post for the interview-
Q: Tell us about your business in details. How did you get started?
A: We are Hawk and Peddle, UK's newest curated online marketplace. We've been building the business for two years. We're now actively working towards bringing on new vendors to work with us and grow our community of sellers.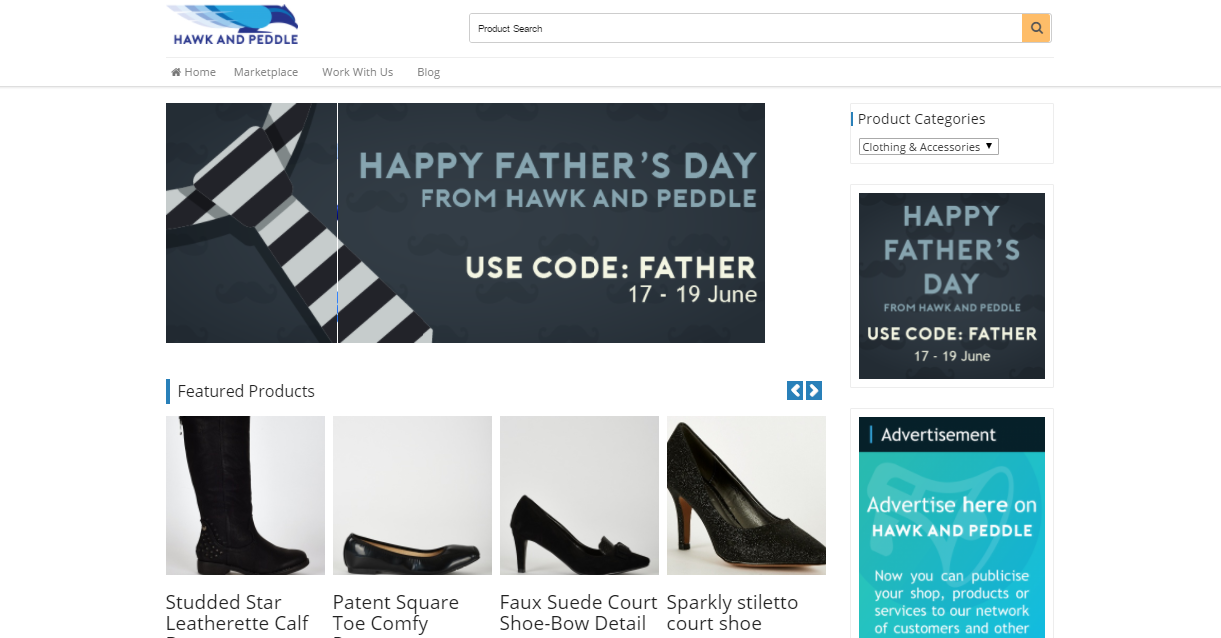 We began as an idea while working in a windowless office, delivering IT Projects and wishing for something better. We would spend hours whimsically throwing "what if…" ideas across the table. It didn't take long for us to turn those "What if …." ideas into "Why not …" actions. From that moment onward, we had an idea that continued to grow and we took action on it.
The core values within Hawk and Peddle are community and relationships. We are different from other online marketplaces as we are striving to build a platform that allows a community to grow and interact. We believe that we will grow if our community does.
Our priority is to ensure that our community of vendors have everything they need to allow them to focus on selling their products.
Q: What initial barriers did you face when you started it? What methods did you follow to overcome the challenges?
A: We have two primary challenges that remain with us to this day. The first is knowledge of how to build a business of this type. We have lots of skills and knowledge but there is so much to learn and understand when growing a new business and we certainly don't know it all. The second is time, of which we have the same amount as everyone else. Since Hawk and Peddle is being grown while we hold day jobs and juggle families, our time is far less. Being able to fit everything into the short amount of time that we have can be challenging and there are days where if feels hopeless. It's when we have the small successes that we are reminded that this is all worth it and we will be a successful business if we keep working hard and staying focused.
Q: Could you tell us which marketing approaches do you follow for your marketplace? Clearly, it is difficult for a product marketplace to make a solid point of differentiation from competitors.
A: We're currently working on our marketing plan to really put our business into the spotlight and this will result in a combination of digital media such as Blogging, Facebook, Twitter, YouTube, LinkedIn, etc. We also have plans to research people and reach out directly to them. Because our focus is community and relationships, we want people to recognize our faces and not just know our names. We want to be real people, working with real people and the face-to-face aspect of this is very important. While we continue to build our Marketing Plan, we are actively using our blog, Facebook, Twitter, Pinterest and Instagram which is bringing new people to our site.
Q: So, what made you choose Dokan for your multi-vendor marketplace?
A: While searching for the right software to support our businesses, Dokan was the one product that really ticked all of our boxes. We wanted to be able to host multiple vendors on our platform and Dokan does this incredibly well. The learning curve of launching a new business can be steep so working with Dokan made this much easier as it is very simple to install and maintain. The cost of the Pro version was small and provides us with peace of mind that we are getting good support from weDevs if we do have a question or issue.
There really was no other choice but to work with Dokan.

Q: How are you using different Dokan features to grow your business?
A: We use Dokan add-ons such as Dokan Subscription to manage our vendor subscription payments, Dokan Live Search to allow for easier searching of products across the entire platform. Dokan Seller Vacation provides an excellent method of communicating to customers about when their purchases can be expected to be shipped. We have plans to add more extensions very soon with Dokan Product Enquiry being the next in our road-map.
Q: Share your experiences with Dokan add-ons so far.
A: By using the Dokan add-ons, we have been able to be more flexible in how we work with our vendors. The add-ons allow us to provide a better range of functionality for all of the customers who visit us at Hawk and Peddle.
Q: What do you think is the best thing about Dokan multi-vendor eCommerce solution?
A: Dokan is so simple to use and yet it is very rich in functionality to enable multiple vendors to work on a single platform and grow their businesses.
Q: Piece of advice to someone who is considering to build their multi-vendor marketplace from scratch?
A: Don't look any further than Dokan and weDevs for your multi-vendor marketplace. The product is easy and quick to get you up and running in no time and the support you receive from weDevs is efficient and helpful.
The functionality delivers everything that you need to grow your marketplace.
Be The Next One!
Are you using Dokan and interested to share your story? Feel free to give us a buzz.
And if you haven't checked out the best multivendor marketplace builder yet, you can learn more about it from here.
Subscribe to
Dokan blog
We send weekly newsletters, no spam for sure!