Health is indeed our wealth. But sometimes most of us tend to forget that. In this world of available lucrative junk food joints in every corner of the streets, it is indeed difficult for us to stay healthy. But nowadays, a lot of healthcare marketplace trying its best to encourage people to stay fit and healthy in life.
One such health, nutrition, and the sports-based marketplace is JOSHi.at which has made quite a mark in the area of promoting quality health and nutritious items to clients. But do we know some interesting insights and the success story of such a noble marketplace running their business in action? Well, if not then let's find out
Introducing Team JOSHi & The Journey It Prevailed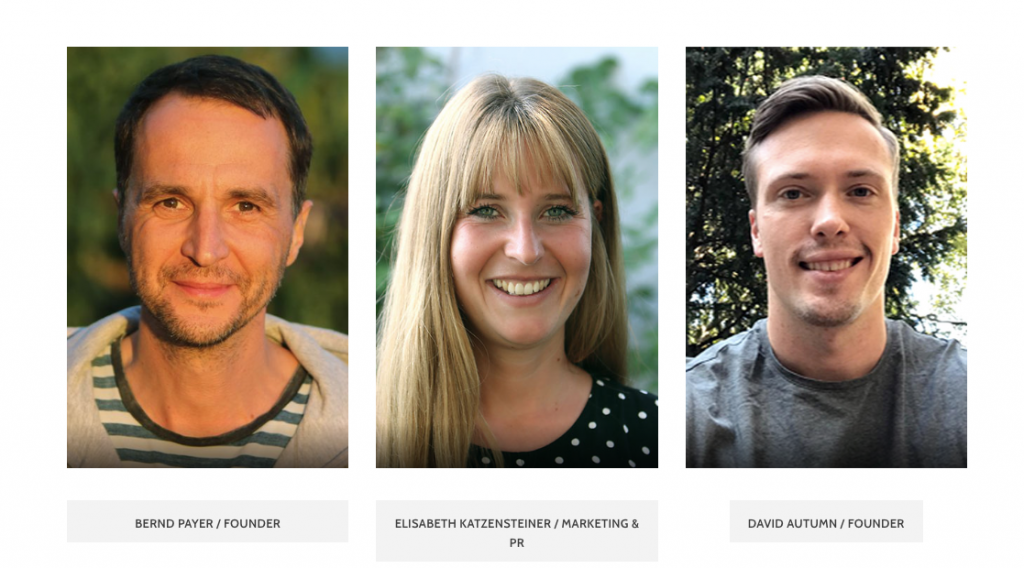 Team JOSHi believes
Nutrition, health and sports are the themes of the game because they affect each and every one of us personally and have a huge impact on our lives
Like in every successful business, it requires a hardworking and dedicated team to help it progress. JOSHi Marketplace for health, nutrition & sports has an enthusiastic team in the form of Bernd Payer, Elisabeth Katzensteiner & David Autumn, who are currently managing the marketplace to take it to its success.
Basically – I personally think that marketplaces are the future in the online-selling-market

Bernd Payer
The idea of setting a healthcare marketplace was formed in July of 2017. It started to set up its development team in October 2017 and by May of next year, Joshi.at was all set to be launched online.
JOSHi marketplace is currently based in Austria and it is providing the web services, the payment process and the marketing for all vendors on the platform (social media, SEO, newspaper, online marketing, etc.) so that the vendors can concentrate on their products and services. It does interviews and blog posts for all its vendors as well. It also tests all products with the JOSHI team before they actually decide to launch the vendor's shop online.
What Drove 'JOSHi' Into Getting Dokan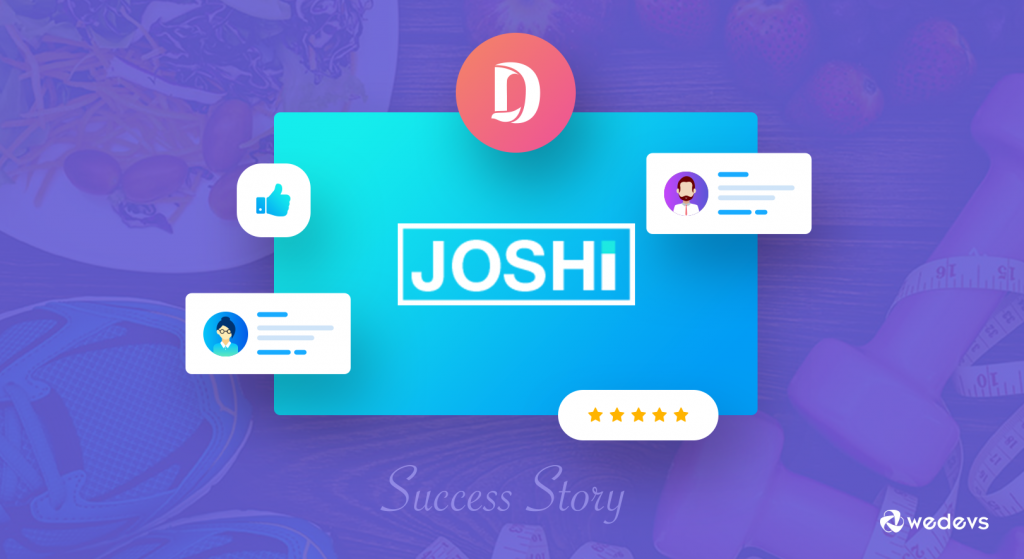 I tested a few ones but Dokan was the only one which fits our requirements

Bernd Payer- JOSHi Founder
JOSHi Founder Bernd Payer was looking for a few weeks to find a fair-priced vendor software for WooCommerce which gives him the highest flexibility and best interface for vendors and admins.
After testing several marketplaces he found only Dokan to be an easy-to-use solution and since he was not a developer, so he needed a solution that helps him to concentrate on his business rather than getting him tangled in complex codes. This is when he realized Dokan is the perfect solution for them to build their WooCommerce based healthcare marketplace.
Marketplaces nowadays are growing faster than ever and Dokan works pretty well with 3rd-party-plugins and other themes that give Team JOSHi huge flexibility.

Dokan is a solution for us to provide a fully automized shop-in-shop-system with a very helpful commission-calculation and reports to do all financial details with the vendors

Bernd Payer, Founder JOSHi
So now JOSHi is using Dokan for its idea to provide a multi-vendor-platform in nutrition, health and sports. With Dokan now his vendors can offer goods or bookings. Every vendor has different shipping conditions and is doing the shipping themselves. All the vendor gets a separate profile-page where they can present themselves and their services with text, pictures videos and as well as interviews.
Certainly, all these reasons were enough for the founder of JOSHi.at to turn to DOKAN multivendor– The WooCommerce based marketplace solution that he was badly looking for.
'JOSHi' Marketplace at a Glance
Home

This is the page you get into once your enter JOHSi.at on your browser. The homepage instantly gives you the vibe of a marketplace that is promoting health, nutrition, and sports-related products.
Categories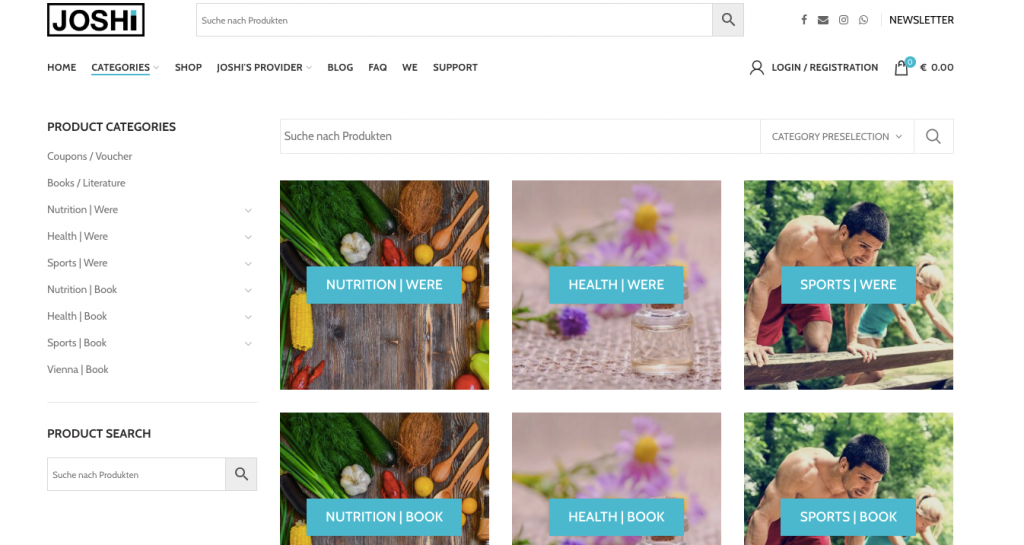 Getting to this menu of the marketplace will provide you with products categorized in several sections for your convenience. You can select various product categories from the left side column, search for your desired products or even filter your search options.
Shop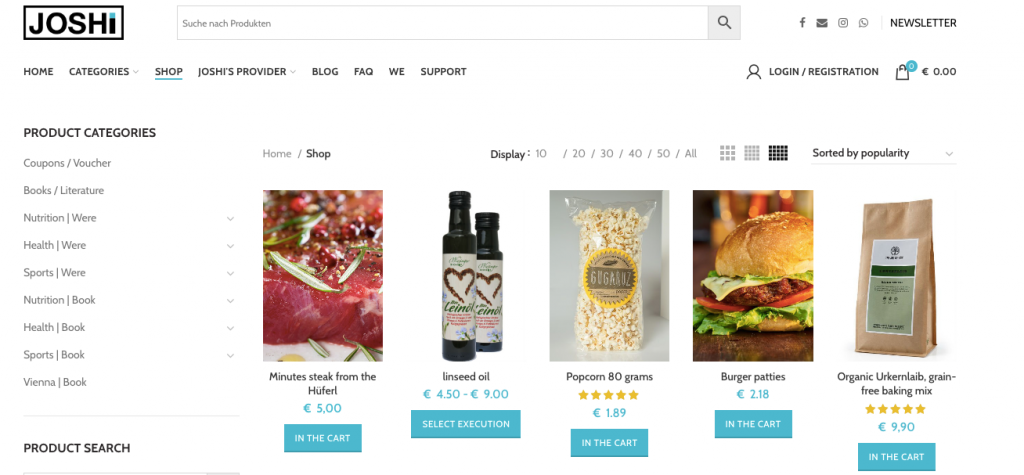 The Shop menu right here enables the visitor to cart any available products on the page. There is a Select Execution option for products with a range of prices. Any potential clients can sort the products on this page. And it can be done based on popularity, average ratings, newest, price low to high and high to low.
JOSHi's Provider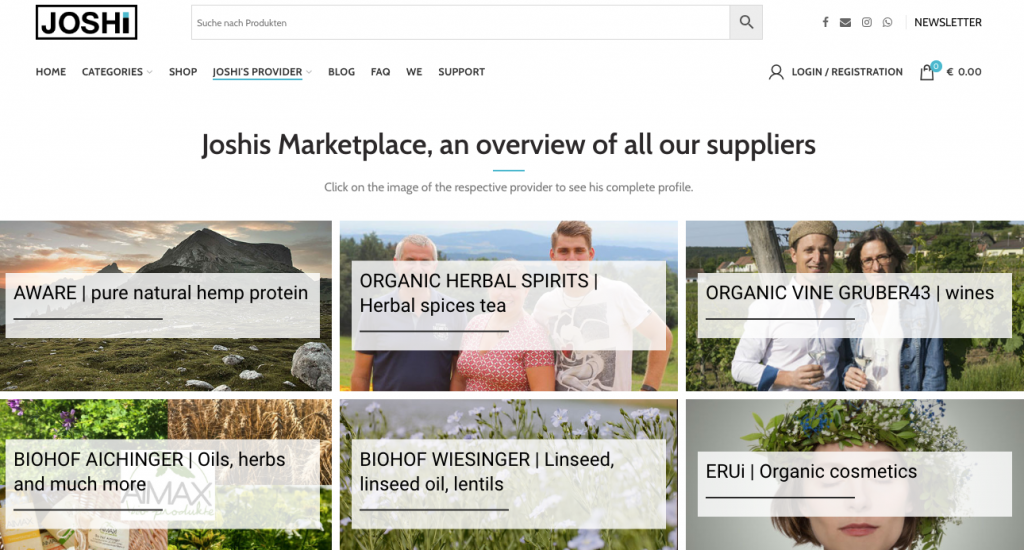 This tab displays all the enlisted suppliers of JOSHi. Any customer can click on individual images to get a complete overview and profile of each respective provider.
Blog & WE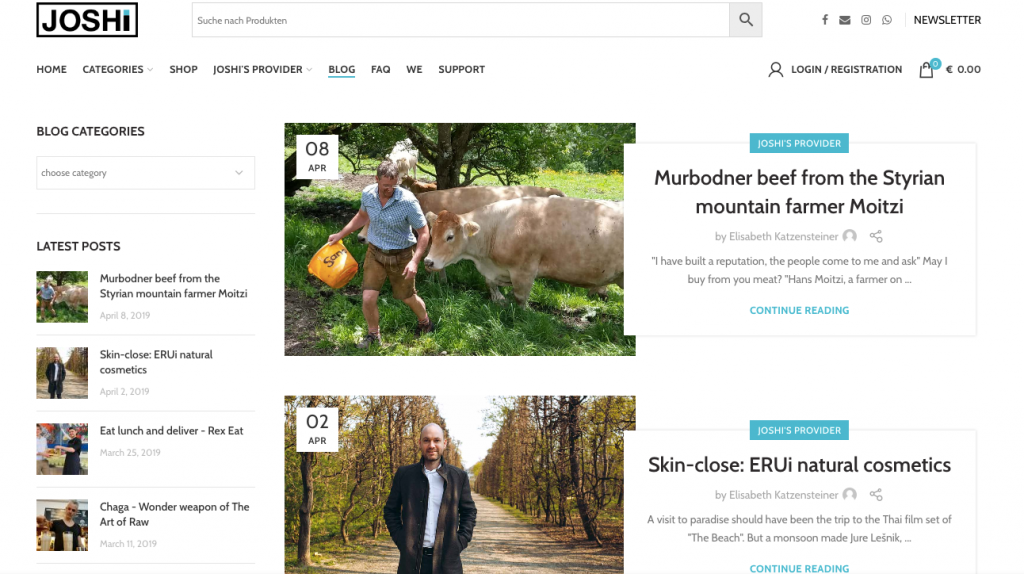 The marketplace also hosts blogs from its reliable suppliers as well as post from other users in this tab. The blogs are categorized into several relevant sections at the top of the page. All the latest posts published on the site are listed on the left side of this page.

The WE tab shares the ideology, concept, vision, and goal of Team JOSHi. It also highlights some useful facts and figures regarding the Austrian population.
FAQ & Support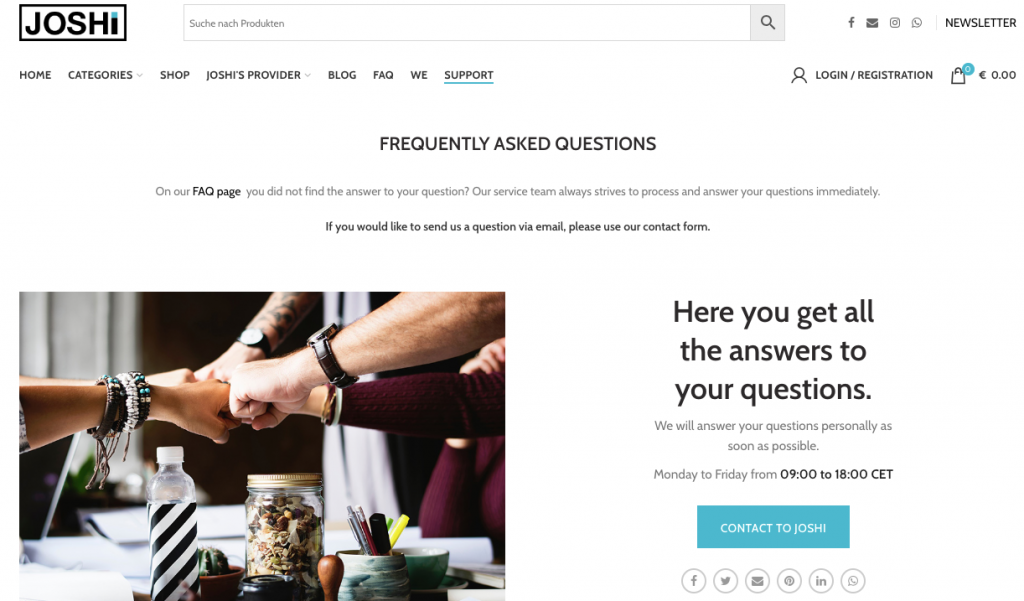 This is where a visitor of the marketplace gets all their queries answered. Anyone can visit this page and get an answer to all the frequently asked questions. If FAQs aren't enough, people can easily reach Team JOSHi from this page for any kind of queries or information they might need.
Future Goal, Vision & Expectations of Team JOSHi
JOSHi right now has 3500 new visitors on their platform since the time it launched and it has around 20 vendors in the meantime. The idea with their topic was very new so it will take a while for them to grow. JOSHi want to give niche markets a chance to sell online fully automized without building an own shop and needing to spending a lot of money on marketing.

A healthy life does not have to be complicated and exhausting!

Team JOSHi
Team JOSHi feels that in this vast and thick jungle of the Internet, it is often difficult to find those high-standard local providers of nutritional concepts and sound exercise.
The effort & ideas of vendors and producers often remain ineffective if they do not spend enough time and money on marketing or advertising. This is where JOSHi believes that they can come in handy making the products of all those Austrian producers of healthy products visible and wanting to introduce all those top-notch providers in the sector of health and sport out of the curtain.
We want to make healthy, regional and sustainable food easily accessible

Team JOSHi
With the rise in consumption of sugary, preservatives-filled fast foods, health diseases are at their peak. So, with JOSHi's network of quality suppliers and growers, it looks into encouraging as many people as they can into leading a healthy life and that too without the need of investing too much time in research and purchasing.
Moreover, in the future, JOSHi wants to make access to sports, health, and nutrition as simple, uncomplicated, and modern as possible.

A Few Words of Recommendations
Lastly, leading its way to success with Dokan, Team JOSHi's expectations with it has also reached sky-high. Along with the many praises for Dokan, Team JOSHi also shared its expectations & future recommendation for it.
Being a Europe-based marketplace, JOSHi has to deal with a complicated shipping & tax system. And, since it is not possible to cart different products from different vendors with different taxes, therefore the check-out needs to be done vendor per vendor at the moment. In some cases, this can play as a vital drawback for more such marketplace in Europe that is recommended to be solved soon.
Moreover, along with suggesting some recommendations for Dokan, Team JOSHi was also praised for its friendly and helpful support team. And expected more innovative features to be added in the armory of Dokan in the future updates keeping the standard and quality intact.
Build Your Dream Healthcare Marketplace Today !!
We live in a world where fast foods are up for grab everywhere. Junk foods, sugary items, preservatives are present in most of our food menu these days. So now people need to think more consciously about their health no matter what. With the rise in health hazards due to having an unbalanced diet & consumption of unhealthy foods, more people are tilting towards building eCommerce sites that promote health, nutrition, sports-friendly items, and more just like JOSHi.
And not just the healthcare marketplace that we are talking about, now anyone with a single store WooCommerce site can create their dream marketplace with Dokan starting from Fashion house to Travel site marketplace or from Electronic store to Art house marketplace. With Dokan, just name it and become a proud owner of your favorite marketplace in a jiffy.
So want to give Dokan a try? Then why don't you
Subscribe to
Dokan blog
We send weekly newsletters, no spam for sure!