No doubt that the watch industry is booming, and it could be a great niche to start your online business. But it's a competitive niche as well. Read this blog and get a solid roadmap to create a watch marketplace that makes a profit.
After primary preparations, a major task would be selecting a platform to build your watch marketplace. WordPress can be a strategic choice for your website development. Because it is easy to use and you need no prior experience to create a full-fledged marketplace on it.
Moreover, WordPress offers a vast library of plugins and themes. Many of these tools are designed specifically for building a marketplace for watches.
Where WooCommerce helps you to build an eCommerce site, another WordPress plugin like Dokan Multivendor helps you to turn your single store into a marketplace.
Whether you're selling watches online and want to expand your business or you're planning to create a watch marketplace from scratch, this step-by-step guide gives you a deep insight to accomplish the goal.
Let's dive into the deep by exploring-
Is It Profitable to Build An Online Watch Marketplace in 2023?
As I always say, you must have passion for the sector in which you do business. Passion will drive you to work hard, learn new things, and be innovative. It will also help you to overcome challenges and setbacks.
However, being passionate about watches is not enough to start a business in this competitive field. You must combine your passion with a data-driven and analytical approach.
Let's show you some important statistics on online watch business, so you can decide whether it's a profitable niche for you or not-
The global watch market is growing: The Watch Market size is forecasted to reach USD 97.41 billion in 2023 and is expected to reach USD 124.44 billion by 2028, accelerating at a CAGR of 5.02% during the forecast period (2023-2028).
The online watch market is growing even faster: The COVID-19 pandemic shifted people to online shopping. The watch market was no exception. According to a report by Statista online watch sales increased by 40% in 2020.

The rising craze of stylish looks: The increasing popularity of luxury watches among millennials and Gen Z consumers is another driving factor for the growth of the online watch market. They are also interested in new and innovative watch technologies. This makes smartwatches popular and a part of daily life.
While there are opportunities, there are also some challenges to starting an online watch business.
Challenges to Start An Online Watch Marketplace
Below you can check some common obstacles you may face as a watch marketplace owner-
Competition is fierce: The online watch market is very competitive. There are many other online watch businesses competing for the same customers.
It can be difficult to build a brand: Customers are more likely to buy from established brands that they trust. It would be a little challenging for new brands to gain customers' trust at an early stage.
Smooth customer service is required: Customer service is very important in the online watch market. Customers should have the ability to return or exchange their watches easily if they are not satisfied.
Overall, the online watch market is a profitable industry with a lot of potential for growth.
If you are planning to start an online watch business, it is essential to do your research and make sure that you are prepared to compete in a challenging market.
Read Also: Why eCommerce Businesses Fail & How to Resolve Them.
Understanding the Watch Marketplace Industry
Before diving into the tutorial on creating a watch marketplace, it is essential to understand the dynamics of the watch market. The watch market can be broadly categorized into two segments:
Luxury watches and
Fashion watches.
Luxury watches are high-end timepieces that are often associated with prestige and craftsmanship. These watches are typically manufactured by renowned watchmakers and are known for their unique designs and exceptional quality.
Luxury watch brands include Rolex, Patek Philippe, and Audemars Piguet, among others.
On the other hand, fashion watches are more affordable and are designed to match current fashion trends. Fashion brands often produce these watches and cater to a broader consumer base.
Fashion watch brands include Michael Kors, Fossil, and Daniel Wellington, to name a few.
Modern customers also have a great fascination with smartwatches. Besides showing time and being stylish these watches offer many health and fitness benefits along with other functionalities.
Some popular brands of smartwatches are Apple Watch, Samsung Galaxy Watch, Garmin, Fitbit, etc.
Understanding the distinctions between different types of watches is crucial before creating a watch marketplace. It allows you to design your platform to meet the needs of both vendors and customers in these respective segments.
Subscribe to
Dokan blog
Initial Steps to Create Your Watch Marketplace
This section of the guide shows you the prior steps to make a strong ground for your marketplace. You need to follow these steps carefully so you can carry the further steps ahead with ease.
1. Choose a Specific Niche
The watch market is vast, so it's essential to choose a niche that you're passionate about, knowledgeable in, and that has a market demand. You could focus on a specific type of watch, such as luxury watches, vintage watches, or smartwatches. Or, you could focus on a specific price range, such as high-end watches or affordable watches.
2. Market Research and Competitor Analysis
Once you've chosen a niche, it's important to do your research and understand the market. This includes understanding the demand for watches in your niche, the competition, and the pricing. Additionally, analyze your competitors to identify gaps in the market that you can fill with your unique value proposition.
3. Defining Your Target Audience
To effectively cater to your target audience, you need to define who they are clearly. Consider age, gender, geographic location, and income level. By understanding your target audience, you can customize your offerings and marketing strategies to meet their specific needs and preferences.
4. Develop a Business Plan
A business plan will help you clarify your goals for your watch marketplace as well as your strategy for achieving those goals. It may include information about your target market, business model, marketing plan, and financial projections.
5. Choose a Domain Name and Hosting Provider
Select a domain name that is relevant to your niche and easy to remember. You also require the right WordPress hosting to make sure your site is running smoothly & trouble-free.
6. Install WordPress
Installing WordPress on your website is a relatively straightforward process. After setting up your domain and hosting, install WordPress. Most hosting providers offer one-click installations for WordPress.
If you are new to the WordPress ecosystem, check out this beginner guide on how to build and run a successful WordPress site.
How to Create a Watch Marketplace Using WordPress (5 Steps)
You've configured your WordPress site successfully. Now, it's time to enable marketplace features on your site.
With Dokan multivendor it will take a few minutes only to set up the fundamental base of your marketplace.
Here are the steps to create an online watch marketplace in WordPress:
Install Dokan Multivendor to Configure Your Watch Marketplace
Configure the General Settings of Dokan
Activate A Suitable Marketplace Theme for Your Marketplace
Setup Admin Shop & Upload Products on Your Marketplace
Invite Vendors to Your Watch Marketplace
Let's walk you through all the steps in detail.
Step 1: Install Dokan Multivendor to Configure Your Watch Marketplace
As mentioned above, with WooCommerce, you can instantly turn your WordPress site into an eCommerce shop. But it enables you to run a single store.
In order to enable marketplace facilities you need a multivendor marketplace plugin. Today, we'll use Dokan multivendor to create your watch marketplace.
Dokan is a feature-rich multivendor marketplace solution powered by WooCommerce.
You can install and activate Dokan similar to any other WordPress plugin. First, log in to your WordPress dashboard using personal credentials. Then, go to Plugins→ Add New from the side menu options.
On the right side of your screen, you'll find a search box. Here, type the plugin name "Dokan". Now, install and activate the plugin. It enables all the basic marketplace features instantly on your site.
If you face any problems, check our official document on Installing Dokan Multi-Vendor Marketplace.
Or you can go through the video tutorial of the Dokan installation guide.
Note: Although Dokan is a plugin powered by WooCommerce but no need to install WooCommerce individually. It will be installed automatically when you are installing Dokan.
You've installed Dokan Lite on your website. It is completely Free and gives you enough features to run a multivendor marketplace effectively.
However, with your growing business, you may need many niche-specific features in the future. You can easily upgrade to Dokan Pro by downloading the dokan.zip from /account/downloads/. Next, upload the file on your admin dashboard. Finally, install and activate the plugin.
Fascinatingly, Dokan Pro comes with many exclusive features to take your marketplace to the next level. It offers you different packages and 30+ premium modules.
Step 2: Choose a Dokan Compatible Theme
The base of your watch marketplace is ready. Now you need a beautiful WordPress theme that will complement your watch marketplace.
A well-optimized theme plays a significant role in branding your website. It allows you to customize the site's colors, logo, and other branding elements to ensure consistency with your brand identity. This helps in building brand recognition and trust among visitors.
For your watch marketplace, our Dokani Theme will be a great fit.
However, Dokan works completely fine with any WooCommerce theme, so the options are huge. You can check other themes from WP-Admin → Appearance → Themes.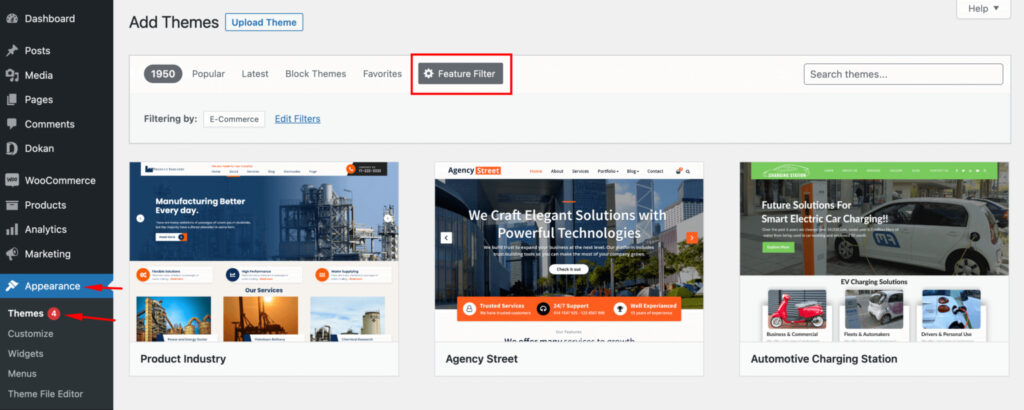 Here is a list of the popular Dokan-compatible themes to make your decision easier.
Also, you can check the Dokan-compatible theme from ThemeForest. There you'll find a rich library of marketplace themes specially designed for the Dokan multivendor.
Step 3: Configure Dokan Multivendor General Settings
As I've told you, Dokan comes with all the required features to run a successful marketplace. You just need to customize the features as per your business needs.
Go to, WP Admin → Dokan → Settings.
On the Setting page, you'll find various options to set up some crucial terms and conditions for your watch marketplace. Such as customization options to :
Select store category
Enable vendors to display their products
Create essential tags
Setup the new product status
Choose withdrawal methods
Set minimum withdrawal limit
Include commission terms and rates.
By switching tabs, you'll find several setting options to personalize your shop. At a beginner level, you can be confused by so many customization options.
Let me help you!
Below I'll elaborate on some essential setting options and how to configure them for your watch marketplace.
First, it's important to configure your permalink settings.
To do this, go to WP Admin → Settings → Permalinks → Permalink Settings → Product Permalinks.
Select the check box "Custom Base" to modify your product permalinks. By default, it shows "/product". You can change the link as per your requirements.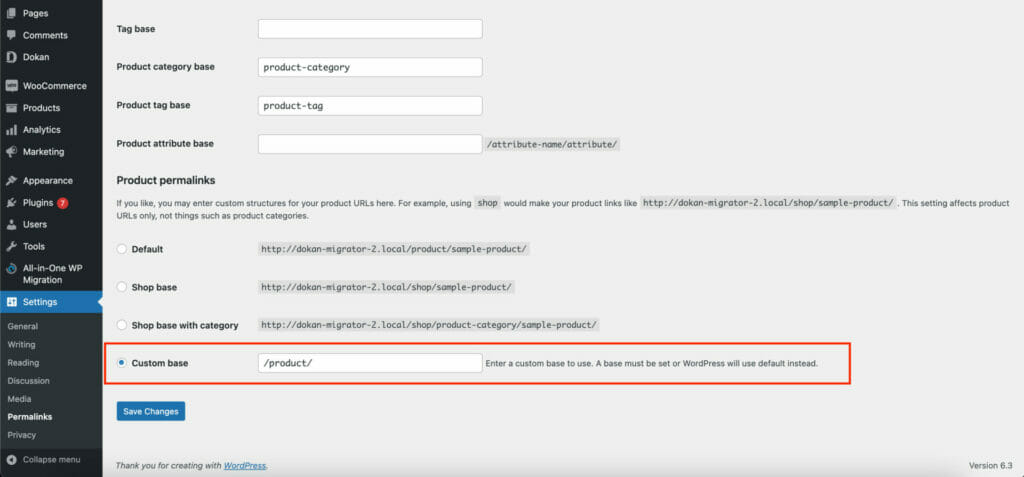 Now, let's go through some other important setting options.
Define The Commission Rate
There are multiple ways to earn from a marketplace. One of the popular ways is to charge a commission for each successful transaction that occurs on your platform. This is a popular revenue model for many online marketplaces, such as Airbnb and Uber.
To set the commission rate for your Dokan watch marketplace, go to WP Admin Dashboard → Dokan → Settings → Selling Options → Admin Commission.
Here, you'll get options to set commissions. You can choose a percentage or a fixed amount to charge your vendors.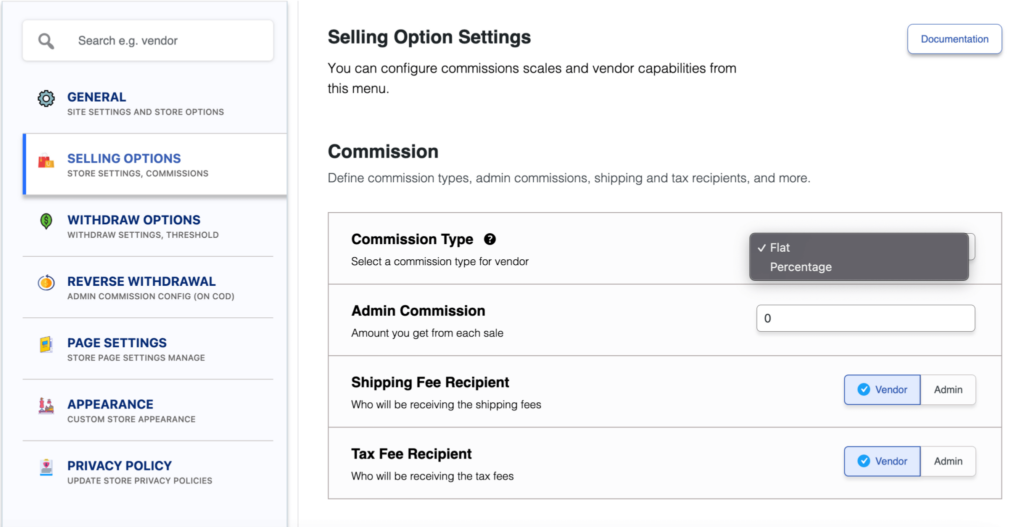 Dokan multivendor also allows you to set the category base commission rate for the vendors. It enables you to define different commission rates for different vendors.
Add Payment Gateways
Different customers prefer different payment methods. By offering a variety of payment gateways, you can make it more convenient for customers. So they can complete transactions using their preferred payment options.
Luckily, Dokan supports all WooCommerce-compatible payment gateways.
Dokan Lite allows you to use non-adaptive payment gateways. Such as PayPal, bank account transfer, cash on delivery, etc.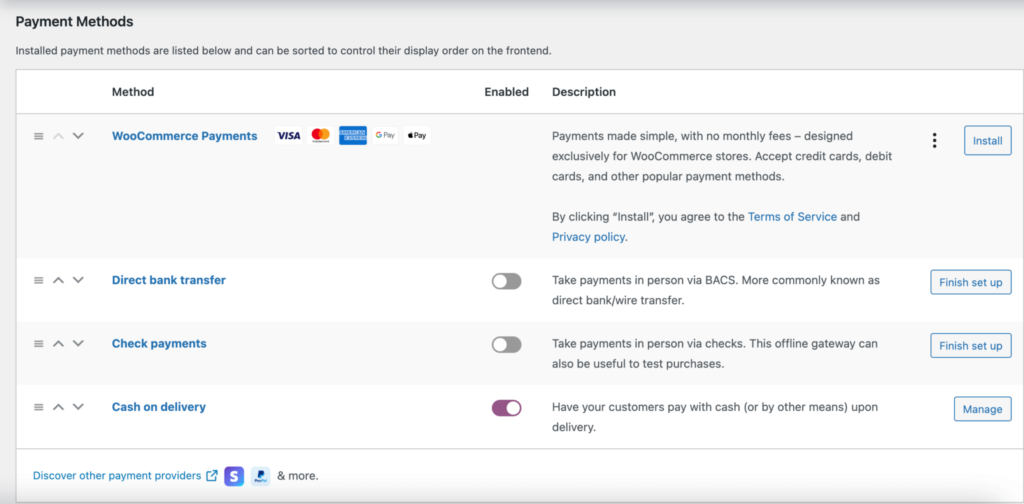 On the other hand, Dokan Pro offers you adaptive payment solutions like Stripe Connect and MOIP.
Enable Withdraw Methods for Vendors
A smooth withdrawal system is also required for your marketplace to keep your vendors satisfied and motivated. Happy vendors are more likely to continue doing business with you and may even recommend your marketplace to others.
Navigate to WP Admin → Dokan → Settings → Withdraw Options. Here you' can'll find options to define the withdrawal methods.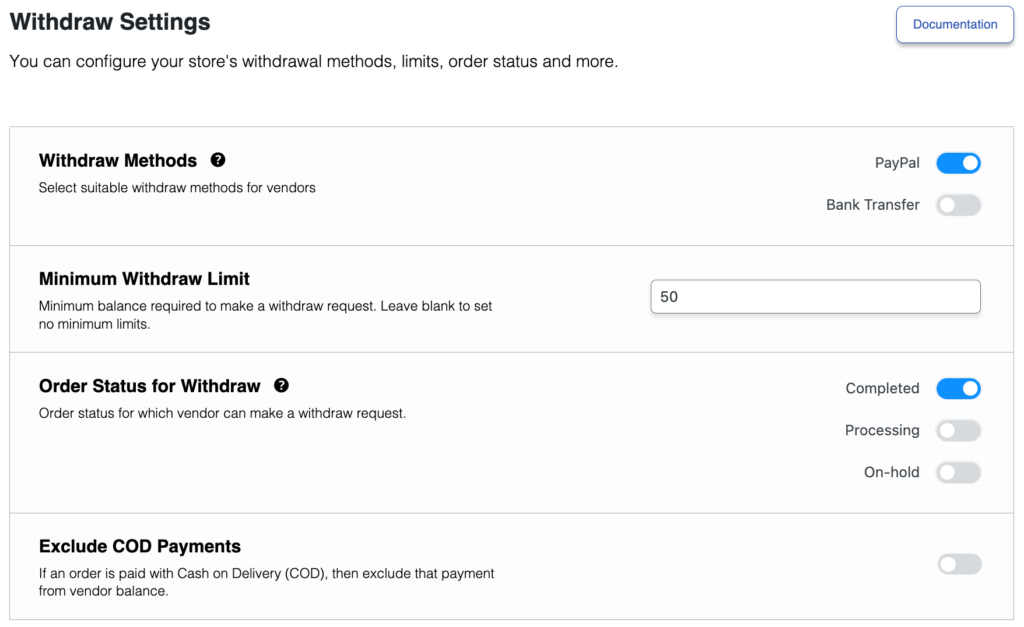 It also allows you to set the minimum limit a vendor needs to make a withdrawal request.
This way you can define other attributes of your watch marketplace from the Dokan settings page. Under every tab, you'll see several setting options to personalize your online store.
For further assistance, you can check our documentation on Dokan Settings.
Note: For Dokan Lite, you will get limited setting options. To unlock more functions you must use Dokan Pro. [Though for beginners Dokan Lite is enough to start with].
Once you've done with all the changes, hit the button "Save Changes".
Step 4: Setup Admin Store and Upload Products
Your watch marketplace is almost ready. In this part, we'll show you how to add products to your marketplace.
You can earn from your marketplace just by letting other vendors sell on the platform. But if you have your own products and want to sell them on your website, here are the steps to follow-
Go to Dokan → Vendors. Then enable yourself to sell by toggling the button.
As an admin, you can upload your products from the backend. To do this, navigate to WordPress Backend → Products → Add New.
Insert all the essential information about your product including product title, description, image, category, etc. When you're done press the Publish button.
Alternatively, Dokan lets you upload products from the front end as well. Go to WordPress Dashboard → Visit Vendor Dashboard → Products.
Then, click on the button "Add new product" and add your product details.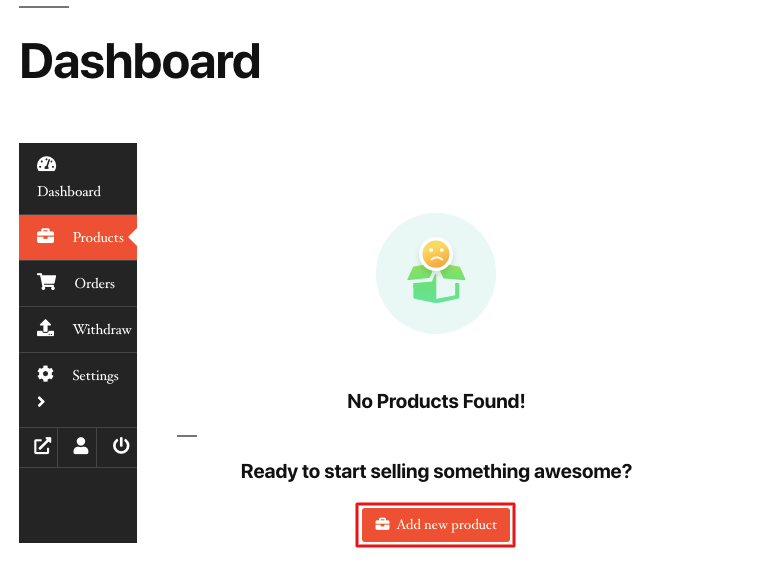 It opens a new page in front of you. Here you can insert information about your product including product image, price, category, description, etc.
Registered vendors of your watch marketplace will upload products this way.
As an admin, you have to approve the product status from the backend. After approval, products will appear on the website.
From your WordPress dashboard go to the Products → Pending tab. You'll find all the pending product details here.
Hover on the name of a product and click on the Quick Edit button. Then follow these steps-
Go to status
Change it to published and
Click update to approve it or change it to draft to disapprove it.
Besides quality products, you should take care of your store's look. To make it beautiful, go to Vendor Dashboard → Settings → Store. Dokan offers you a user-friendly interface to update your store name, address, opening & closing time, etc.
After doing all the changes, your store may look like the below-
Special Note: Setting up the admin's shop is not mandatory unless you intend to sell your own products.

Step 5: Enable Vendors to Register on Your Marketplace
Now it's time to invite other vendors to your marketplace and let them register on your site.
Go to WordPress Dashboard → Settings → General Settings → Membership. Enable the "Anyone can register" option so vendors can sign up on your marketplace
It will open the default registration form for vendors to sign up.
Dokan also gives you the flexibility to create customized registration forms with the necessary fields. So you can design a unique registration form that aligns with your brand identity.
When a vendor registers, you can check the details from the WP Admin Dashboard → Dokan→Vendors. Review all the vendor requests and enable their selling status.
Also, if you want to enable your vendors to upload their products, then you need to change the product status.
Go to Dokan → Settings → Selling options. Now, enable the New Vendors Product Upload.
After getting your approval, vendors can design their own mini-stores with individual URLs.
Dokan also provides an individual frontend dashboard to every vendor. Vendors can upload, manage, and sell their products from the dashboard seamlessly. This dashboard gives them a quick glimpse of their sales quantity, orders, earnings, and many more.
In order to customize their mini store and upload products a vendor needs to follow the above steps as we've shown for the admin.
The look of an individual product page of your watch marketplace be like this-
Under the product description, it'll show a section for related products. This feature enables your marketplace for cross-selling.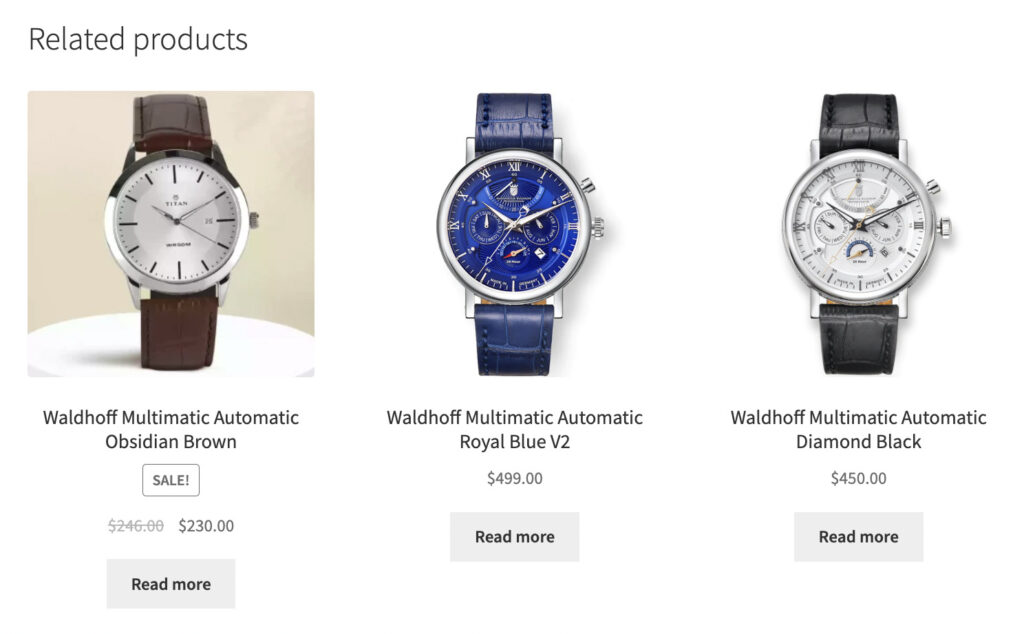 If you want to check your all vendor stores, go to the store listing from the website menu. Customers can also check the store list and visit their desired vendors.
Are you confident now to start working on your watch marketplace?
With the duo of WordPress+ Dokan, it would be relatively simple and fun to set up and customize your marketplace.
Remember, you need a strong vendor base to attract customers to your marketplace. And to get customers you need potential vendors and quality products on your site. This means you have to build strong strategies to satisfy both your vendors and customers.
It may sound a little tricky but not impossible.
Luckily, Dokan multivendor offers many exclusive features to make your marketplace stand out. Let's explore some exclusive premium features of Dokan to make your vendors & customers' journey remarkable on your site.

Extend Your Marketplace Functionalities with Dokan Advanced Features
For your growing business, you'll need many niche-specific functions to make your watch marketplace more efficient. Below we highlight some exclusive features and modules of Dokan Pro you should consider to take your watch marketplace to the next level-
Dokan Product Addon
Enhance your online marketplace with the Dokan Product Addon module. Sellers can now easily offer additional product options with the main product. It ensures a more dynamic shopping experience for customers.
Return and Warranty Request
Boost customer confidence and satisfaction with the Return and Warranty Request module. It simplifies the process for buyers to initiate returns or warranty claims. This feature fosters trust and a seamless shopping experience on your Dokan-powered marketplace.
Seller Badge
Recognize and reward top-performing sellers on your platform with the Seller Badge module. Sellers who consistently deliver quality products and excellent service can earn badges. It helps buyers identify trusted merchants and encourages healthy competition among your vendors.
Dokan Product Advertising
Supercharge product visibility and sales with the Dokan Product Advertising module. Sellers can now promote their listings to a wider audience.
Dokan Live Chat
Elevate the customer service experience on your watch marketplace with Dokan Live Chat. This module empowers buyers and sellers to communicate in real-time.
Besides these modules and features, Dokan Pro offers you many more outstanding functionalities to elevate your business growth.
Are You Ready to Create a Watch Marketplace?
Creating a watch marketplace from scratch requires careful planning, market research, and a strong customer focus. By following this step-by-step guide, you can easily build a successful watch marketplace that attracts customers, differentiates itself from competitors, and grows into a profitable business.
Remember, building a marketplace is an ongoing process. So continuously adapt and refine your strategies to stay ahead in the ever-evolving watch industry.
Do you have any further queries regarding creating a watch marketplace? Do use the comment section below.
Subscribe to
Dokan blog
We send weekly newsletters, no spam for sure!