Are you planning to create your online marketplace using WordPress? You've come to the right place.
WordPress makes it easier to create an online marketplace like Amazon without hiring a developer—all you need to pick a suitable eCommerce marketplace solution and invest time in adopting new technology.
An online marketplace lets vendors create mini-stores and sell their products within an eCommerce platform.
As an admin, your responsibility is to configure the platform that ensures a significant experience for both vendors and customers.
In this blog, we'll take you step-by-step through how to build a marketplace with WordPress and Dokan Multivendor.
Why Should Consider A Multivendor Marketplace Instead of A Single eCommerce Store?
Starting an eCommerce site could be a great way to make money online. However, you can extend the opportunity by letting other vendors in your industry sell from the same platform.
So, you can earn from the commission as well.
Another plus point is, that a multivendor marketplace enables you to run a profitable eCommerce business even without having your inventory.
Online marketplaces in the US are expected to generate $475 billion in sales by 2023. This figure is estimated to grow over the next few years.

Zipdo.co
People also like to shop from marketplaces. They get a variety of options from different merchants and there is a fare option for comparison. This is the reason, more and more online sellers prefer to sell their goods on marketplaces instead of their stores.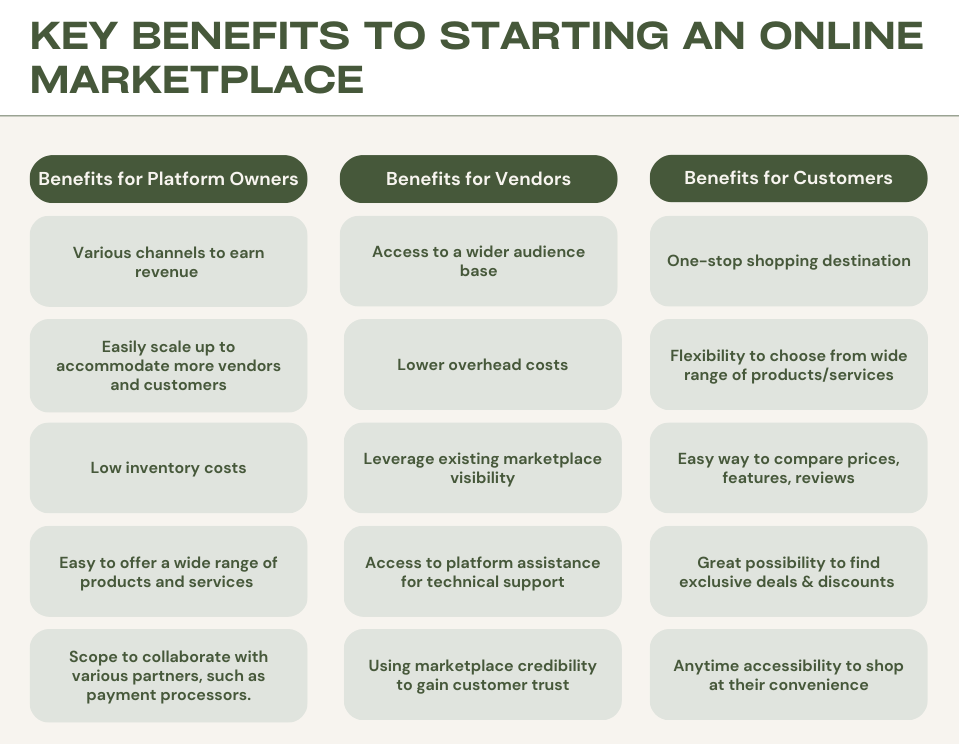 So what keeps you away from creating your marketplace? Lack of technical knowledge or financial obligations?
WordPress HELPS YOU BUILD a highly functional & professional-looking site on a limited budget. Simply move your cursor and get your marketplace ready and live.
WordPress Simplifies the Development Process of Your Online Marketplace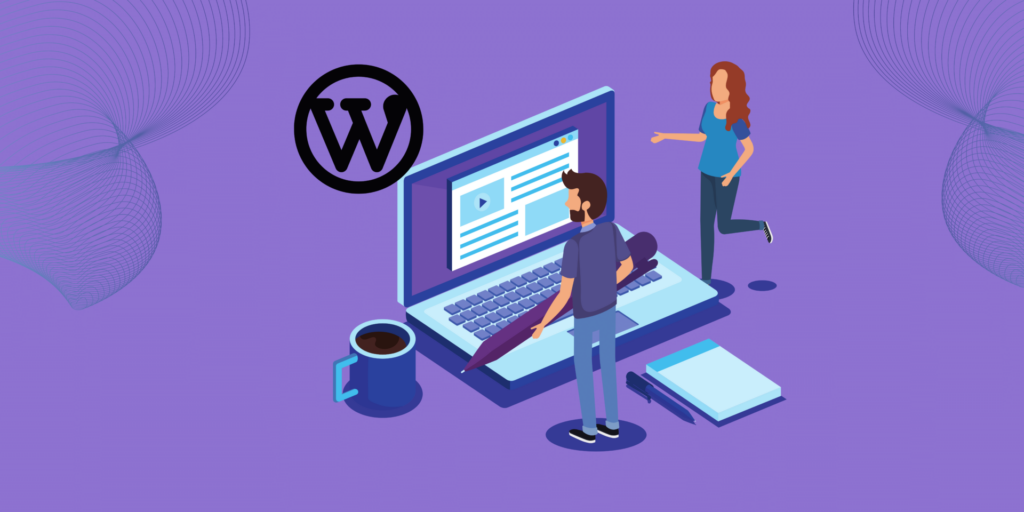 WordPress is incredibly user-friendly, even for beginners. Its intuitive interface allows you to easily manage and customize your marketplace without any technical expertise.
Additionally, WordPress offers a wide range of plugins and themes specifically designed to create and run marketplace activities.
Another major advantage of using WordPress is its flexibility. You can easily scale your marketplace as your business grows. Whether you're starting small or planning for future expansion, WordPress can accommodate your needs.
Furthermore, WordPress is highly customizable. You can easily modify your site design, layout, and colors to match your brand aesthetic. This level of customization ensures that your marketplace stands out from the competition and helps build connections with your users.
How to Build A Marketplace with WordPress: Step-by-Step Guide
You will need the following three items to create a WordPress marketplace-
A suitable domain name and web hosting
A fully functional WordPress Site (associated with the right domain hosting & SSL certificate)
60 minutes of your time
We're assuming that you've already purchased the domain and hosting for your online marketplace. Now download & install WordPress on your site. If it's your first time, check out this beginner guide on how to build and run a successful WordPress site.
Read more: Get the Best WooCommerce Hosting to Keep Your Site Performance High and Rocking.
Now, follow the below steps to build an online marketplace on your WordPress site–
Install Dokan to Create Your Marketplace
Create Product Categories & Setup Permalinks
Configure the General Setting of Dokan
Install a Dokan Compatible Theme
Customize The Admin Shop
Invite Vendors to Your Online Marketplace
Let's check the details-
Step 1: Install Dokan to Create Your Marketplace
As you know, WooCommerce helps you build a single eCommerce store with ease. But if you want to extend your vision and build a multivendor marketplace, Dokan is the easiest way.
Dokan Multivendor is a feature-rich marketplace plugin for WordPress. It is designed to establish a unified platform so multiple vendors can create their stores and manage inventory with ease.
You can install and activate the Dokan plugin on your WordPress site like any other WordPress plugin. First, install the lite version which is FREE. It gives you all the basic features of the marketplace.
Go to Admin Dashboard → Plugin → Add New → Search
Type "Dokan" → Install → Activate
After installing and activating the Dokan plugin, it's time to configure it. You'll get a multi-step setup wizard to define the basic characteristics of your online marketplace.
Configuring the Dokan plugin is very easy. It'll take a few moments to complete the configuration part.
If you still have any confusion go through the Dokan installation video tutorial below–
Dokan Lite gives you all the basic features to start an online marketplace completely FREE. If you need further niche-specific features and functions for your marketplace, you'll need Dokan Pro.
There are three premium packages of Dokan Pro and 35 exclusive modules to take your marketplace to the next level.
Note: Dokan is a WordPress plugin powered by WooCommerce. But you don't need to install WooCommerce separately. It will be installed automatically during the installation of Dokan. You'll get the below confirmation when you go through Dokan setup wizards.
Step 2: Create Product Categories & Setup Permalinks
Let's show you some basic configurations of WooCommerce that every eCommerce shop may require. This is also essential for your online marketplace.
Next, you need to create the categories from wp-admin → Products → Categories.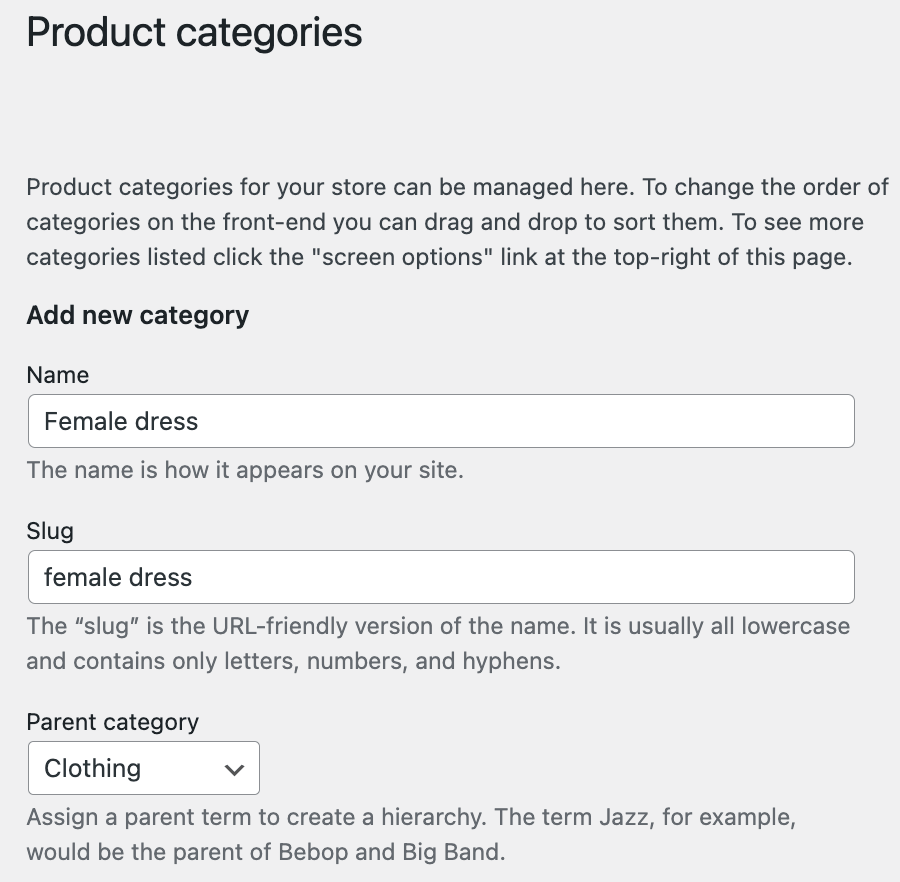 After that, you need to configure the system URL in a specific format.
Go to WP Admin → Settings → Permalinks → Permalink Settings → Product Permalinks.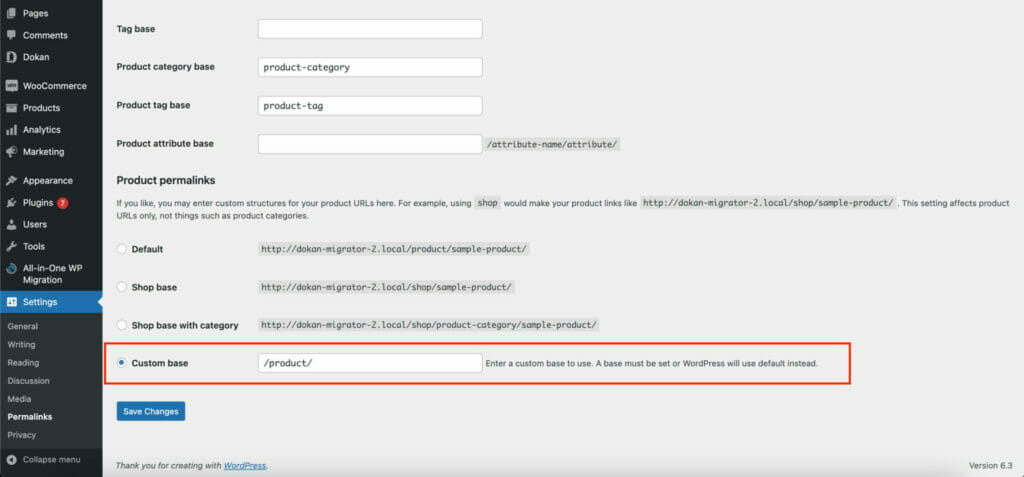 Tick the check box "Custom Base" for product permalinks and write "/product" on the box. Finally, click Save.
Step 3: Configure the General Settings of Dokan
As we've mentioned, Dokan comes with a simple user interface yet powerful features. It's time to set general attributes of your marketplace as per your requirements.
Navigate to WP Admin→ Dokan→ Settings.
Below you can see the basic settings page of Dokan. After installing Dokan, you should start from here.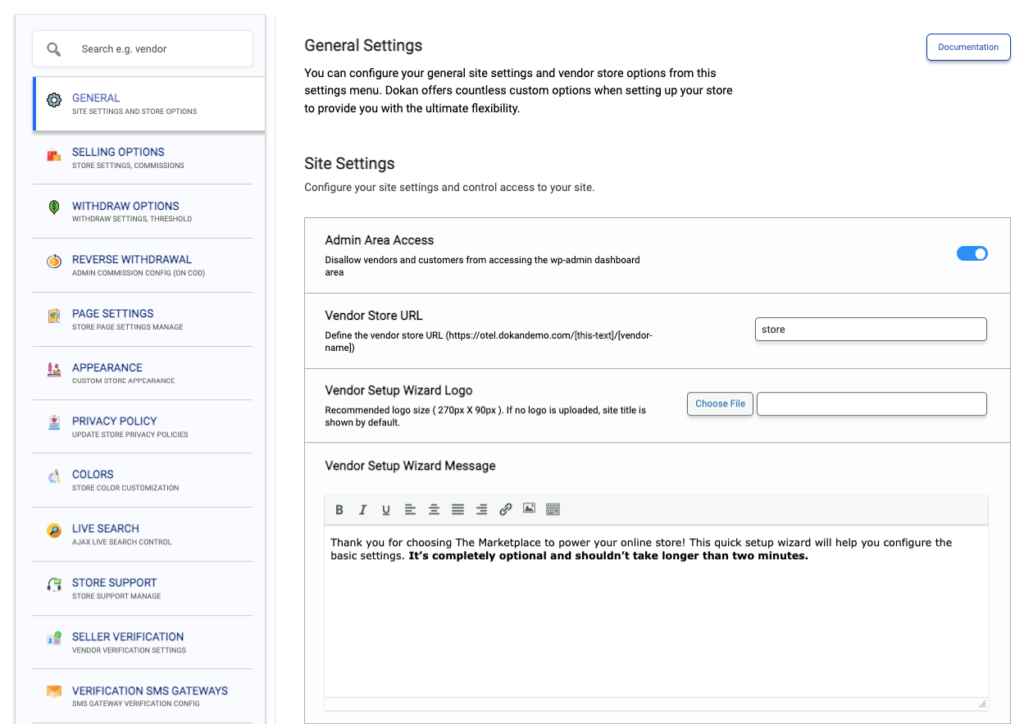 It gives you options to set up some crucial terms and conditions. Such as-
Set up store category
Allow sellers to display their products
Create necessary tags
Choose the new product status
Select withdrawal methods
Set minimum withdrawal limit
Set commission terms and rates.
By visiting every tab, you'll find a wide range of setting options to personalize your shop.
Important note: Dokan Lite gives you limited setting options. You need Dokan Pro to uncover more advanced facilities. [Though Dokan Lite is enough for startups]
Don't forget to click "Save Changes" after making all the changes.
Step 4: Install a Dokan Compitable Theme to Make Your Marketplace Look Professional
Dokan works seamlessly with almost every WooCommerce-compatible theme. So, you can pick any of these themes that complement your site structure. Find all the Dokan Compatible Themes here.
If you need help activating your marketplace theme, this beginner theme guide shows you the right way.
Step 5: Customize The Admin Shop & Upload 1st Product on Your Marketplace Website
Admin can also sell his/her products from the marketplace by setting up a mini store. All you need to do is enable yourself to sell.
Go to Dokan → Vendors. Now enable yourself to sell by toggling the button.
Next, customize a mini store for displaying and selling products from your marketplace. Dokan lets you personalize your store from Vendor Dashboard→ Settings. Here, you can update your store-related data.
With Dokan, you can also upload products from the front end.
Navigate to, WordPress Dashboard → Visit Site → Vendor Dashboard → Setting.
Here, you get the option to add new products to your store. Click on the Products tab and upload the product image and other information.
It requires admin approval to show the product on the Dokan marketplace. So, as an admin, you need to change the product status from the backend.
Once you've updated the product status you'll get the final view like-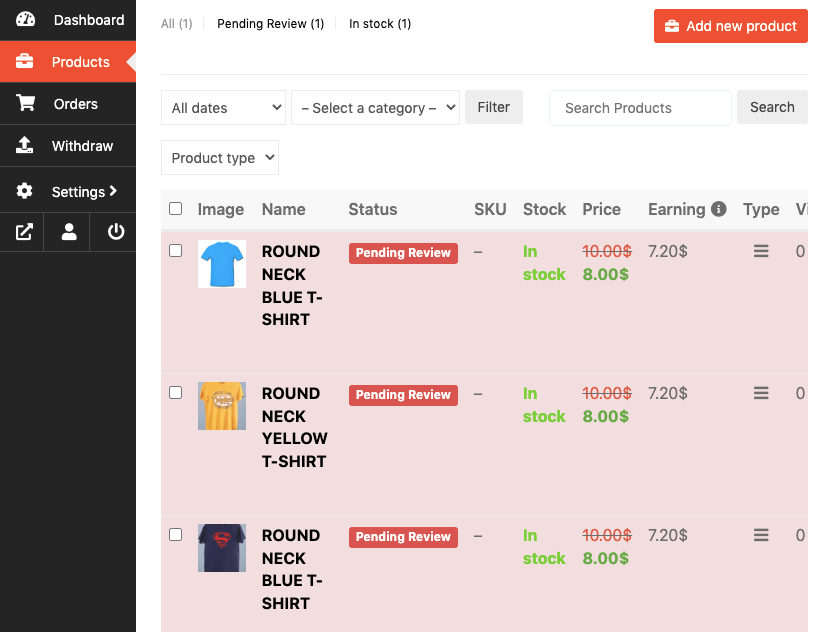 Alternatively, you can also add products by navigating to WordPress Backend → Products → Add New.
Special Note: It's not mandatory to create the admin's shop unless you're selling your products.
Step 6: Make Your Online Marketplace Ready for The Vendors
Your marketplace is ready to sell products. Now, it's time to get third-party retailers on your site.
But before that, you need to do some customization so vendors get a better experience in your marketplace.
You have to check the option "Anyone Can Register" option from WP Admin→ General→ Settings. So, vendors can find the vendor registration form from- yoursite.com/my-account/.
Dokan lets you customize the vendor registration form and extend the elements as per your requirements.
As an admin, you can check all the vendor registration requests from the backend. Review all the vendors' profiles and allow selected ones to sell products on your site.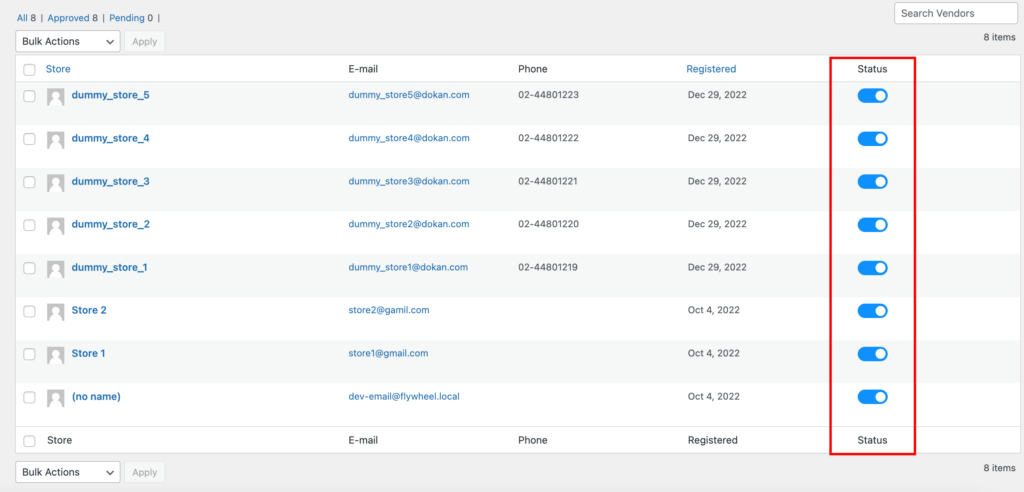 After getting approval from the admin, vendors can design their mini-stores with individual URLs. Dokan also provides an individual vendor dashboard to every vendor. So, they can upload, manage, and sell their products satisfactorily.
However, you need to configure some functionalities to make your marketplace work perfectly. Such as-
Define Commission Rate from Vendor Sales
When a vendor sells a product from your site, you will get a commission for each sale. Now, you need to set up a commission rate that you want to get from each sale.
Go to – WP Admin Dashboard → Dokan → Settings → Selling Options → Admin Commission.
Here you'll find different options to insert the percentage or fixed amount. Dokan supports various types of vendor commissions.
Dokan also enables you to set the category-based commission rate for the vendors. So you can define individual commission rates for different vendors.
Configure a Universal Payment and Withdrawal System for Vendors
Dokan supports all WooCommerce-compatible payment gateways. This means you get a wide range of choices to make the transaction process easier on your marketplace.
With Dokan Lite you can use non-adaptive payment gateways like PayPal, bank account transfer, cash on delivery, etc. The Pro version supports adaptive payment solutions like Stripe Connect and MOIP.
Another major concern of running an interactive online marketplace is to ensure a smooth withdrawal system. Dokan helps you take care of this section as well.
Go to WP Admin → Dokan → Settings → Withdraw Options. Here you'll find options to customize the withdrawal method and set the minimum balance a vendor needs to make a withdrawal limit.
Once you've done start promoting your site to the related vendors and customers.
Luckily, Dokan gives you all the support to keep both your vendors and customers satisfied.
How Vendors Will Manage Their Stores on Your Marketplace
After getting approval from you, vendors will be able to design their own mini-stores with individual URLs. Moreover, the Dokan vendor dashboard gives you a detailed overview and insights to improve your store performance.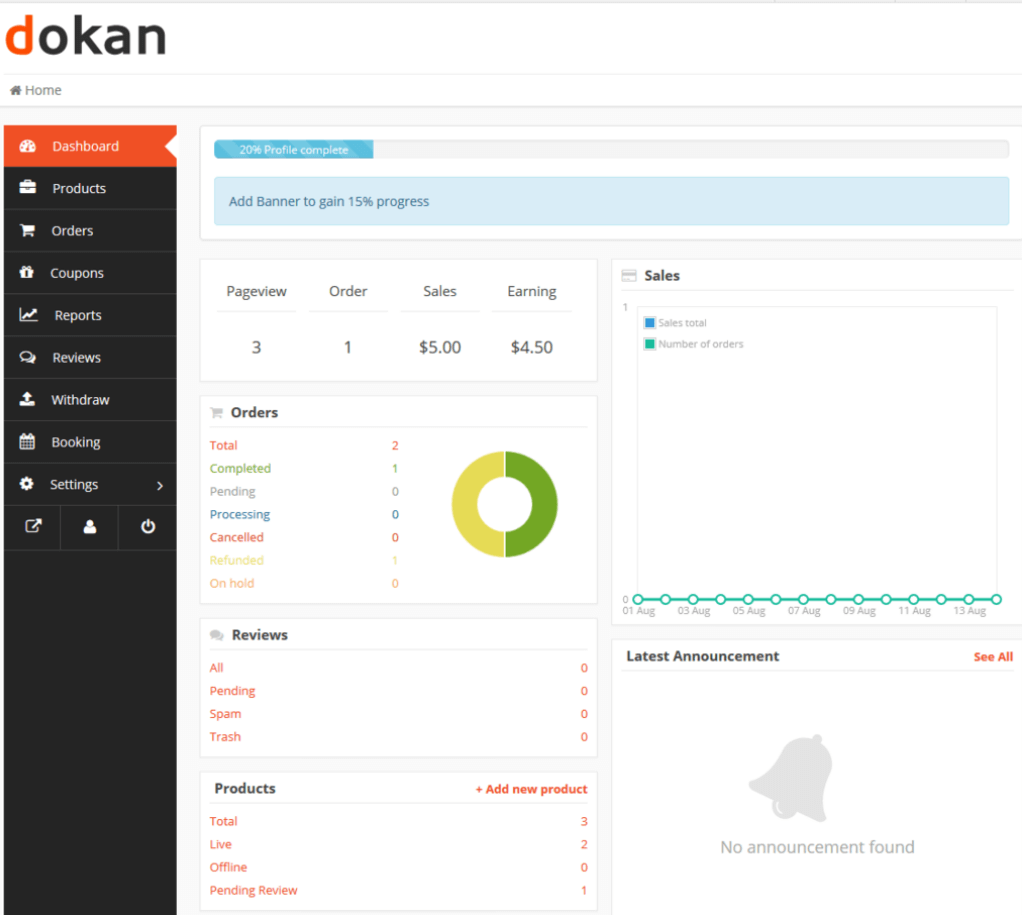 From the frontend dashboard, a vendor can easily set up his/her shop. The store customization process for vendors is the same as we've shown above for a vendor.
The final look of a vendor store may look like below-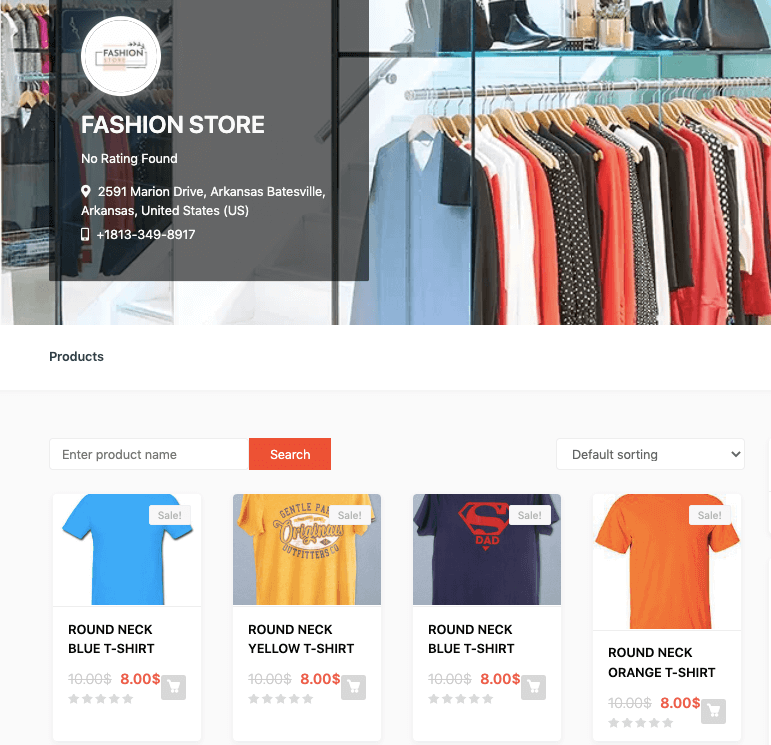 Some Additional Tips to Amplify Your Marketplace Design and Layout
Dokan comes with all the essential functions to make your marketplace user-friendly. But making your marketplace's design attractive is equally important to get more customers on your site.
Of course, you can use a beautiful theme but still, there are some scopes to stand out.
Here are some tips to make your marketplace visually appealing:
Choose a color scheme: Select a color scheme that aligns with your brand identity. Use colors that evoke the right emotions and create a remarkable experience for your users.
Upload a logo: Upload your logo to give your marketplace a professional and branded look. Your logo should be prominently displayed on your marketplace to build brand recognition.
Customize fonts and typography: Choose fonts and typography styles that are easy to read and eye-soothing. Consistent typography enhances the overall user experience and makes your marketplace look polished.
Optimize for mobile: Ensure that your marketplace is responsive and optimized for mobile devices. More and more users are accessing the internet through mobile devices, so it's essential to provide a seamless experience across all screen sizes.
Add visual elements: Use high-quality images and graphics to make your marketplace engaging. Product images should be clear and showcase the details of each item. Consider using videos or interactive elements to connect your users.
Remember, customization should not compromise usability. Keep the design clean, intuitive, and user-friendly to ensure a positive experience for your marketplace visitors.
If you're searching for effective ways to get more traffic, here is a guide on proven eCommerce SEO tips.
Common Queries to Build a Marketplace with WordPress
Below, find some common queries about the WordPress marketplace to ease your development journey-
Is WordPress good for the marketplace?
Surely WordPress can be the best CMS platform to build your online marketplace. It offers a wide range of eCommerce capabilities and supports helpful tools to extend your marketplace functionalities. Whether you sell physical or digital products, services, or membership- WordPress is the perfect solution for your online marketplace.
Why Dokan is the best platform to build a marketplace?
Dokan. If you're already using WordPress, Dokan helps you create a fully functional online marketplace within a limited budget and with almost zero effort. Dokan supports almost endless capabilities to run any type of marketplace with helpful resources.
How much does it cost to develop a marketplace?
Building a marketplace on WordPress may cost you $3.500 – $5000. This budget can increase or decrease according to your requirements.
Read more: How Much Does An eCommerce Website Cost?
Does Dokan help in SEO?
Yes. Dokan Store SEO feature helps you set the SEO Title, Meta Description, Meta Keywords, Facebook Title, Description, Image, Twitter Title, Description, and Image. This feature will boost your store's online visibility and bring more customers to your site.
Earn from Your Dream Marketplace with Dokan
Starting a new business could be exciting but it's challenging too.
With the latest trend in digital shopping, you can also try your luck in the eCommerce business. Even better, extend your site facilities to the marketplace. So, you can earn by selling your products as well as from the commissions of vendor sales.
WordPress makes the development phase so easy that you don't hire any professional to build a marketplace site. With the duo of WordPress and Dokan, you can turn your dream into reality effortlessly.
As an online marketplace owner, you should know the standard terms in eCommerce. Check 80+ eCommerce Glossary from here!
If you are confused about how to start, follow the steps we described above. For further assistance use the comment section below.
Subscribe to Dokan blog
We send weekly newsletters, no spam for sure!