Are you planning to sell sports equipment online? This blog shows you how to create a sports marketplace in a simple yet effective way.
The changing behavior of modern customers makes eCommerce businesses extremely profitable. There are a lot of profitable niches to start your online business today.
If you're passionate about sports and have good knowledge of different sporting goods then starting an online sports marketplace could be a great idea.
By 2026, the global sports apparel market is expected to generate about 250 billion U.S. dollars in annual revenue.

statista.com
As a non-technical person, you may be scared about running an online business. But the latest technologies simplify it all the way.
Using WordPress along with other useful plugins requires almost zero technical knowledge to build and run a successful online business.
Today, we'll show you how to create a sports marketplace using WordPress and Dokan Multivendor.
How Big Is the Sporting Goods Market Today?
The global sports equipment market size was valued at USD 331.4 billion in 2021. It is projected to expand at a compound annual growth rate (CAGR) of 6.4% from 2022 to 2030.
Though the sporting goods market is a major industry across the globe, the United States holds a big share of the whole industry.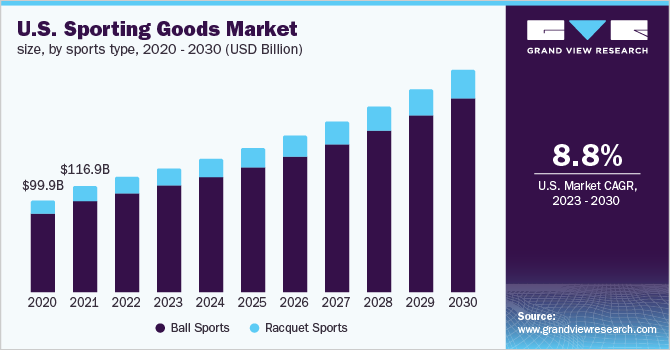 There are several reasons for this remarkable growth in this industry such as
Increasing participation in sports activities
Growing awareness about the benefits of a healthy lifestyle, and
Increasing demand for luxury sporting goods, such as high-end bicycles and golf clubs.
The North American sporting goods market is the largest in the world, accounting for a market share of 32.5% in 2021. This is followed by Europe and Asia-Pacific.
Basketball, baseball, and American football- these games are popular in North America.
Soccer, tennis, and cricket are popular sports in Europe.
People of the Asia-Pacific love to play cricket, badminton, and table tennis.
The major segments of the sporting goods market are athletic footwear, exercise equipment, licensed sports merchandise, and athletic apparel. The athletic footwear segment is the largest segment.
In 2023, the revenue in the Athletic Footwear segment worldwide amounts to US$53bn. Among all countries, the United States generates the highest revenue in this sector, with US$14,900m in 2023.
The key players in the sporting goods market are Adidas, Nike, Under Armour, Puma, and VF Corporation. These companies are engaged in developing innovative products and expanding their distribution channels to gain a competitive edge in the market.
The sporting goods market is expected to continue to grow in the coming years.
Looking to start your own online marketplace? Here are some ideas to set you on the path to success- 9 Online Marketplace Ideas for You to Succeed.
Why You Should Create A Sports Marketplace Instead of A Regular Sports Products Store
The sports world has become highly popular nowadays. Events like the Cricket World Cup, Football World Cup, and Olympic Games increase the demand for sports equipment as well.
Selling your own sports equipment online is undoubtedly a good idea. But you can also extend the opportunity by developing a wide platform and letting other vendors sell their products from the same platform as well.
Building a sports marketplace is not a difficult task, but there are a few key steps that are necessary for success.
First, you need to identify the sport that you want to sell products and services related to.
Second, you need to research the market for your sport and find vendors who share your vision.
Lastly, you have to create an effective marketing strategy and put together a great team to execute all the plans.
Before launching your online business, remember these essentials: 7 factors to consider before launching your online business.
First Things First: Prepare the Ground to Start
Modern technology makes it super easy to start and run an online business without having any prior knowledge or technical expertise.
You can use WordPress to build the base of your eCommerce platform. But in order to add eCommerce facilities you need to activate WooCommerce on your WordPress site. WooCommerce enables you to build a single eCommerce site within a few clicks.
Now, if you want to turn your online store into a multivendor marketplace, Dokan is a viable option inside WordPress. Dokan is the most popular multivendor marketplace plugin with 60k+ active users.
With the duo of WooCommerce + Dokan, you can easily build a full-fledged multivendor marketplace.
Below are the prerequisites for launching a sports marketplace in WordPress:
We're assuming that you've already purchased your domain & hosting and built your WordPress site successfully.
How to Create A Sports Marketplace (5 Steps to Follow)
Now, you are ready to get into the main steps. It requires only a few steps to create a functional sports marketplace. All you need to give your full concentration for the next few hours and follow the below steps carefully.
Here are the steps to create a sporting goods marketplace in 6 steps:
Install and Activate Dokan
Install a Dokan Compatible Theme
Configure Basic Settings
Upload Products and Configure Admin Shop
Allow Vendors to Register
Step 1: Activate Dokan to Configure Your Sports Marketplace
First, you need to install and activate Dokan on your WordPress website. This plugin will add all the basic functionalities of a marketplace to your site.
You can install Dokan like any other WordPress plugin. Install the plugin from the WordPress dashboard or download the plugin from WordPress.org.
In order to get Dokan from the WordPress plugin library, go to Admin Dashboard → Plugin → Add New → Click the search.
Then type Dokan → Install → Activate.
This is the lite version of Dokan which is completely FREE. Here, you will find all the basic features of the marketplace.
With your growing business, you may need advanced marketplace features on your site. In that case, uncover Dokan's advanced features with the Dokan Pro Version.
Dokan walks you through an easy setup wizard to configure your marketplace as per your needs.
Note: With the latest version of Dokan, there is no need to install WooCommerce individually. It will be installed automatically when you are installing Dokan.
If you need any help with the setup process, check the video tutorial on Dokan installation.
Step 2: Install a Dokan Compatible Marketplace Theme
You enable the marketplace features on your sports website. But getting customers is always a tough job. In order to attract potential buyers and convert them into loyal customers your shop needs an engaging outlook.
Install a Dokan-compatible theme that adds a professional look to your website.
Luckily, Dokan supports all WooCommerce-compatible themes. So, you get the freedom to pick a well-matched theme for your niche from a wide range of options. Also, you can check the "Dokani" theme for your sports marketplace.
Find the themes from WP-Admin → Appearance → Themes.
Also, you can pick any Dokan-compatible theme from ThemeForest specially designed for the multivendor marketplace builder Dokan.
Step 3: Configure the General Settings of Dokan
Now according to your marketplace needs, configure the basic settings of Dokan.
Navigate to, WP Admin → Dokan → Settings.
Here you'll get several options to customize your shop. Such as-
Set up store category
Allow sellers to display their products
Create necessary tags
Choose the new product status
Select withdrawal methods
Set minimum withdrawal limit
Set commission terms and rates & many more.
Hit the button Save changes once you are done with all the configurations. Otherwise, all your settings will be lost.
Here are some other customization options that require your attention-
1. Include Custom Permalinks for Pages
Next, you need to set the permalinks for different pages of your marketplace. Go to WP Admin → Settings → Permalinks → Permalink Settings → Product Permalinks.
Find the check box "Custom Base" for product permalinks and insert "/product" on the box.
2. Add Various Payment Gateways
Another crucial configuration is to add multiple payment gateways. It largely depends on the regions your customers are coming from. You need to add all the payment systems that make the transaction process super easy and convenient for your users.
With Dokan, you can enjoy all the WooCommerce-compatible payment gateways. Dokan Lite supports non-adaptive payment gateways like PayPal, bank account transfer, cash on delivery, etc.
On the other hand, inside Dokan Pro you'll find adaptive payment solutions like Stripe Connect and MOIP.
3. Define Commission Systems
Dokan supports different types of vendor commissions. Such as percentage and flat commission.
In order to set your commission rate go to WP Admin Dashboard → Dokan → Settings → Selling Options → Admin Commission.
Using Dokan you can also set the category base commission rate for the vendors. It enables you to define individual commission rates for different vendors.
4. Enable Withdraw Methods for Vendors
In order to enhance your vendor experience on your sports marketplace, you need to ensure a smooth withdrawal system. Using Dokan it will be easier to take care of this part as well.
Navigate to WP Admin → Dokan → Settings → Withdraw Options. Here you'll get options to define the withdrawal method and set the minimum limit a vendor needs to make a withdrawal.
By switching different tabs on the setting page you can customize your Dokan sports marketplace as per your requirements.
If you need any further assistance, check our documentation on Dokan Settings.
Step 4: Setup Admin Shop & Upload Products on Your Marketplace
There are several ways to earn from your sports marketplace. You can just build a common platform and promote your marketplace. So vendors from the same niche join the platform and start selling their products. In turn, you'll get a particular percentage of every sale as a commission.
If you have your own sporting products, set up a mini store for your brand as well. It would be another great way to increase your profit.
From your WordPress dashboard go to Dokan → Vendors. Enable yourself to sell products on your marketplace by toggling the button.
In order to upload products navigate to WordPress Backend → Products → Add New.
There you'll find options to add product names, descriptions, images, categories, tags, and a few more options.
Usually, sports products come in different sizes and colors. Such as jerseys, fitness trackers, duffel bags, balls, bats, and so many others. WooCommerce lets you display all the variations on the product page.
Include various attributes and variations of the products by selecting the Variable product. You'll find the options just under the Product description.
Check this documentation if you need a detailed tutorial for adding a variable product.
Alternatively, you can add products from your mini-store as well.
In order to upload products from the front end, go to WordPress Dashboard → Visit Site → Dashboard → Setting.
Select the Product tab. At the right top corner, you'll find a button to add new products to your store. Hit the button and upload the product image and other information.
Your registered vendors will upload products this way to their mini-stores.
Important note: With Dokan lite you can't allow your vendors to set the Product Type from the frontend editor. To do this you'll need Dokan Pro.
Check this documentation → How to create a variable product on the Dokan multivendor marketplace.
Every product of the marketplace needs admin approval to be displayed on the site. As an admin, you can approve the product status from the backend.
Also, you can customize the design of your mini-store. Once you are done with all the customizations your store will be something like this-
Special Note: Setting up the admin's shop is not mandatory unless you intend to sell your own products.

Step 5: Allow Vendors to Register on Your Sports Marketplace
Congratulations! You've successfully created your sports marketplace and designed your own mini-store to sell products [where applicable]. Now, it's time to open your marketplace for vendors of the same category.
From your WordPress dashboard go to General → Settings and enable the Anyone can register option. Vendors can now join your marketplace by filling up the registration form.
This is the default vendor registration form. But Dokan allows you to customize the form design with the necessary fields considering your marketplace type and needs.
Once any vendor submits the form, the admin will get a request for approval.
As an admin, go to Dokan → Vendors and review the vendor requests. After checking, enable the status so the vendor can start selling products from your marketplace
Vendors can find their store on the store list once the admin approves their store.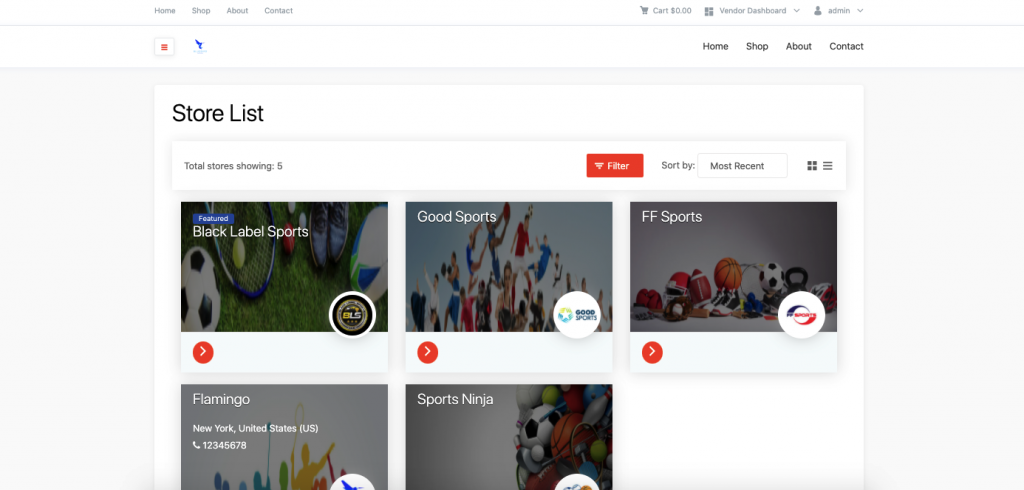 Dokan gives a personal dashboard for each of the vendors. From the dashboard, vendors can easily customize their mini-store design and upload products as we've shown above for the admin store.
As an admin, you have another job. If you want your vendors to upload their products, then you have to change the product status. Go to Dokan → Settings → Selling options. Now, enable the New Vendors Product Upload.
However, in the beginning, it seems difficult to get vendors. But proper strategy and patience will reap large profits in the long run.
Bonus Step: Start Selling From Your Online Sports Marketplace
As a marketplace owner, you need to promote your website targeting two groups of people- vendors & customers.
This means you need two separate marketing strategies to onboard retailers from the sports industry as well as attract potential customers who have an interest in buying sporting goods.
Here are some proven tips to get vendors and customers for your sports marketplace-
Leverage the power of email marketing
Join social media groups or forums
Publish blogs and educate your audience
Create brand awareness through paid promotion
Do partner with popular influencers from the sports industry
As you're running your marketplace on WordPress take help from the wide WordPress plugin library to enhance your experience. Boost your site performance by installing some other useful tools like security plugins, SEO plugins, caching plugins, and so forth.
Creating a successful marketplace isn't only about having a groundbreaking idea. It's about filling a need, building trust, and constantly adapting.
Learn more about- The secrets of starting a profitable marketplace.
Utilize Dokan Premium Modules to Elevate Your Sports Marketplace Features
While Dokan Lite gives you all the basic features to build and run a successful marketplace, you may need more niche-specific function as your business start growing.
Fortunately, Dokan supports 35 premium modules that extend the core functionality of the plugin and add new features and options.
Here are some of the most popular Dokan Multivendor premium modules for your sports marketplace:
Live Chat
The Live Chat module is a great way for vendors to provide quick and efficient customer service. It can also help to build relationships with customers and encourage repeat business. The module is easy to set up and use, and it can be customized to match the look and feel of your website.
Table Rate Shipping
The Table Rate Shipping module gives vendors more control over their shipping costs. With this module, vendors can set different shipping rates for different products, weight classes, and destinations. This can help vendors to save money on shipping costs and offer more competitive rates to their customers.
Product Addon
The Product Addon module allows vendors to add additional features or options to their products. This can be a great way to increase the perceived value of products and generate more sales. For example, a sports vendor could offer gloves, helmets, or other sports attributes as add-ons to their products.
Delivery Time
The Delivery Time module allows vendors to set a delivery time for their products. This can help to improve customer expectations and reduce the number of refunds. For example, a vendor could set a delivery time of 3-5 business days for all products.
Ajax Search
The Ajax Search module speeds up the search experience for customers by displaying search results as they type. This can help to improve the overall user experience and increase sales. For example, a customer could start typing the name of a product into the search bar, and the results would start to appear as they type.
These are just a few of the many Dokan premium modules available. Learn more about the different modules and how they can benefit your marketplace ⤵️
Closing Notes on How to Create a Sports Marketplace with Dokan
There is no doubt that selling sports products is profitable. But this industry is becoming super competitive day by day. You must have the adopting power with the latest trends and long-term vision to outpace your competitors.
However, there are some major attributes that can help increase profits.
One crucial factor is to create a market for your product. This means finding ways to attract new customers and making sure that they are happy with the products and marketplace service.
Additionally, it is important to create an environment where your customers can feel comfortable discussing your product. You can add a blog section to your marketplace site or run a separate social platform to bring all your vendors and customers under one roof.
Luckily, Dokan comes with all the essential features to enhance both customers' and vendors' experience in your marketplace.
Do you have any further queries on how to create a sports marketplace? Use the comment section below to connect with us!
Subscribe to Dokan blog
We send weekly newsletters, no spam for sure!