Choosing a suitable eCommerce platform is the first step to build a dynamic online store. If you are in dilemma with Magento vs WordPress for eCommerce, this guide is for you.
WordPress and Magento are 2 popular names in eCommerce sphere. Magento is an open-source eCommerce platform. It was first officially released in March 2008. On contrast, WordPress is the most popular CMS platform. WordPress started its journey on May 27, 2003 as a blogging platform. But using eCommerce plugins like WooCommerce you can build your online store in no time.
So, which platform you're going to work with?
To ease you dilemma this article will be going over the similarities and differences between Magento vs WordPress for eCommerce. We'll look at all the essential attributes you should consider to build and run a successful online business.
Keep reading to make a informed decision.
Magento vs WordPress for eCommerce: Short Overview
Magento and WordPress are two popular platforms for building eCommerce websites. Here's a brief overview of each platform:
What is WordPress?
WordPress is a versatile content management system that can be extended for eCommerce using the WooCommerce plugin. With WordPress, you can run simultaneously a content-focused site and an online store on one platform.
Since WordPress started as a blogging tool, gradually it becomes a powerful website builder and a robust content management system (CMS). The best part about WordPress is that it is easy to use and offers extensive customization options to build any type of websites.
Having a vast library of powerful plugins and themes makes this platform more powerful to make your site stand out.
What is Magento?
Magento is a popular and powerful open-source eCommerce platform known for its interactive user interface and flexibility. It not only offers robust, scalable eCommerce solutions but also gives you the options to customize.
Magento is a dedicated eCommerce platform designed specifically for online stores and businesses. It offers a comprehensive set of features for eCommerce like advanced inventory management, order processing, and payment options.
Market share: 1.8% of CMS and 1.2% of all web
The number of live sites: 250000+
The number of sites in the top one million: 27,000
Popular sites built with Magento: Olympus, CocaCola Store, Jaguar, Omega Watches, etc.
In June 2018, Magento was acquired by Adobe. In 2019 Adobe merged Magento Commerce Cloud into the Adobe Experience Cloud. This integration lets businesses merge end-to-end customer experiences from creation to commerce.
Magento vs WordPress for eCommerce: Key Features, Similarities & Differences
1. Ease of Use & Interface
Running an eCommerce business is a tough job. There are thousand of things you need to take care of. Thats why you need an easy solution to build and run your store so you can focus on other tasks.
WordPress
WordPress is a self hosted platform. You need to buy your own domain hosting before creating a site. After getting all the essential attributes you can easily install WordPress on your cPanel within a few clicks. But the good news is, that most of the hosting providers offers one click or automatic installation for WordPress.
WordPress comes with a user-friendly dashboard. It facilates you with all the necessary elements to operate a website seamlessly.
The left-hand side of the dashboard features a navigation menu. It allows you to access different parts of your website, including Posts, Pages, Media, Comments, Appearance (for themes and customization), Plugins, Users, and more.
With WordPress, you'll get a role-based user management system. It allows you to assign different roles (admin, editor, author, etc.) to people who help you manage your site.
However, WordPress doesn't support eCommerce features by default. You need to install a eCommerce plugin like WooCommerce to build your online store. It requires only a few moments to install and activate the plugin on your site and get all the basic eCommerce features instantly.
Magento
Magento also gives you the choice to pick your preferred hosting service to run your store. Rather than sticking with one hosting.
With Magento, you'll get a organized dashboard to manage your all eCommerce operations. It offers access to various features such as product management, order processing, customer management, marketing tools, and more.
Magento allows you to customize you store's appearance and functionality. You can create unique themes, customize the layout, and add extensions to meet your store to your specific needs.
Installing Magento can be a little bit tricky. You need a web server like Apache or Nginx. At first, download the Magento software from the official website or use Composer for installation.
Then, create a new database for your Magento store. After that, you need to configure your web server to point to the Magento installation directory. Finally, visit your store's URL in a web browser and complete the installation process. Once installed, you can customize your store through the admin panel.
The frontend view of Magento store is also easy to navigate. It gives customers several options like search bar, navigation menu etc. to make their browsing experience smooth and remarkable.
2. Design and Personalization
Every brand has its own unique identity. Though eCommerce builder gives your store a primary look and a strong base for development. But you have to modify your store design according to your business needs.
Fortunately, both WordPress and Magento have several feature to make your store attractive. Lets check them out-
WordPress
WordPress is famous for its powerful design capabilities and unlimited customization options. You'll find a number of beautiful themes, useful plugins, popular page builders, extensions, and tools to make your online store stand out and exclusive.
WordPress has a rich library of themes, both free and premium. You'll find 2200+ free theme for eCommerce stores. Themes control the overall design, layout, and styling of your website. You can choose a theme from the WordPress repository that matches your brand or desired aesthetic.
On the other hand, WordPress plugins are like add-ons that can extend your site's capabilities. Currently, there are more than 60,000 free plugins in the WordPress repository.
For your site design, you can also use page builders like Elementor, Divi, and Beaver Builder. These plugins enable you to build custom layouts with a user-friendly & drag-and-drop interface.
However, with coding knowledge, you can add custom CSS styles to fine-tune your site's design and appearance.
Magento
Magento offers a variety of pre-designed themes that you can install and customize according to your brand's aesthetics. Alternatively, you can create your custom themes or hire designers to develop unique templates as well.
Magento's Page Builder is a drag-and-drop visual content editor that allows you to create and customize pages without any coding. You can add images, videos, text, and various content elements to design your pages exactly the way you want.
Magento also lets you segment your customers based on various criteria such as location, purchase history, and behavior. You can conduct personalized marketing campaigns, product recommendations, and pricing based on these segments.
Advanced users and developers can directly modify the CSS and JavaScript to fine-tune the design and functionality of their stores.
3. Shipping
A smooth shipping system is one of the major attributes to your eCommerce success. Besides having exclusive products you have to deliver the right item to the right customers on time.
Let's check what type of shipping you'll get with WordPress and Magento-
WordPress
WordPress, as a content management system, doesn't provide built-in shipping features. However, you can integrate shipping functionality into your WordPress website by getting eCommerce plugins like WooCommerce, Easy Digital Downloads, or WP eCommerce.
These plugins allow you to set shipping options and integrate with various shipping carriers and methods. You can customize shipping rates, zones, and shipping classes.
If you're using WooCommerce, it gives you 3 default shipping methods-
Free shipping
Flat rate
Local pickup.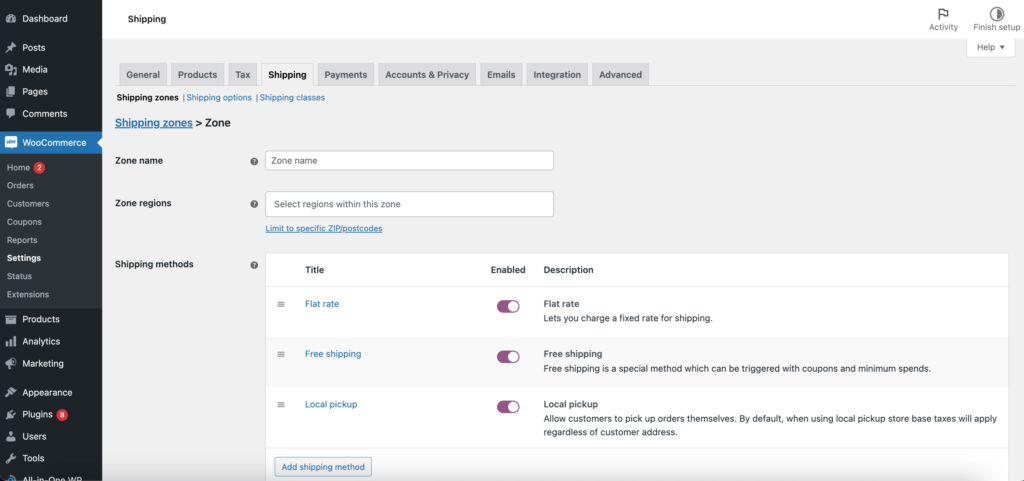 You can also use some third party plugins to get advanced shipping options on your WordPress eCommerce store.
Magento
Magento offers a variety of shipping options, both default and third-party. The default shipping options include: Flat rate, Table rate, Free shipping, In-store pickup.
In addition to the default shipping options, Magento also allows you to integrate with third-party shipping carriers, such as UPS, USPS, FedEx, and DHL. This gives you more flexibility to leverage your customers with more shipping options.
You can easily enable or disable any shipping methods and configure the settings for each shipping method easily from Magento dashboard.
Suppose, you want to offer UPS shipping. For this, you need to enter your UPS account information and select the UPS shipping services that you want to offer. You can also configure the settings for each UPS shipping service. Such as the shipping rates and the estimated delivery times.
4. Tax
An organized eCommerce tax system helps you collect and remit the correct amount of taxes. On the other hand, non-compliance with tax laws can result in fines, penalties, and legal action.
Both WordPress and Magento support several tax options so you can run your online business more efficiently.
WordPress
With the integration of eCommerce plugin, you'll get some helpful tax features for your online store. These plugins typically have built-in tax management features. You can configure tax settings based on your business's location, the location of your customers, and the types of products you sell.
In addition, some eCommerce plugins integrate with external tax calculation services. For example, WooCommerce can connect with tax calculation services like TaxJar or Avalara. These services automatically calculate taxes based on the customer's location and the products in their shopping cart.

However, you can also manually set up tax rates and rules within your eCommerce plugin. In WooCommerce, you can define tax rates for specific regions or countries and specify tax classes for products.
Magento
Magento offers a comprehensive set of tax options to help online businesses manage tax calculations and compliance efficiently. These options cover various regional and global tax regulations.
By setting up tax classes, rates, and rules, you can accurately apply taxes to your products and services according to global taxations and local tax regulations. This configuration enables your online store to calculate and display taxes correctly during the checkout process.
Magento allows you to create detailed tax rules to specify how taxes are applied to products and services based on product type, customer location, and tax class. You can also create custom tax classes to group products with similar tax requirements. For instance, you might have different tax rates for tangible goods, digital products, and services.
Magento is compatible with various third-party tax calculation and compliance solutions, allowing you to integrate with specialized tax services based on your specific needs.
5. Payment Gateways
You should offer various payment solutions to your customers so they can pick according to their preferences. Let's check the available payment gateways is Magento vs WordPress for eCommerce.
WordPress
WooCommerce is the most powerful eCommerce solution for WordPress. It has integration with all the popular payment gateways like Paypal, Stripe, Wirecard, Google Pay, Apple Pay,etc.
WooCommerce is the dedicated eCommerce solution for WordPress. It has integration with all the major payment gateways, including PayPal, Stripe, Wirecard, Google Pay, Apple Pay, etc.
If you want to accept credit cards, debit cards, and other popular payment methods on your online store, you need to install the WooCommerce Payments plugin.
You can also configure WooCommerce to accept the following payment methods:
Check payments
Cash on delivery
Direct bank transfer
Local payment methods
These plugins typically require you to configure your payment gateway account settings and link them to your WordPress site.
Magento
There are a variety of payment gateways available for Magento stores. Some popular default payment gateways are- PayPal, Braintree, Authorize.net, etc.
In addition to the default payment gateways, there are a number of third-party payment gateways available. Such as Stripe, Amazon Pay, Square, Adyen, 2Checkout, and many more.
The best payment gateway for your Magento store will depend on your specific needs and customers' preferences.
6. Security & Backup
A eCommerce store often deals with confidential data like customers personal details, credit card or bank details, and others. It's essential to take special care of your store security and keep a backup of necessary elements in a safe place.
Here you'll find some effective ways to keep your online store secured on WordPress & Magento-
WordPress
As WordPress has the largest user base among all the CMS platforms, it becomes an easy target for hackers. WordPress faces at an average of 90,000 attacks per minute.
However, WordPress itself a secure website builder and a dedicated team work continuously to keep it safe. You should regularly update your WordPress core version, plugins, and themes to patch security vulnerabilities.
Also, choose a reputable web hosting provider that offers security features and regularly updates server software to protect your site from server-level threats. It's also important to implement SSL. It ensures a secure communication between your site and users.
There are also a number of security plugins to prevent threats. Such as Wordfence, Sucuri, Security Ninja, etc. You can also install a backup plugin like UpdraftPlus, BlogVault, Duplicator, etc. to get automatic backup of your eCommerce site.
Magento
Magento releases regular security patches. So it is important to keep your store up to date to protect it from known vulnerabilities. You should use strong passwords and enable two-factor authentication for all admin accounts.
You can also install a web application firewall (WAF) to protect your store from common attacks, such as SQL injection and cross-site scripting. Moreover, use a security scanner to regularly scan your store for vulnerabilities.
It is also important to have a regular backup schedule in place for your Magento store. This enables you to recover your store if it is hacked or if there is a hardware failure. It is convenient to use the built-in Magento backup tool or a third-party backup solution.
Read more: 10 Effective Ways to Hacker-Proof Your WordPress Website.
7. Product & Order Management
If you can establish an optimized and automated process for product and order management it minimizes half of your works.
Let's check how Magento and WordPress manage products:
WordPress
WooCommerce is a powerful and flexible platform for product and order management in WordPress. It would be super easy to add, edit, and delete any products to your eCommerce store.
WooCommerce supports various product types, such as simple products, variable products (with different variations like sizes or colors), digital downloads, and more. You can choose the appropriate product type during uploading your items.
You can also define different categories, manage product stock, set low-stock notifications, and enable backorders right from your WordPress dashboard.
When customers place orders on your site, WooCommerce will store the order details, such as customer information, products purchased, and order status, in the WordPress admin. You'll find several options to manage these orders efficiently. So customers get the orders timely and also can request for refund if required.
Magento
Magento offers you a wide range of tools and options to help you manage your product catalog and streamline the order processing workflow. You'll get a centralized product catalog to create, edit, and organize your product listings.
You can manage product attributes, categories, and subcategories to ensure a well-structured catalog. For efficient inventory management, you can set stock levels, manage product availability, and configure backorder options.
You'll also get different options to process orders, communicate with customers, manage product returns and issue refunds, export order data, generate reports, and many more.
In addition to the default product and order management options, there are a number of third-party extensions available that can add new features and functionality to your store.

8. Marketing & SEO
A strong online presence drives more clients to your store. Besides paid ads and promotions, there are many basic and recurring tasks where eCommerce platforms can help your to improve your site rank.
Let's show you how Magento and WordPress can help you in terms of marketing & SEO-
WordPress
WordPress is known for its SEO-friendly structure and has numerous plugins for optimizing e-commerce websites. Some popular SEO plugins are Yoast SEO, Rank Math, All in One SEO Pack, etc.
Also, you'll find many social media and email plugins to promote your store on different channels and connect to your target audience directly.
Moreover, WordPress is well known for its blogging feature. So, it allows you to easily create and organize content like articles, blog posts, landing pages, and more. These are some effective ways to engage your audience and improve SEO.
Magento
With its extensive features and user-friendly design, Magento enables you to establish a strong online presence.
From setting up various promotional campaigns to managing 301 redirects, Magento covers it all. You can also utilize the built-in product recommendation engine to suggest related, cross-sell, and up-sell products to customers.
Inside Magento, you'll get email marketing tools and social media integrations. So you can connect with your customers. Also, Magento can integrate with Google Analytics, Google Tag Manager, and Google AdWords for in-depth analysis and marketing insights.
On top of that, Magento includes a CMS that allows you to create and manage static pages, such as your homepage & about page and optimize them for search engines.
9. Help and Support
You may need technical help too build and run your store efficiently. Thats why its important to check about supports process and after sales services before choosing any eCommerce platform.
WordPress
WordPress offers detailed documentation for each of its products. You can check them to solve any issue or build your site. Moreover, WordPress has a huge user base. So you can find help from various helpful groups and forums.
If you're using any WordPress plugin and theme you can ask for help to the providers. You can also contact your hosting company to solve any server site issue or database problem.
WooCommerce offers customer support via email and phone for premium users.
Magento
Magento offers a variety of support options including paid support plans and free community support.
Magento provides comprehensive official documentation that covers various aspects of the platform from installation and configuration to customization and development.
Besides, you can join the active Magento community to ask questions and find answers to common issues or challenges. Also, Magento has an active presence on Stack Exchange. There users can ask questions and find answers related to Magento development and troubleshooting. The community often provides quick and helpful responses.
10. Pricing
Before making up your mind for an eCommerce platform, it is important to consider all of the associated costs. You should also carefully consider your needs and requirements to determine which features and functionality are essential for your store.
WordPress
WordPress core is FREE to use. But you have to pay for the domain, hosting, and SSL certificate. Fortunately, there are many hosting providers who offer a bundle of useful features into one plan. These packages are cost-effective.
The price of web hosting varies depending on the provider and the features you choose. Generally, it costs around $10 per month for basic web hosting. Other costs may include-
Domain name (about $12/year)
A Secure Socket Layer Certificate (SSL – about $5/year).
The cost of premium plugins and themes also can vary a lot. Primarily, you may need to pay around $100 per year for plugins and themes.
Magento
Magento offers two major variants to build your store- Magento Community Edition & Magento Enterprise Edition.
Magento Community Edition is free to download and install. But you'll need development skills to customize the site. Additional expenses may include domain, hosting, themes, and extensions. If you need professional assistance to build your store then it increases the cost to around $15,000±.
If you choose Magento Enterprise Edition, it'll come with Adobe support and enhanced features. But you still need a developer's assistance for store creation and setup. The edition begins at $22,000 and Magento Commerce Cloud starts at $40,000. In total, the project may cost you from $30,000 to $50,000.
A Quick Comparison of WordPress vs Magento for eCommerce
Below you'll find a comparison table of WordPress Vs Magento for eCommerce. Have a close look at this-
| | | |
| --- | --- | --- |
| Category | WordPress | Magento |
| Ease of use | Very easy to use. You won't need developer to manage it. | More complex, you may need a minimum level of technical knowledge to start |
| Customization | Highly customizable with a vast selection of themes and plugins. | Highly customizable, suitable for complex projects |
| eCommerce Features | Versatile and can handle a wide range of requirements with the integration of eCommerce plugins | Comprehensive feature set for eCommerce |
| SEO & Marketing | Strong SEO capabilities with plugins like Yoast SEO | Supports robust SEO features & advanced marketing tools |
| Security | Ensures strong security with the help of essential plugins | Strong focus on eCommerce security, regular updates |
| Support | Support options include community forums, paid support, and third-party services | Official support available but may come at a cost |
| Multilingual | Many translation and multilingual plugins are available | Multilingual support available |
| Scalability | Highly scalable, it would be suitable for growing businesses | Highly scalable for large and complex online stores |
| Good for | Businesses of all sizes | Large eCommerce businesses with complex needs |
| Limitations | Limited built-in eCommerce features, may require additional plugins | Steeper learning curve, potentially higher maintenance |
| Cost | Open-source and free. But you need to pay for hosting and premium plugins/themes. | Costs can be higher due to maintenance and hosting |
| Multivendor Support | Supported with plugins and platforms like Dokan Multivendor | Supports multi-vendor marketplace setups |
Wrapping Up on WordPress vs Magento for eCommerce
Either you're planning to start a new online business from scratch or take your brick-and-mortar operation online, you may need a eCommerce platform to ease your efforts. Perhaps, this guide helps you check all the feature and functions of Magento vs WordPress for eCommerce to make a informed decision.
Although, the choice between Magento and WordPress (with WooCommerce) depends on the specific needs and goals of your eCommerce business.
If you need a highly scalable, fully dedicated eCommerce platform and have the budget for it, Magento might be the right choice. However, if you prefer a versatile, user-friendly, and cost-effective solution, WordPress with WooCommerce is an excellent option that offers the flexibility to scale as your business grows.
Have you any further query about Magento vs WordPress for eCommerce? Do use the comment section below.
Check more popular comparison posts on WordPress vs other eCommerce platforms-
Subscribe to
Dokan blog
We send weekly newsletters, no spam for sure!