You've decided to build your own online store but can't decide between- Weebly & WordPress. We're here to help you out. In this blog post, you'll find a head-to-head comparison between Weebly vs WordPress for eCommerce.
Weebly was founded in 2007 by David Rusenko, Dan Veltri, and Chris Fanini. It is a drag-and-drop website builder that helps you create professional websites using beautiful templates.
Simply put, WordPress is a popular content management system (CMS) that powers more than 45.8% of all websites on the internet. Though this powerful platform started its journey as a blogging platform on May 27, 2003, it gradually became a multi-purpose solution to build any type of website.
So which one is the best fit for you?
As a beginner, it's very common to get overwhelmed by the exciting features of big brands. For your convenience, we'll compare Weebly and WordPress based on ease of use and interface, customization, security, support, scalability, and others.
So buckle up and get ready for a deep dive into the world of Weebly vs WordPress for eCommerce! ⤵️
Weebly vs WordPress: Short Overview
As you already know, Weebly and WordPress are two popular website-building platforms, but they have different features and use cases. Here's a short overview of both platforms:
What is Weebly?
Weebly is a diverse website builder and a software-as-a-service (SaaS) platform. It provides you with ready website templates. So you can easily get a base to start creating your eCommerce store.
Having powerful eCommerce functionality makes Weebly a top choice for online startups. Right now, it is the sixth most widely used site builder platform.
Weebly was founded in 2007, but it was acquired by Square in 2018. Now it is a part of Square's commerce and mobile payment conglomerate. Currently Weebly powers more than 50 million sites to operate their activities around the world.
What is WordPress?
WordPress is a widely used open-source content management system (CMS) and blogging platform. It is written in PHP and uses a MySQL database to store content. By activating dedicated eCommerce plugins and themes you can turn your site into a fully-functional online store instantly.
One of the most popular solutions for adding eCommerce functionality to WordPress is WooCommerce. WooCommerce is a free, open-source plugin that seamlessly integrates with WordPress. It transforms your website into a feature-rich eCommerce platform within minutes.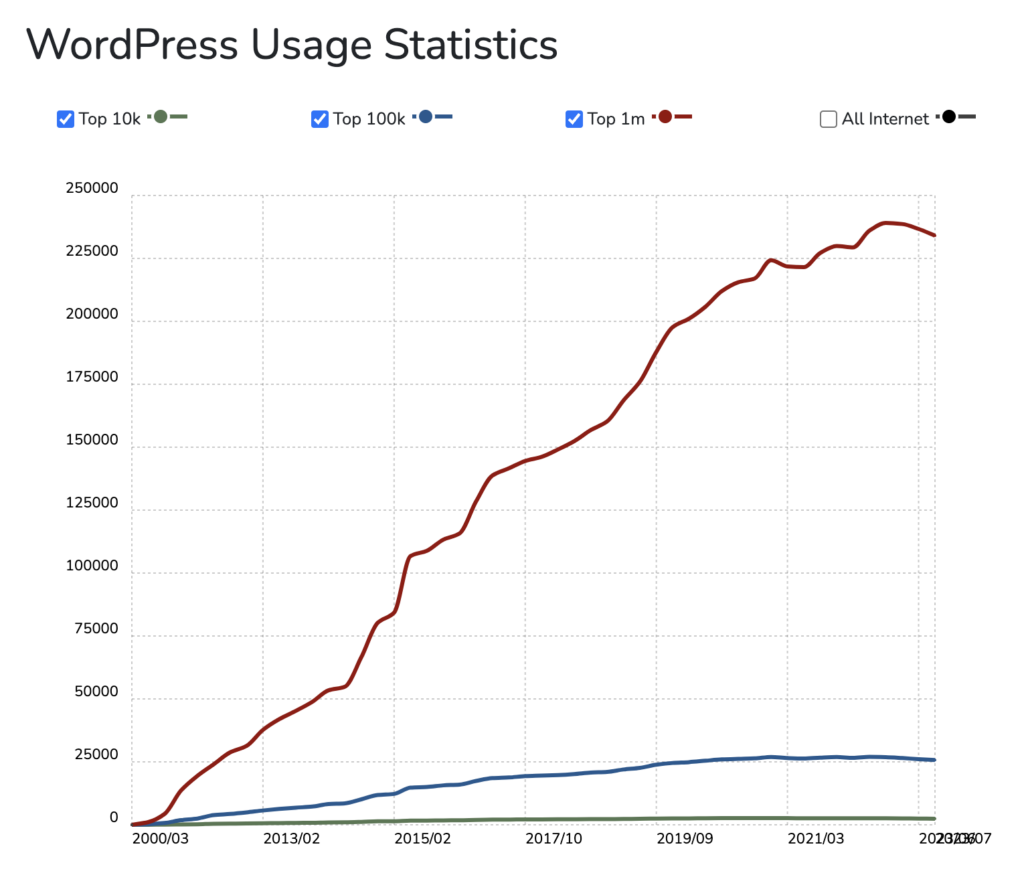 Want more instructions to a WooCommerce store? This guide shows you 3 different methods to install WooCommerce on your WordPress site.
Weebly vs WordPress for eCommerce: Key Features, Similarities & Differences
In this part, we'll show you a detailed Weebly Vs WordPress comparison. So you can pick the right platform for your online store. We'll compare these two powerful eCommerce platforms based on-
Interface and Ease of Use
Design and Personalization
Shipping
Tax
Payment Gateways
Security and Backup
Product Management
Marketing and SEO
Help and Support
Pricing
Let's get into the details.
1. Ease of Use and Interface
Creating a website from scratch may seem a daunting task to you. But by using a user-friendly website platform you can make the process easier.
Both Weebly and WordPress let you create and manage an eCommerce site with ease. Let's find out which one is more beginner-friendly-
Weebly
Weebly is a software-as-a-service (SaaS) website builder so it'll take care of your site's hosting, security, and any updates. You only need to enroll in a Weebly subscription and renew it timely. However, you have the opportunity to get a free domain by choosing the Weebly subdomain. This means your website address will contain ". weebly.com".
To build an online store on Weebly, visit the Weebly official website (www.weebly.com). Next, click the "Sign Up" or "Create Your Website" button.
Create an account by providing your email address, password, and other required information.
Now, it gives you 2 options like below-
After choosing an option, you can continue creating your site. It asks you several questions like your store name, location, business type, etc. After giving that information it takes you to a dashboard. From the dashboard, you can go to the site editor to design your site or define other attributes like uploading products, SEO, checking reports, marketing, etc.
Weebly offers a drag-and-drop website builder that simplifies the process of creating and designing websites. Using this feature you can easily customize your template. Such as adding text, images, videos, and other elements, rearranging sections, and modifying colors and fonts. It also allows you to add new pages and navigation menus.
The onboarding process is very smooth on Weebly. They give you clear instructions and a step-by-step wizard to take the required actions. Moreover, you'll get a detailed dashboard to manage your store and see all the sales status at a glance.
However, for new users, it may seem complicated to navigate different sections of Weebly and bring a perfect look to their site.
WordPress
WordPress is known for its user-friendliness and intuitive interface. First, you need to buy a hosting plan and domain name to host your WordPress site.
The good news is, that many hosting providers give a one-click solution to install WordPress.
Once your WordPress site is ready you need to install a eCommerce plugin on your site. Today we'll use WooCommerce to build an online store on WordPress. It'll activate all the eCommerce functionalities instantly and transform your site into an online store.
Here are some important facts about WooCommerce-
Over 4 million websites are currently using WooCommerce
WooCommerce is used by about 7% of all sites on the internet
WooCommerce powers over 28% of all online shops / eCommerce sites
To install WooCommerce, sign in to your WordPress dashboard using personal credentials. Then-
Go to Plugins → Add New
Search for "WooCommerce" in the search box
Click on Install Now
After activating the plugin on your website it walks you through a 5-step setup wizard so you can insert all the required information of your shop.
Once you are done, you can manage all the store's attributes right from your WordPress dashboard. On the left-hand side, you'll find several options related to your store customization and management.
If you want to please your customers you have to build an easy navigation system. So customers can find what they're looking for quickly and efficiently. Creating an easy navigation process inside WooCommerse is very easy using essential themes and plugins. In fact, you'll get many ready templates to make your job easier.
Read more: A Complete Guide To WooCommerce Customization Tutorial.
2. Design and Personalization
Before choosing a website development tool, make sure that your chosen platform has the customization options to match your brand needs. Below we'll compare Weebly and WordPress in terms of design and personalization.
Weebly
As we've told you, you'll get pre-designed themes in Weebly to create your site. You can modify the theme as per your requirements. But to what extent you can change the design completely depends on the ones you've chosen.
Themes give your site a basic structure to start over. It defines your website with a basic website color scheme or palette. Here, you have 2 options-
You can choose a theme that is close to your desired website look or
You can take the site's base theme as a skeleton and start working from there.
Although Weebly offers some level of HTML and CSS customization it's not as robust as WordPress in this regard. However, you can also download the theme files and edit them in your own text editor.
Moreover, Weebly has an app center that allows you to add various features and functionality to your site.
For further help, you can check Weebly's tutorial on how to customize its themes.
Important note: We don't recommend you to update the code unless you are an expert in this field.
WordPress
WordPress is a diverse platform to work with. The thanks goes to its rich library of plugins and themes. Core WordPress might not be enough to build all types of websites. But using its plugins and themes you can build a website from any niche you can think of.
WordPress has 58,000 free plugins to enhance a website's features and functionality. There are over 20,000 WordPress themes in total, including premium options.
These useful tools make WordPress incredibly flexible and customizable. It gives you complete control over the design and personalization of your website.
Moreover, WordPress offers a number of page builder plugins like Elementor, Divi, and Beaver Builder. These tools help to create websites faster using pre-built layout templates.
So, which customizations do you need for your online store?
Wait…don't make any final decision now. There are many more considerations you still need to check.
3. Shipping
Shipping is often the last point of contact between your business and your customers. So it's important to make sure that your shipping process is smooth and efficient. If your customers have a bad experience with shipping, they are less likely to shop with you again.
Let's discover the available shipping options in Weebly vs WordPress for eCommerce-
Weebly
Using Weebly you can charge a flat rate for shipping all orders, regardless of the weight, size, or destination of the order. It also lets you set free shipping on all orders or on orders over a certain amount.
Weebly integrates with a variety of shipping carriers to calculate shipping rates, including USPS, UPS, FedEx, and DHL.
If you deliver products all over the world, Weebly offers you a variety of international shipping carriers to calculate shipping rates.
You can also integrate Weebly with ShipStation, Shippo, or XPS Ship to automate your shipping process and get discounted shipping rates.
WordPress
By default, WooCommerce gives you three types of shipping methods. They are-
Flat-rate shipping
Free shipping and
Local pickup.
With flat-rate shipping, you can ship items to your buyers at a flat or standard rate per item, order, or shipping class. Alternatively, you can ship for free or allow customers to pick up their orders at a physical store.
In order to add more shipping methods, you'll find plenty of shipping plugins in the WordPress repository.
In addition, WooCommerce is compatible with many shipping carriers like USPS, FedEx, etc. You can install plugins such as WooCommerce FedEx Shipping with Print Label and USPS Shipping Method to get these facilities for your online store. It lets you display real-time shipping rates at checkout which boosts customer efficiency.
4. Tax
To avoid any type of legal obligation it's important to apply an automatic tax calculator on your online store. It lets you collect and remit the correct amount of taxes.
Both WordPress and Weebly support several tax options to help you establish a successful online business-
Weebly
Weebly can automatically calculate sales tax for your orders based on the customer's shipping address. Weebly integrates with a variety of tax authorities to get the most up-to-date tax rates.
However, you have to add the tax rates manually if you want to deliver products outside the United States and Canada.
You can choose not to calculate sales tax for your orders. This is useful if you are not required to collect sales tax or if you want to handle tax collection yourself.
WordPress
WooCommerce allows you to set up standard tax rates for different regions, countries, and states. These rates can be added in WooCommerce settings.
You can determine which address is used for tax calculations-
Customer billing address
Customer shipping address (default)
Store base address
Also, you can create tax classes for your products. It lets you apply different tax rates to different types of products. For example, you might have different tax rates for physical products and digital products.
To extend the facilities, use third-party plugins. It'll include specialized tax calculators for specific regions or complex tax scenarios.
5. Payment Gateways
Getting sales is important for any eCommerce store. But one thing is often overlooked how to bring the money in. For that, you need suitable payment gateways.
Let's check the available payment options for Weebly and WordPress-
Weebly
Weebly offers several payment methods to integrate directly with your online store. It includes PayPal, Stripe, Square, and others. It also allows you to charge customers through a credit card or debit card.
Weebly also supports a payment gateway called Weebly Payments. This is available in the US, Canada, Australia, and New Zealand.
WordPress
WooCommerce supports a lot of payment gateways through third-party plugins. These plugins integrate your required payment services into your WooCommerce checkout process.
Some popular WooCommerce payment gateways are- Stripe, PayPal, Square, Authorize.Net, WooCommerce Payments, Alipay, etc.
To elevate customers' experience you can use multiple payment gateways on your WooCommerce store.
Subscribe to
Dokan blog
6. Security & Backup
eCommerce sites often handle users' confidential data like personal information, bank details, credit cards, etc. It also manages money transactions. This is why it's very important to keep your online store secure.
Below you can check the available security features of Weebly vs WordPress for eCommerce –
Weebly
To secure your store, you can automatically add an SSL certificate to your Weebly store. SSL ensures that people visit your site over a secure 128-bit encrypted connection. All Weebly sites are also protected by a DDoS mitigation service for advanced cyber attack protection.
In addition, Weebly has a built-in backup feature. It lets you create and download a backup of your online store within a few steps only.
Alternatively, you can use a third-party plugin to download a backup of your Weebly website. UpdraftPlus is one of the most popular backup plugins for Weebly.
Looking for effective tips to keep your site secured? Here are 10 proven ways to hacker-proof your WordPress website.
WordPress
WordPress is usually considered a secure system to run your online store. A team of developers works dedicatedly to make the platform more secure.
Since a large number of people use WordPress to run their websites it makes this platform vulnerable to cyber-attacks. You should take good care of your site security to protect it from hackers.
For example, choose hosting with better server security, use strong passwords, enable SSL/HTTPS, etc.
If your site is ever hacked, a backup is the fastest and best way to get a clean version up and live again. You can use a backup plugin to do the job.
There are many backup plugins. But you should choose the one that saves your site frequently (ideally in real-time), saves multiple copies, and keeps those copies completely separate from your server.
7. Product & Order Management
You need an optimized and automated process for product and order management it minimizes half of your work.
Let's check how to manage your products inside Weebly and WordPress-
Weebly
You'll get inventory management features in every plan of Weebly including the Free one. After adding a product to your Weebly store, you can keep track of your stock levels.
On the Inventory page, you can see a list of all your products and their current stock levels. If you're selling products that come in different sizes or colors, you can use the variants feature. It'll keep track of your stock levels for each individual item.
Weebly also offers a number of third-party integrations that can extend the functionality of its product and order management features.
WordPress
WordPress's product management is very handy as well. You will get all the options to add, edit, and delete any products to your eCommerce store.
It would be also easy to set different categories, manage product stock, set low-stock notifications, and enable backorders right from your WordPress dashboard.
WooCommerce ensures an optimized way to manage all the orders. So you can prepare the order and deliver it to the customer on time. You'll find several options to handle product warranty and refunds on your eCommerce store
8. Marketing & SEO
In the vast and highly competitive online marketplace, it's crucial to make your store stand out. A robust marketing plan helps create visibility and raises awareness about your brand and products.
Let's compare Weebly vs WordPress for eCommerce in terms of marketing & SEO-
Weebly
Weebly offers a basic email marketing tool that allows you to send newsletters and promotional emails to your subscribers. You can also connect your website to your social media profiles and share your content on platforms like Facebook, Twitter, and Instagram.
There are options to create pop-up windows that display special offers, discounts, or newsletter sign-up prompts to engage and convert visitors.
For SEO, Weebly allows you to customize your content with meta tags, header tags, sitemap, SEO settings, image alt text, etc.
Further, Weebly provides basic website analytics to track visitor behavior, page views, and other performance metrics. You can use this data to refine your marketing strategy.
WordPress
WordPress makes it easy to create, manage, and organize your content. You can publish blog posts, pages, and other content types.
WordPress also lets you integrate email marketing platforms to build and manage email lists and send newsletters. Also, it's easy to connect your WordPress website to social media platforms. You can share content, add social sharing buttons, and display social media feeds on your site.
Further, WordPress SEO plugins will enable you to optimize your online store for SEO. Such as Yoast SEO, Rankmath, ALL in One SEO, etc.
9. Help and Support
Running a diverse eCommerce store is a continuous task. You may need technical help from the platform. Luckily, both Weebly and WordPress offer several options to support their customers. It may include-
Weebly
Weebly has a helpful support system. If you have questions or run into problems, you can find answers in their Help Center.
If you pay for Weebly, you can even chat with their support team or call them on the phone for more direct help.
WordPress
WordPress shares detailed documentation and tutorials on its official site to help users. Get help from there to solve any issue or build your site. In addition, join various WordPress communities and forums to get help from experienced users.
If you're using any WordPress plugin and theme, ask for help from the providers. You can also contact your hosting company to solve any server site issue or database problem.
10. Pricing
You must have a budget to build and run your online store. In that case, it is important to consider the price of the eCommerce platform before making any final decision.
Weebly
Weebly offers eCommerce-specific pricing plans. It includes a Free plan, which is limited in features, and paid plans starting at around $10 per month.
The most popular eCommerce plan typically costs around $12 per month. These plans include eCommerce features like the ability to sell products, accept payments, and manage inventory.
WordPress
The WordPress platform itself is free. But you'll need to pay for hosting, domain registration, and possibly premium themes and plugins.
Domain name (about $12/year)
A hosting service(from $5 – $25/month) and
A Secure Socket Layer Certificate (SSL – about $5/year).
At an early stage, it may cost you around $100 per year for premium plugins and themes.

A Quick Comparison of Weebly vs WordPress for eCommerce
Below you'll find a comparison table of Weebly vs WordPress for eCommerce. Have a close look at this-
| | | |
| --- | --- | --- |
| Category | Weebly | WordPress |
| Ease of use | Very user-friendly, simple for beginners | Requires more technical knowledge |
| Customization | Limited customization compared to WordPress | Highly customizable with a wide range of themes and plugins |
| eCommerce Features | Basic eCommerce features are available | Comprehensive eCommerce features with numerous add-ons |
| SEO & Marketing | Offers basic SEO and marketing tools | Provides extensive SEO and marketing options |
| Security | Weebly handles security; limited control | You have control over security measures |
| Support | Offers support via email, chat, and phone | Community support and various plugins for support |
| Multilingual | Supports multiple languages | Supports multilingual through plugins and extensions |
| Scalability | Suitable for small to medium-sized businesses | Suitable for businesses of all sizes |
| Good for | Beginners, small businesses | Those seeking customization, diverse eCommerce features |
| Limitations | Limited flexibility in design and features | Offers limited support for multi-vendor marketplaces |
| Cost | Reasonable monthly pricing; transaction fees | Hosting costs, domain costs, and possible premium themes and plugins |
| Multivendor Support | Offers limited support for multivendor marketplaces | Supports multivendor setups through plugins like Dokan Multivendor. |
There is no doubt, these 2 platforms have strong capabilities to make your eCommerce business stand out. Now, it's up to you which one would be the best fit for your business needs.
Wrapping Up on Weebly vs WordPress for eCommerce
In this comparison of Weebly vs WordPress for eCommerce, we've explored the strengths and weaknesses of each platform to help you make an informed decision.
Weebly, with its user-friendly interface and integrated eCommerce features, is a great choice for beginners or those who prefer a hassle-free, all-in-one solution. It helps small businesses and startups establish an online presence quickly.
On the other hand, WordPress provides versatile and endless customization options. It is a go-to platform for those who want complete control over their eCommerce websites. With the right plugins and themes, you can create a highly customized online store that can match your unique needs.
Remember, besides a well-optimized eCommerce platform, it requires full dedication, innovation, and high-quality products or services ​​to achieve success in the world of online retail.
So which platform are you going to pick for your online store? Do share your thoughts with us.
Check more popular comparison posts on WordPress Vs other eCommerce platforms-
Subscribe to
Dokan blog
We send weekly newsletters, no spam for sure!