CS-Cart and WordPress are two of the most popular eCommerce platforms on the market. Both platforms have their own strengths and weaknesses, so it's important to understand the differences between them before making a decision.
CS-Cart is a dedicated eCommerce platform that is built specifically for online stores. It was founded by Vladimir Kalynyak in 2005. It offers a wide range of features and functionalities that are essential for eCommerce businesses, such as product management, payment processing, shipping integration, and marketing tools.
WordPress is a content management system (CMS) that can be used to create a variety of websites, including eCommerce stores. It was created by Matt Mullenweg in 2003. WordPress is a popular choice for businesses that want a flexible and customizable platform.
If you are wondering which platform to use for your eCommerce website, keep reading this blog.
By the end of this blog, you will have a better understanding of the differences between CS-Cart and WordPress, and you will be able to make an informed decision about which platform is right for your eCommerce store.
CS-Cart vs WordPress– A Short Overview
What is CS-Cart
CS-Cart is a self-hosted, open-source eCommerce platform that allows businesses of all sizes to create and manage online stores. Since it's a self-hosted platform, you have to buy a domain and hosting separately to deploy your eCommerce site using the CS-Cart solution.
CS-Cart is a feature-rich eCommerce solution that includes everything you need to get started, including a product catalog, payment processing, shipping integration, and marketing tools.
Market Share of CS-Cart
CS-Cart has a market share of less than 0.1% of all websites worldwide, according to W3Techs. However, it is a popular choice for eCommerce businesses, and it is used by over 50,000 companies in over 170 countries.
CS-Cart's market share is relatively low compared to other eCommerce platforms, such as WordPress, Magento, and Shopify. However, CS-Cart is known for its flexibility, scalability, and security.
What is WordPress
WordPress is the most popular free and open-source Content Management System (CMS). Initially, it was launched as a blogging platform, but with time, it has become the most popular choice for creating any type of website that includes eCommerce websites as well.
The ease of use, user friendly interface, and little to no learning curve make this platform massively popular, especially among non-techy people.
Market Share of WordPress
As we already said, WordPress is the most popular Content Management System. According to the latest data shared by W3Techs, WordPress has a market share of 43.1% of all websites, as of October 12, 2023.
This means that WordPress powers over one-third of all websites on the internet.
If we look at only websites that are created with CMSs, WordPress' market share is even higher: 63.1% of websites built with an identifiable content management system are currently using WordPress!
CS-Cart vs WordPress for eCommerce: Key Features, Similarities, and Differences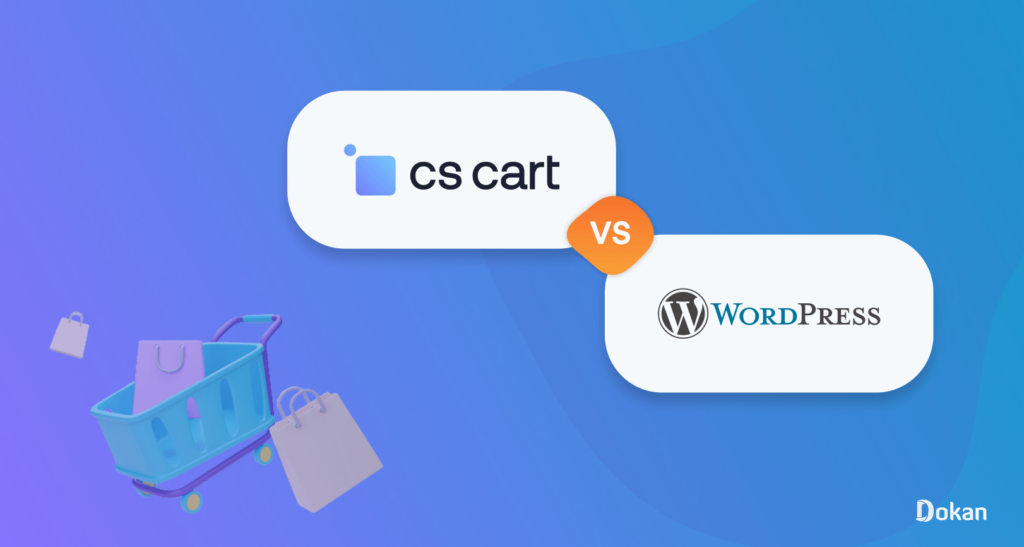 In this segment, we are going to briefly discuss the features, similarities, and differences between these two platforms.
Here is the list of the topics that we are going to compare:
Interface and Ease of Use
Design and Personalization
Shipping
Tax
Payment Gateways
Security and Backup
Product Management
Marketing and SEO
Help and Support
Pricing
Let's get started with the first point-
1. Interface and Ease of Use
As a beginner, first, you need to know which platform is the easiest to use. If your chosen platform has a complicated learning curve, it will demotivate you to continue further.
That is why, now we are focusing on which platform is easier to use between CS-Cart and WordPress.
Interface and Ease of Use of CS-Cart
CS-Cart is a self-hosted platform. You'll need a domain and hosting to deploy your eCommerce store using the CS-Cart solution. It's a dedicated eCommerce store builder which means you'll get a bundle of eCommerce features by default with the solution.
Also, CS-Cart is a very easy-to-use platform. You can create your first-ever eCommerce website even if you don't have any prior website-building experience. On top of that, it comes with documentation for every setting and has a large community to seek help.
The CS-Cart admin panel is well-designed and easy to navigate. It is divided into different sections, each of which is dedicated to a specific task. This makes it easy to find the features and tools you need.
CS-Cart also offers a variety of step-by-step wizards that can help you with common tasks, such as adding products, setting up payment gateways, and configuring shipping options. These wizards make it easy to get started with CS-Cart, even if you are not familiar with eCommerce platforms.
Interface and Ease of Use of WordPress
Like CS-Cart, WordPress is also a self-hosted platform. That means you have to buy domain and hosting on your own from other providers. After buying a domain and hosting, you can easily install WordPress on your cPanel in 10 minutes. You'll get a clean slate after installing the WordPress.
WordPress comes with a very easy user interface. Even if you have no prior experience with web development, you should be able to figure out how to use WordPress quickly and easily.
If you want to create any post, page, or media, you'll get everything on the left sidebar.

WordPress, by default, doesn't come with any eCommerce features. So, to create an eCommerce store with WordPress, you have to install a free plugin called WooCommerce. This plugin has all the features to easily create and manage any kind of eCommerce store.
2. Design and Personalization
The competition among eCommerce site owners is fiercer now more than ever. Everyone wants to make their site stand out and so do you.
You can only make your site exceptional and attractive with a simple and sleek design. To do that you need to have design flexibility. In this part, we are going to discuss the design flexibility of these two platforms- CS-Cart and WordPress.
Design and Personalization of CS-Cart
Themes: CS-Cart comes with a variety of pre-made themes that you can choose from. These themes are all mobile-friendly and responsive, so your store will look great on all devices. You can also customize your theme to match your branding and style.
Layouts: CS-Cart allows you to customize the layout of your store to match your needs. You can add or remove blocks, change the order of blocks, and adjust the width and height of blocks. You can also create custom layouts for specific pages, such as your product catalog page or your checkout page.
Widgets: CS-Cart offers a wide range of widgets that you can add to your store. Widgets are small blocks of content that can be used to display information, such as featured products, special offers, or customer reviews. You can add widgets to any page on your store, and you can customize them to match your branding and style.
CSS: CS-Cart allows you to customize the CSS of your store to achieve a truly unique look and feel. You can use CSS to change the colors, fonts, and other aspects of your store's design.
HTML: CS-Cart allows you to add custom HTML to your store. This can be useful for adding custom features or functionality to your store.
Design and Personalization of WordPress
A) THEMES
WordPress offers a vast library of themes, both free and premium, that control the overall look and layout of your site.
In the WordPress repository, you will find 2200+ free themes for eCommerce stores.
You can easily switch between themes, and most come with customization options for colors, fonts, and layout, allowing you to align your site's appearance with your brand.

B) PLUGINS
WordPress has more than 60,000 free plugins in the repository. And this number is only getting larger every day. Also, WordPress has a numerous number of third-party premium plugins available for you.
For implementing eCommerce features like store SEO, payment gateway, shipping, product preview, etc., you will get several plugins for each purpose in the repository.
C) PAGE BUILDERS
Page builder plugins like Elementor, Divi, and Beaver Builder empower you to create custom layouts with a user-friendly, drag-and-drop interface.
These tools often include pre-designed content modules that simplify the process of adding various elements to your pages.
D) CUSTOM CSS
If you have coding knowledge, you can add custom CSS styles to fine-tune your site's design and appearance.
E) WIDGETS
WordPress offers a range of widgets that you can place in widget-ready areas on your site. These widgets can display content like recent posts, categories, and more.
3. Shipping
Shipping is the process of delivering purchased products or goods from the seller's location to the customer's designated address. So, when you are selling products from your eCommerce store, it's your responsibility to deliver products smoothly to your buyer's address.
Let's check which platform gives you the most flexibility in terms of shipping:
Shipping Feature of CS-Cart
Multiple Shipping Methods: CS-Cart allows you to offer multiple shipping methods to your customers. This gives your customers the option to choose the shipping method that best meets their needs.
Real-time Shipping Rates: CS-Cart can integrate with real-time shipping carriers to provide your customers with accurate shipping rates. This helps to reduce shipping costs and improve customer satisfaction.
Shipping Zones: CS-Cart allows you to create shipping zones. It allows you to charge different shipping rates for different regions.
Free Shipping: CS-Cart enables you to offer free shipping for orders over a certain amount. This can be a great way to attract and retain customers.
Shipping Labels: CS-Cart can generate shipping labels for you. This can save you time and money when shipping orders.
Shipping Feature of WordPress
eCommerce Plugin: To enable shipping features on your WordPress website, you'll typically use eCommerce plugins such as WooCommerce, Easy Digital Downloads, or WP eCommerce. These plugins offer comprehensive shipping solutions.
Shipping Method: eCommerce plugins provide a range of shipping methods to choose from, including standard shipping, express shipping, local pickup, and more. You can configure and customize these methods based on your specific business needs.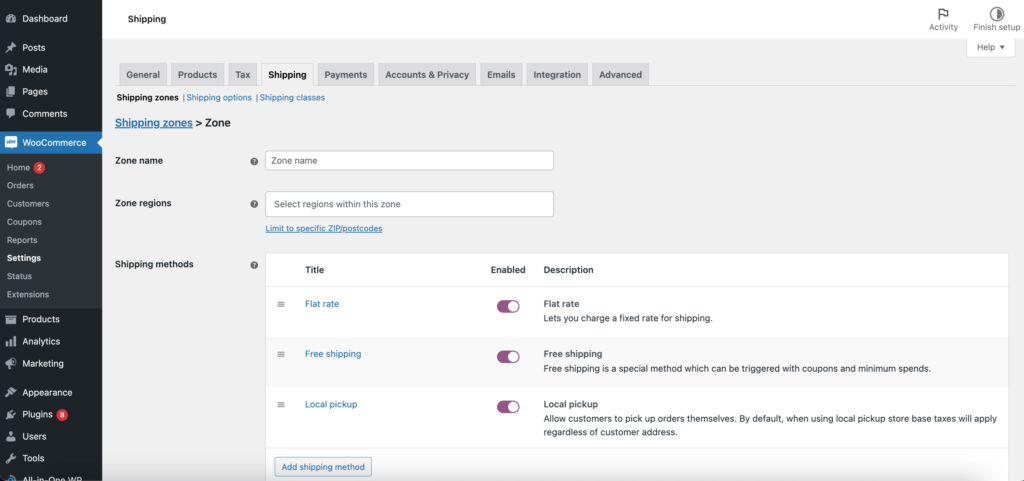 Shipping Zone: You can define shipping zones, which are geographical regions where you offer shipping services. Each zone can have its own shipping methods, rates, and rules. This allows you to tailor shipping options to different locations.
Shipping Calculators: eCommerce plugins often include shipping calculators that automatically determine shipping costs based on factors like package weight, destination, and shipping method. This provides real-time cost estimates during the checkout process.
Shipping Rules and Discounts: You can set up rules and discounts related to shipping, such as offering free shipping for orders over a certain amount or applying discounts for loyal customers.
Notifications and Tracking: You can set up automated notifications to keep customers informed about their order's shipping status, including tracking information and estimated delivery dates.
4. Tax
Tax for an eCommerce website is the sales tax that you charge and collect from your customers. It is a percentage of the price of the items you sell, and it works similarly to the tax you would charge your customer in a physical store.
Let's check how to handle taxes using CS-Cart and WordPress platform:
Tax Feature of CS-Cart
Multiple Tax Rates: CS-Cart allows you to create multiple tax rates for different regions and products. It will help you to comply with all applicable tax laws.
Tax Calculation: CS-Cart automatically calculates taxes for each order, based on the customer's shipping address and the products they are purchasing.
Tax Display: CS-Cart enables you to display taxes to your customers on the product catalog page, the cart page, and the checkout page. It will help your customers to understand the total cost of their order before they purchase.
Tax Reports: CS-Cart generates tax reports that can be used to track your tax liability and file your tax returns.
Tax Feature of WordPress
WooCommerce Plugin: WooCommerce is a free, highly flexible eCommerce plugin for WordPress that provides robust features for managing taxes.
Tax Configuration: Once WooCommerce is installed and activated, you can configure tax settings from the plugin's settings in the WordPress dashboard. You can specify your business's location and address to set up tax rates accordingly.
Tax Zones and Classes: WooCommerce allows you to create tax zones, which are geographical regions where you'll apply taxes. You can define different tax classes based on the type of products you sell, such as standard, reduced, or exempt.
Tax Rates: Within each tax zone, you can set up different tax rates based on local tax laws or regulations. WooCommerce lets you create both standard and reduced tax rates as needed.
Tax Calculation Options: You can choose to apply taxes based on the customer's shipping address, billing address, or your store's base location, ensuring accurate tax calculations during the checkout process.
5. Payment Gateways
A payment gateway is like a digital cashier for your eCommerce website. It securely collects and processes customer payments. It also offers features like fraud protection and works with various payment methods, making it easier for businesses to accept online payments.
CS-Cart and WordPress both have integration with popular payment gateways. In this part, we are going to discuss about that.
CS-Cart Payment Gateways
CS-Cart supports a wide range of payment gateways including Authorize.net, PayPal, Stripe, Braintree, 2Checkout, Amazon Pay, and so on.
CS-Cart also supports a variety of payment methods, including:
Credit cards
Debit cards
Apple Pay
Google Pay
Bank transfers
Cash on delivery
WordPress Payment Gateways
WooCommerce is the dedicated eCommerce solution for WordPress. It has integration with all the major payment gateways, including PayPal, Stripe, Wirecard, Google Pay, Apple Pay, etc. You can install the WooCommerce Payments plugin to accept credit cards, debit cards, and other popular payment methods.
You can also configure WooCommerce to accept the following payment methods:
Check payments
Cash on delivery
Direct bank transfer
Local payment methods, such as Boleto Bancário, Paytm, and Alipay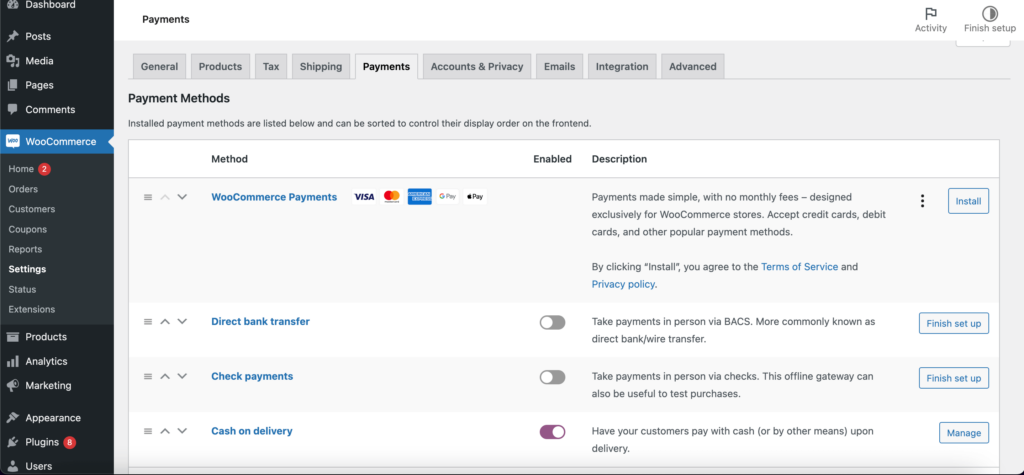 To configure WooCommerce to accept these payment methods, you will need to install and activate the appropriate extensions. For example, to accept check payments, you will need to install and activate the WooCommerce Checks extension.
6. Security and Backup
Security is one of the main concerns for an eCommerce website. Unless you are able to ensure bulletproof security for your site, you won't be able to gain your customers' trust.
Both CS-Cart and WordPress are secure platforms. Also, they have different ways to provide automatic backup for your site. Let's talk about that!
Security and Backup of CS-Cart
CS-Cart supports HTTPS, which encrypts all communication between your store and your customers. This helps to protect sensitive data, such as credit card numbers and passwords.
CS-Cart is also PCI compliant, which means that it meets the security standards set by the Payment Card Industry Security Standards Council. You will be able to control who has access to your store and what they can do using this eCommerce platform.
In terms of backup, CS-Cart includes a built-in backup tool that allows you to back up your store's database and files. You can also schedule CS-Cart to back up your store on a regular basis. It ensures that you always have a backup of your store in case of a disaster.
Security and Backup of WordPress
WordPress has the largest number of users among all the CMS platforms. Since it has the most users, the possibility of attacks is higher here. WordPress itself is a secure platform, however, the problem arises when someone uses third-party plugins or themes from untrustable sources.
To tighten the security of your WordPress-powered eCommerce store, you have to use a security plugin like Wordfence, Sucuri, Security Ninja, etc.
Since WordPress doesn't offer any built-in backup service, you have to install a backup plugin like UpdraftPlus, BlogVault, Duplicator, etc. to ensure automatic backup for your eCommerce site.
You should also regularly update your WordPress core version, plugins, and themes to secure your website from any unwanted threats.
Subscribe to
Dokan blog
7. Product Management
Product management for an eCommerce website involves handling everything related to the products you sell online. This includes creating detailed product listings with descriptions and images, organizing products into categories, setting prices, managing stock, optimizing for search engines, and presenting products attractively.
Let's check how CS-Cart and WordPress manage products:
CS-Cart Product Management
Product Catalog: Your product catalog is the first thing potential customers will see, so it's important to make a good impression. CS-Cart allows you to add detailed product descriptions, high-quality images, and all relevant product information to create a product catalog.
Product Organization: CS-Cart enables you to organize your products into categories and subcategories so customers can easily find what they're looking for. You can also use categories and subcategories to create a more engaging shopping experience by showcasing related products and cross-selling opportunities.
Product Attributes: Product attributes allow customers to filter and sort products based on their specific needs. For example, you could add attributes such as size, color, and material to your product catalog.
Product Variants: CS-Cart allows you to create product variants for products with different options, such as size, color, or material. This will allow you to offer your customers a wider range of choices without having to create a separate product for each option.
Inventory Tracking: Track your product inventory levels in real-time to avoid overselling products and ensure that customers are always able to purchase the products they want.
Discounts and Promotions: CS-Cart offers a variety of tools to help you create and manage discounts and promotions. You can use these tools to target specific customer groups or products, and to create promotions that are aligned with your business goals.
WordPress Product Management
Product Creation: WooCommerce- an eCommerce solution for WordPress, makes it super easy to add, edit, and delete any products to your eCommerce store. It enables you to create detailed product listings, including product descriptions, images, pricing, and variations.
Customization: You can customize products with various attributes, including size, color, SKU, and more. This flexibility allows you to cater to different product types and variations.
Categories and Tags: Organize your products by categorizing them and adding tags for easy navigation. This enhances the user experience, helping customers find products quickly.
Inventory Management: Keep track of your product stock levels, receive low-stock notifications, and manage inventory efficiently. Various inventory management features are available through WooCommerce and other eCommerce plugins.
Product Images and Galleries: WordPress provides excellent support for product images and galleries. You can showcase your products with high-quality images and create appealing product displays for your online store.
8. Marketing and SEO
Marketing for an eCommerce site involves strategies to attract customers, such as creating content, using social media, and email marketing.
As an eCommerce store owner, it's your utmost priority to attract customers to your store. Here is how CS-Cart and WordPress will help you to get this job done.
Marketing and SEO of CS-Cart
Search Engine Optimization: CS-Cart is SEO-friendly, with a variety of features to help businesses improve their ranking in search engine results pages (SERPs). These features include customizable meta tags and titles, image optimization, and sitemaps.
Content Management System: CS-Cart includes a built-in CMS that allows businesses to create and manage custom content pages, blog posts, and news articles.
Social media integration: CS-Cart integrates with popular social media platforms, such as Facebook, Twitter, and Instagram. This allows businesses to easily share their products and content with their social media followers.
Google Analytics integration: CS-Cart integrates with Google Analytics, which allows businesses to track their website traffic and performance. This information can be used to improve marketing and SEO campaigns.
Marketing and SEO of WordPress
Built-in Features: WordPress doesn't offer any built-in features for marketing and SEO except permalink settings. But there are several free plugins to get this job done.
SEO Optimization: WordPress offers powerful SEO capabilities. You can customize meta tags, URLs, and other SEO elements, enhancing your website's visibility in search engine results. Popular SEO plugins like Yoast SEO and All in One SEO Pack provide these features.
Blogging: WordPress is renowned for its blogging feature. You can easily create and organize content, including articles, blog posts, landing pages, and more, allowing you to effectively engage your audience and improve SEO.
Social Media Integration: WordPress seamlessly integrates with social media platforms. You can share content, add social sharing buttons, and engage with your audience on various social networks, extending your reach and increasing brand visibility.
Email Marketing: WordPress supports email marketing through plugins like Mailchimp and Constant Contact. These tools allow you to build email lists, send newsletters, and run targeted email campaigns to promote products or services effectively.
SEO Plugins: WordPress has a vast collection of SEO plugins. In addition to Yoast SEO and All in One SEO Pack, you can explore plugins like Rank Math and SEOPress, which offer advanced SEO features and enhancements.
9. Help and Support
Help and support for an eCommerce site are essential features to ensure a smooth and successful online shopping experience for both customers and store owners.
Let's check what CS-Cart and WordPress offer to make sure better help and support for your store:
Help and Support of CS-Cart
Documentation: CS-Cart offers comprehensive documentation that covers all aspects of the platform. This documentation is well-written and easy to understand, and it is available in multiple languages.
Community Forums: CS-Cart has a large and active community forum where users can ask questions, get help from other users, and share tips and tricks.
Knowledge Base: CS-Cart has a knowledge base that contains articles and FAQs on a variety of topics, such as how to set up a store, how to add products, and how to configure shipping options.
Support Tickets: CS-Cart users can submit support tickets to get help from the CS-Cart support team. Support tickets are typically responded to within 24 hours.
Live Chat: CS-Cart offers live chat support to users on its website. Live chat support is available during business hours.
Help and Support of WordPress
WordPress doesn't provide any direct support like email ticketing, or WhatsApp messaging. But you can get answers to your every query through its community, official documents, and forums. Since it has the largest user base, so you won't feel alone whenever you need any help.
Official WordPress.org Support Forums: WordPress.org hosts an active support forum where users can ask questions, seek help, and share their experiences. The forum is a valuable resource for free users, and you can usually find solutions to common issues and answers to your questions.
Official WordPress Documentation: The WordPress Codex and official documentation provide a wealth of information. They cover a wide range of topics related to WordPress usage, configuration, themes, plugins, and more. These resources are freely accessible and can help you troubleshoot issues and learn more about WordPress.
WordPress Community: WordPress has a vibrant and helpful community of users and developers. You can connect with other WordPress enthusiasts on various social media platforms and join user groups for support, advice, and discussions.
Plugin and Theme Support: If you encounter issues with specific plugins or themes, you can often seek support through the official WordPress Plugin and Theme directories. Many developers provide support forums for their products, even for free versions.
WordPress Meetups: WordPress Meetup groups often organize local and virtual events where users can meet, share experiences, and seek help. Check for meetups in your area or attend virtual meetups to connect with other users.
10. Pricing
Each eCommerce platform comes with different pricing plans. You need to figure out which platform offers more convenient features according to your budget.
In this segment, we are going to check the pricing plans for CS-Cart and WordPress:
CS-Cart Pricing
CS-Cart offers three pricing plans:
Standard: The Standard plan is perfect for small businesses just starting out. It includes all the essential features you need to create a successful online store at $1250 per year.
Plus: The Plus plan is a good option for growing businesses that need more features and functionality. It will charge you $3150 per year for using the Plus package.
WordPress Pricing
WordPress is an open-source and free content management system. So, you don't have to pay any fee to use this platform to create your eCommerce websites.
Comparison Table of CS-Cart vs WordPress for eCommerce
Here's a table comparing CS-Cart and WordPress based on some key factors:
| | CS-Cart | WordPress |
| --- | --- | --- |
| Ease of Use | User-friendly admin panel | User-friendly, but may require plugins for advanced features |
| Cost | License-based pricing, additional modules | Open source, with hosting and domain costs |
| eCommerce Features | Specialized for eCommerce, comprehensive | Requires plugins for advanced eCommerce features |
| SEO | Built-in SEO tools, customizable | SEO-friendly with plugins, need configuration |
| Security | Regular security updates, strong for eCommerce | Security depends on hosting and third-party plugins |
| Support | Available support plans, active community | Community support, paid support available |
| Blogging | Basic blogging features | Excellent for blogging with plugins |
| Multilingual | Multilingual support for storefronts | Multilingual support with plugins |
| Developer Tools | Offers flexibility for developers | Offers development flexibility with coding |
| Good For | eCommerce websites, online stores | Versatile, suitable for a wide range of websites |
| Limitations | May have a steeper learning curve | Limited coding access for advanced users |
| Multivendor Support | Built-in support for multi-vendor marketplaces | Requires plugins and custom development for multi-vendor support |

Which Platform Is Better for eCommerce- CS-Cart vs WordPress?
After coming this far, you may have already decided which platform is going to be the most convenient for you. If you have a little doubt somewhere in your mind, just check the below part and choose your eCommerce solution with confidence!
Reasons to Choose CS-Cart Over WordPress
Dedicated eCommerce platform
Better performance
Security
More developer friendly
Better support
More reliable for large businesses
Reasons to Choose WordPress Over CS-Cart
Ease of use
Design flexibility
Cost-effective
SEO-friendly
Regular update
Large community
Easier multivendor support
Multi-language support
Mobile friendly
We hope, now you know which platform would be the best solution to create and launch your first-ever eCommerce website.
That being said, if you want to share any feedback related to this article, you can do that using the comment box below. We always appreciate our readers' feedback.
Check our other popular comparison posts on WordPress vs different eCommerce platforms-
Subscribe to
Dokan blog
We send weekly newsletters, no spam for sure!