Looking for new opportunities to make money online? Having a marketplace in a profitable niche could be a great way for digital income. Check this step-by-step guide and learn how to create a Real Estate Marketplace efficiently within a limited budget.
According to a recent study, The global real estate market was valued at US$ 7,063 Billion in 2022. And it is expected the global real estate market to exhibit a CAGR of 1.8% during 2023-2028.
This means you can build a successful online business around property dealings and rental. However, starting an online real estate business will be tough, but proper preparation will make the effort worthwhile.
The duo of WordPress + Dokan multivendor enables you to build any type of online marketplace in minutes.
Today we'll walk you through every step of creating a multivendor marketplace to sell property like Trulia, Realtor, Zillow, etc.
Real Estate Business Opportunities Across The World
The real estate business is booming all over the world. In the USA, it is expected to expand at a compound annual growth rate (CAGR) of 5.2% from 2022 to 2030.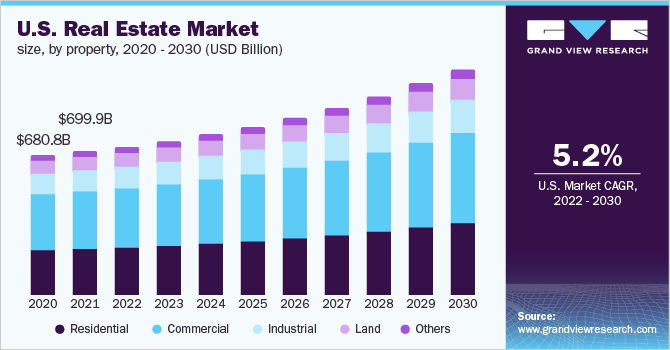 Several key factors drive the growth of real estate, such as rapid urbanization, the increasing trend of nuclear families, infrastructural development, and so on.
Many real estate businesses also offer services to help their clients find the right property, negotiate prices, and handle the sale or lease process. Since modern buyers largely depend on digital platforms to purchase anything, thereby, the popularity of online real estate platforms also grows dramatically.
However, the sudden outbreak of the COVID-19 pandemic imposed a temporary halt in many construction activities. This incident hampered the overall growth of real estate in the past two years. But as people started coming back to their normal lives, the industry got its former pace again.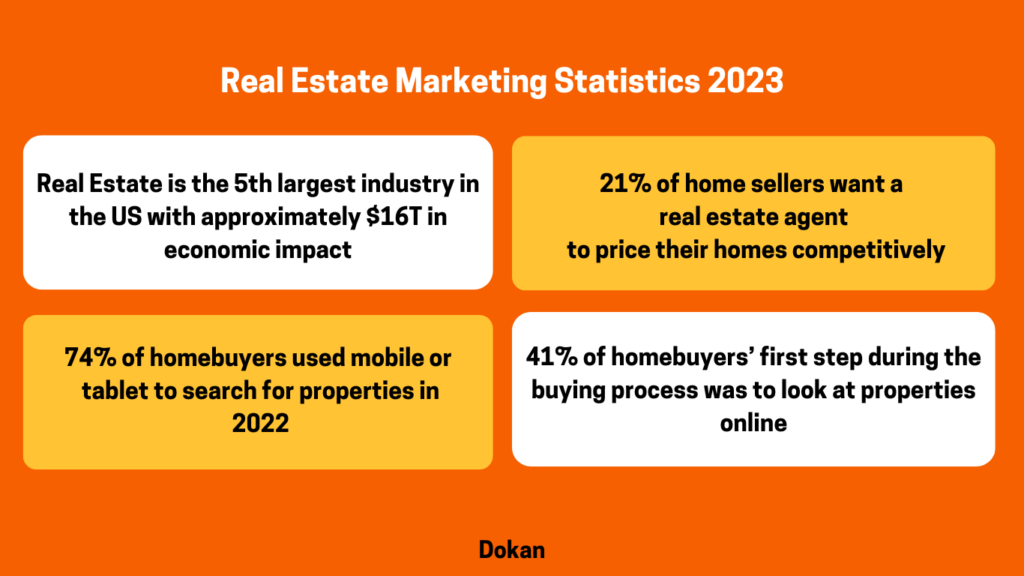 If you're running a real estate business then a digital version of your business is mandatory besides your physical office. In fact, without being directly involved with this business you can still make money in real estate.
You can easily build a marketplace like Zillow, Realtor, and Trulia. Your responsibilities involve promoting the site, enrolling reliable real estate agencies, and bringing clients to your site.
Why Create Your Own Online Marketplace Business?
You may wonder why I should "create a marketplace instead of a single eCommerce store?"
Let's clear your doubts!
eCommerce marketplace is becoming popular among digital customers as they get more options to buy products at a lower price. The top online marketplaces sold $3.25 trillion in goods in 2022. The number is even higher in 2023.
By creating a comprehensive online marketplace, you have the opportunity to tap into this growing market. You'll get the flexibility to offer unique products or services that cater specifically to your target audience.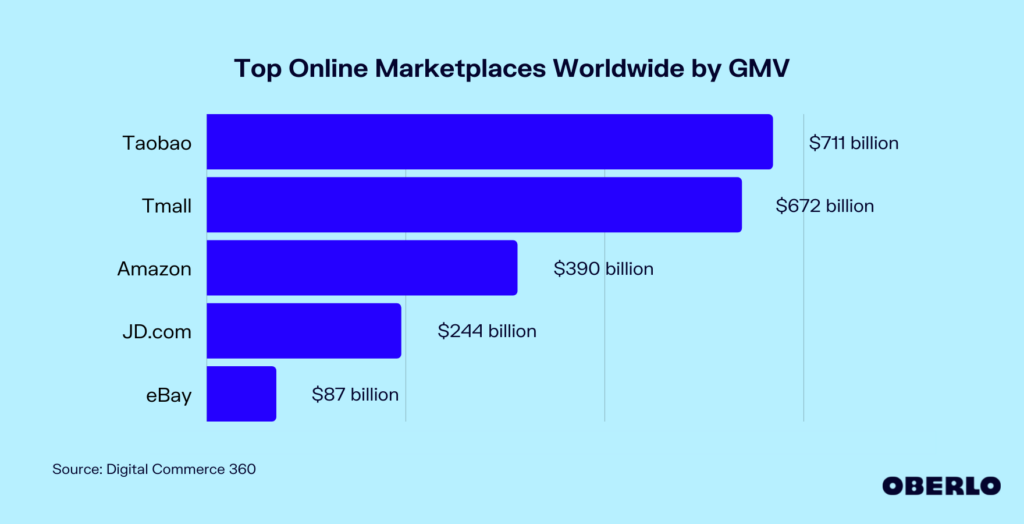 Other than that-
Online marketplaces have the potential to generate high profits, as they allow multiple vendors to sell their products or services in one central location
Marketplace owners can generate significant revenue by taking a commission or transaction fee from each sale
Online marketplaces typically have lower overhead costs compared to traditional brick-and-mortar businesses
Lower rent and utility costs so there is no need for physical store space
Online marketplaces can often be run with a smaller staff, reducing labor costs
Flexibility to expand the platform by adding more vendors and products. This leads you to attract a larger customer base and generate more revenue.
Having a new online business is exciting but it brings a lot of challenges as well. There are plenty of things you need to take care of. Such as business plan, budgeting, design layout, marketing strategy, and so forth.
How to Create a Real Estate Marketplace in WordPress
If you're thinking of creating a real estate marketplace with all essential functionalities, you need a reliable platform.
As you know, WordPress makes it easier to build a website regardless of your technical expertise or prior experience. Moreover, it has a large library of useful plugins that lets you build any type of business without hiring professionals.
Here Dokan multivendor comes into play.
Dokan is a fast and feature-rich multi-vendor marketplace plugin for WordPress. More than 60k businesses are using Dokan to run their marketplace.
With the duo of WordPress + Dokan, you can also establish a successful business like Zillow or Trulia effortlessly.
Prerequisites For Launching A Real Estate Marketplace
WooCommerce plugin
An appropriate Dokan Theme
We assume you've already purchased the domain and hosting for your real estate marketplace. Now download & install WordPress on your site.
If it's your first time, check out this beginner guide on how to build and run a successful WordPress site.
Now, it's time to enable marketplace features on your WordPress site. It'll take hardly 30 minutes to set up the fundamental base of your marketplace using Dokan.
Here are the steps to create a real estate marketplace:
Install and Activate Dokan
Install a Dokan Compatible Theme
Configure Basic Settings
Upload Products and Configure Admin Shop
Allow Vendors to Register
Step 1: Install Dokan to Configure Your Real Estate Marketplace
After configuring your WordPress site, it's time to create your marketplace. If you're thinking of installing an eCommerce plugin, let me clear your doubt. A WordPress eCommerce plugin like WooCommerce enables only single-store functionalities on your site.
To get marketplace facilities you need a multivendor marketplace plugin. Today, we'll use Dokan to build your real estate marketplace.
You can install and activate Dokan similar to any other WordPress plugin. First, install the lite version of Dokan from the WP admin dashboard. It is completely FREE.
To unlock advanced and niche-specific features, you may need to download and activate the Dokan Pro Version.
Login to your WordPress dashboard using personal credentials. Navigate to Plugins→ Add New from the side menu options. Next, click on the Add New button from the top.
On the right side of your screen, you'll find a search box. Here, type the plugin name "Dokan". Now, install and activate the plugin and get all the marketplace features instantly on your site.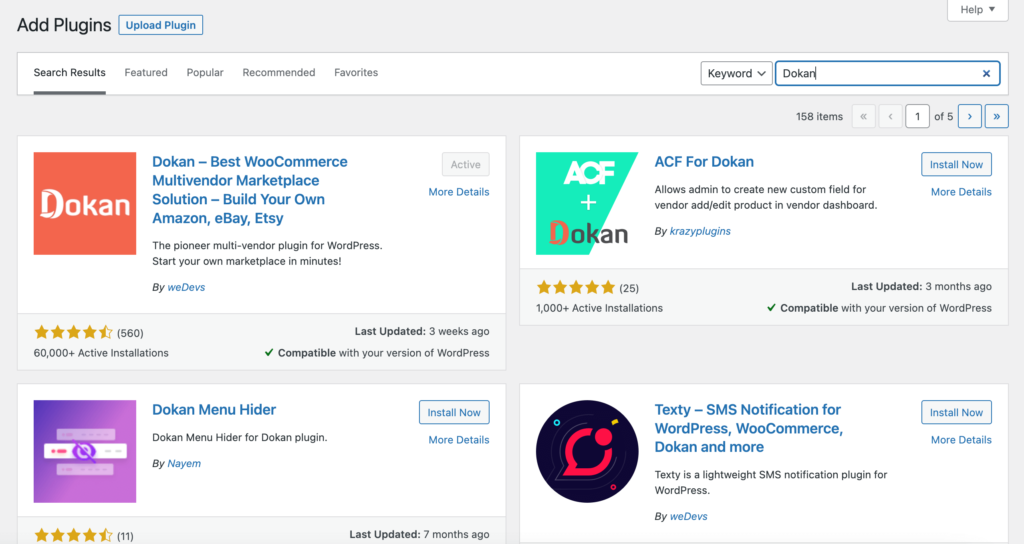 For further help, check our official document on Installing Dokan Multi-Vendor Marketplace.
Or go through the video tutorial on Dokan installation.
Note: You don't need to install WooCommerce individually. It will be installed automatically when you are installing Dokan.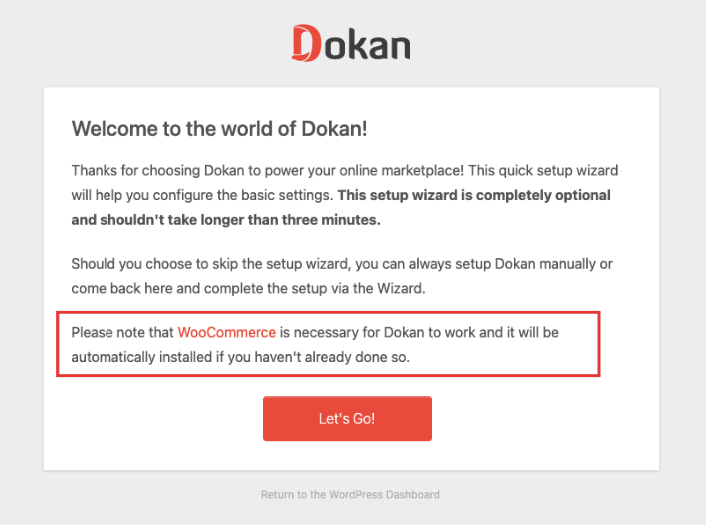 Step 2: Configure the General Settings of Dokan
As you activated Dokan on your WordPress site, it brings all the required features to run a successful marketplace. You just need to customize the features as per your business needs.
Go to, WP Admin → Dokan→ Settings.
Here you'll find many customization options to set particular rules and functional processes for your real estate marketplace-
Set up store category
Allow sellers to display their products
Create necessary tags
Choose the new product status
Select withdrawal methods
Set minimum withdrawal limit
Set commission terms and rates.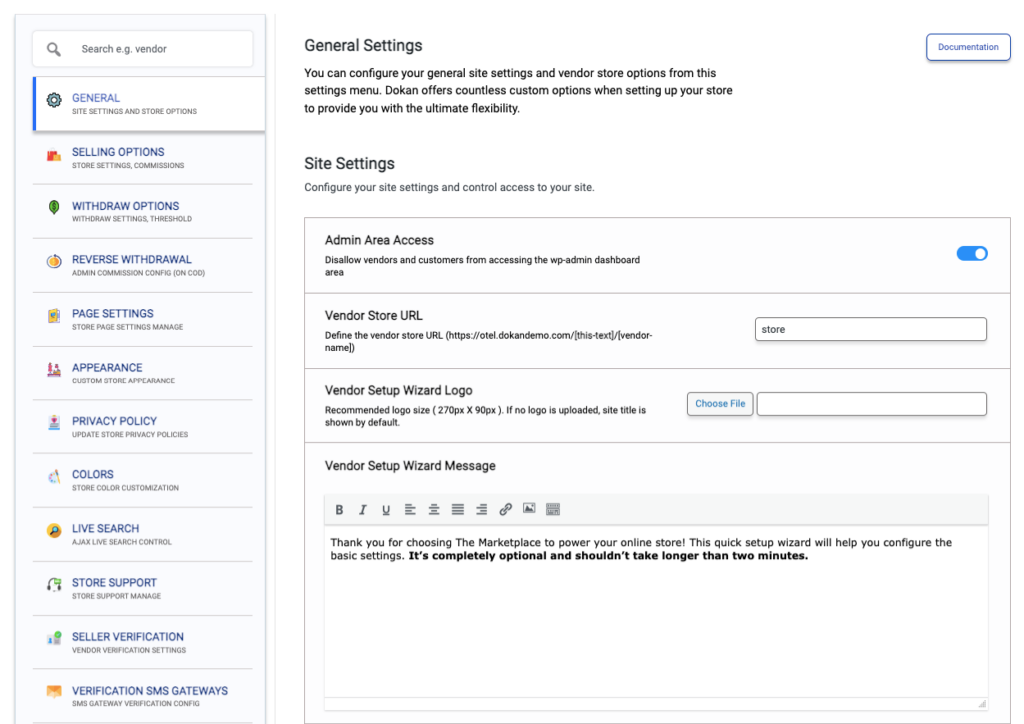 Once you've done with all the changes, hit the Save Changes button.
It's also important to configure your permalink settings.
To do this, navigate to WP Admin → Settings → Permalinks → Permalink Settings → Product Permalinks.
Select the check box "Custom Base" to modify your product permalinks. By default, it contains "/product". You can modify the link as per your requirements.

Let's show you how to set the commission rate for your real estate marketplace-
Define The Commission Rate
There are several ways to earn from a marketplace. One of the popular ways is to earn a commission on every transaction that takes place on your marketplace.
To set your commission rate, go to WP Admin Dashboard → Dokan → Settings → Selling Options → Admin Commission.
You'll get several options to set the percentage or a fixed amount for commissions. Dokan supports various types of vendor commissions.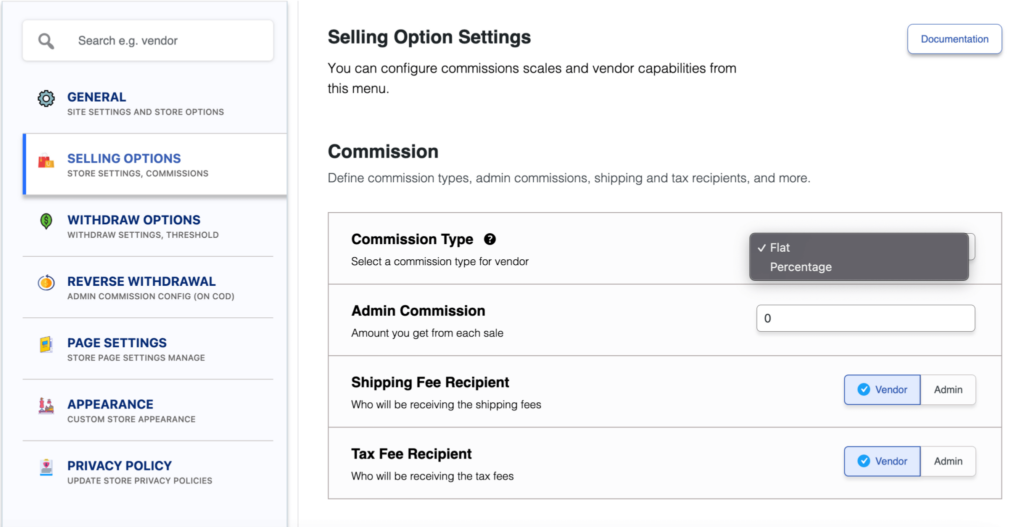 Dokan also allows you to set the category-based commission rate for the vendors. So you can define individual commission rates for different vendors.
By switching different tabs on the Dokan setting page you can customize your marketplace in your way.
Step 3: Activate A Beautiful Theme to Display Your Properties More Attractively
Dokan enables all the marketplace functionalities on your WordPress site. Using these functions you can ensure a great experience for your visitors. But making your marketplace visually appealing is also crucial to creating a good first impression on your prospective customers.
Luckily, Dokan is compatible with almost all WooCommerce themes. Use a relevant theme for your real estate marketplace considering color scheme, layout, and style elements. You should customize the theme so that it represents your brand identity uniquely.
Check all the Dokan Compatible Themes here. Before choosing any theme for your site, ensure it allows your users to navigate your site with ease.
Alternatively, you can select any Dokan-compatible theme from ThemeForest specially designed for the marketplaces built with Dokan.
In order to upload a theme on your marketplace, go to WP-Admin → Appearance → Themes.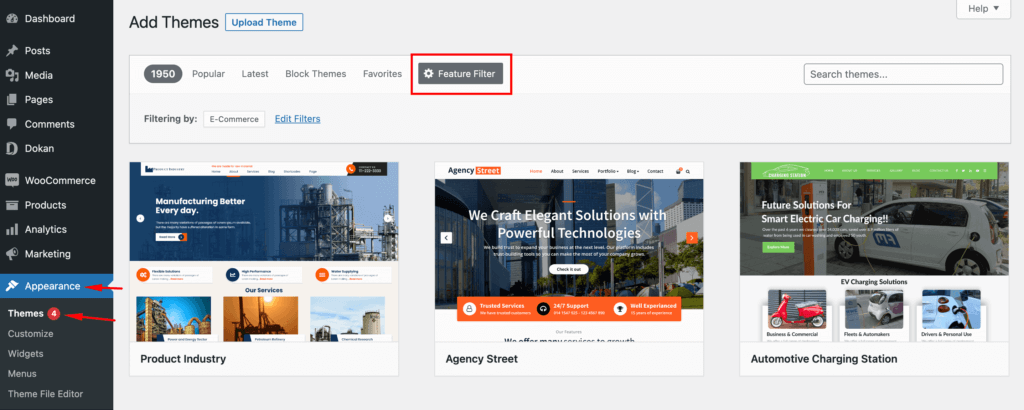 If you need help installing your WordPress theme, check this Ultimate Guide to WordPress Themes.
Step 4: Setup Admin Shop & Upload Products on Your Marketplace
Besides earning commissions from other vendors, you can sell your own products on the marketplace. Dokan lets you create your mini store with a unique URL and customize it according to your requirements.
Navigate to, WordPress Dashboard → Dokan → Vendor
Toggle the Status bar to enable the admin to add products to the marketplace.

Now, it's time to design your mini store and upload new products.
Start adding products from WordPress Backend → Products → Add New.
Next, include relevant descriptions and other details of your property.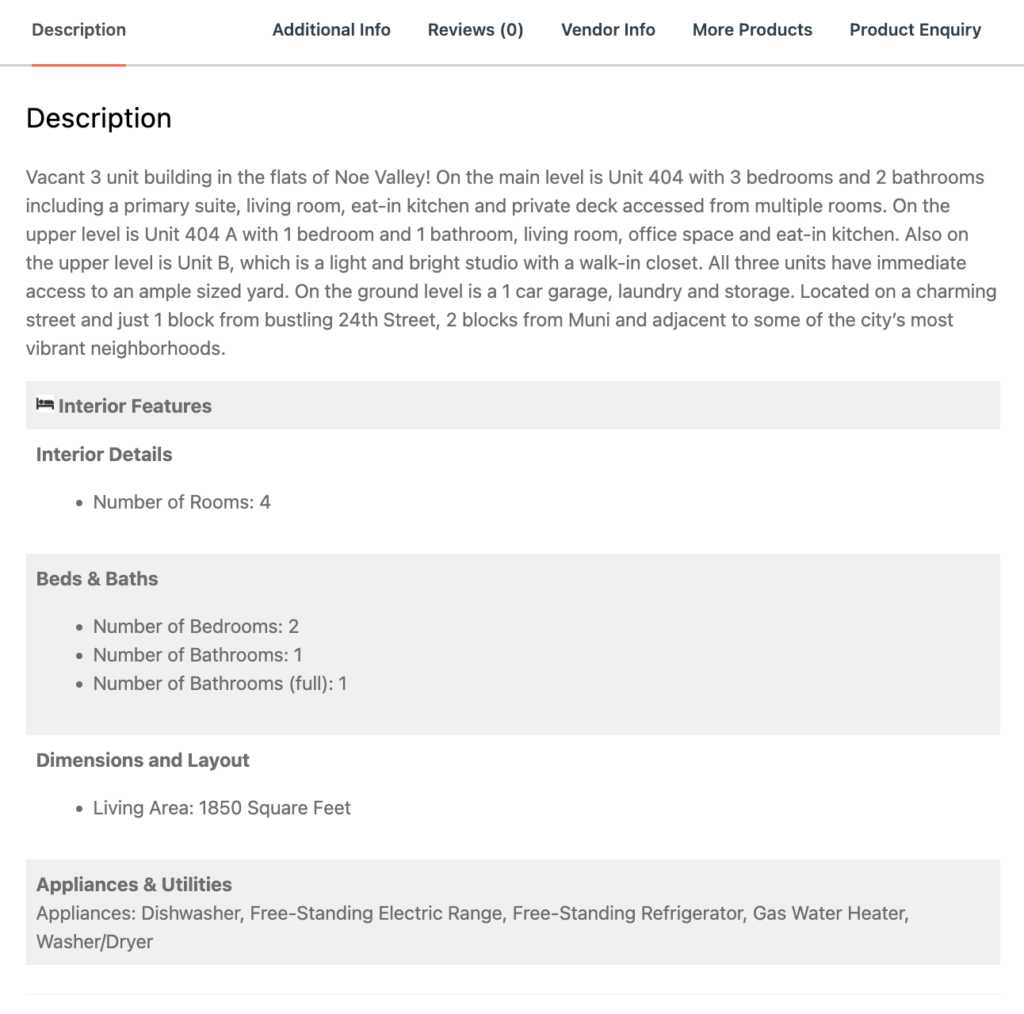 Alternatively, you can upload products from the front end by going to WordPress Dashboard → Visit Vendor Dashboard → Products.
Click on Add new product and update your product information.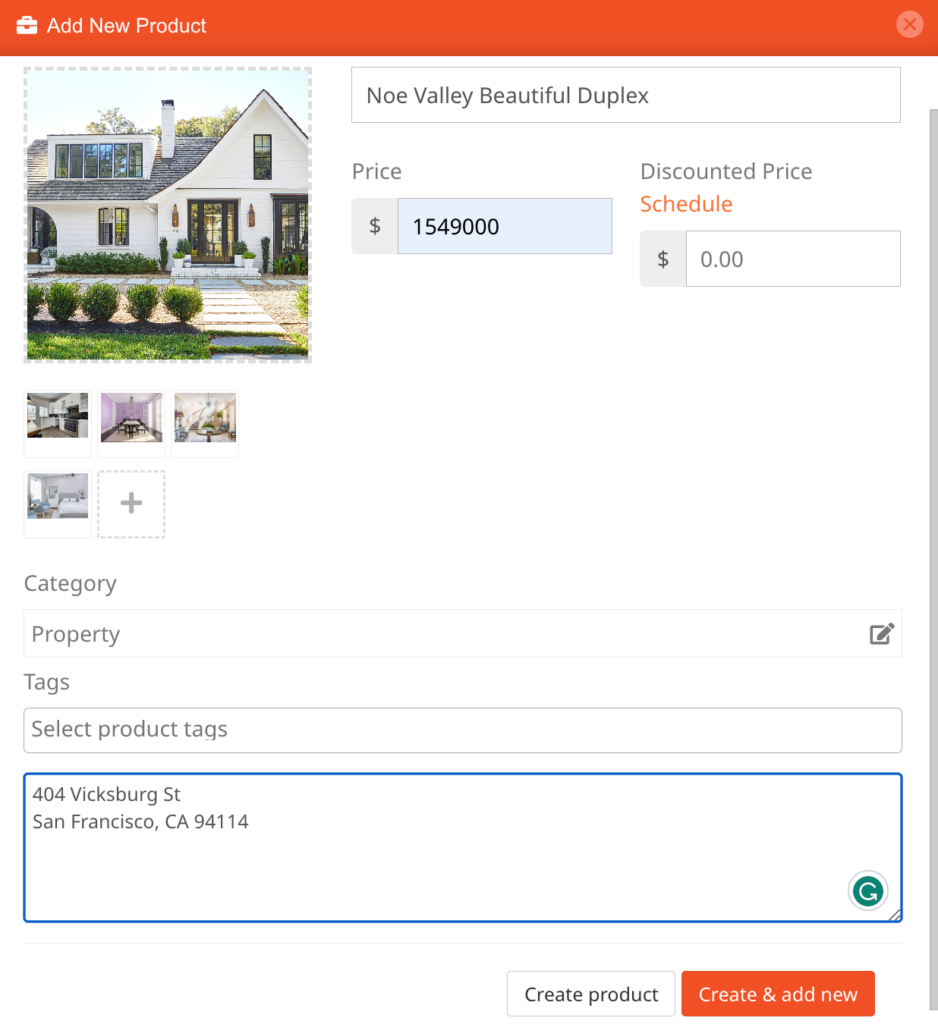 Registered vendors of your site will upload products in this way on your real estate marketplace.
The front view of your property will look like the below-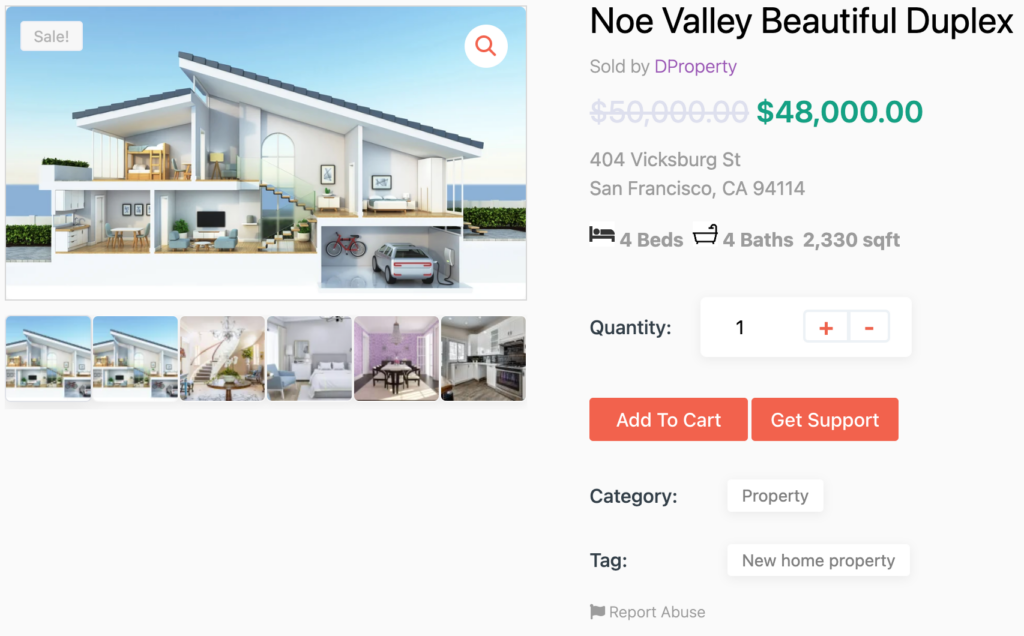 If you want to customize your store design, go to Vendor Dashboard → Settings. From here you can modify your store name, address, opening & closing time, etc.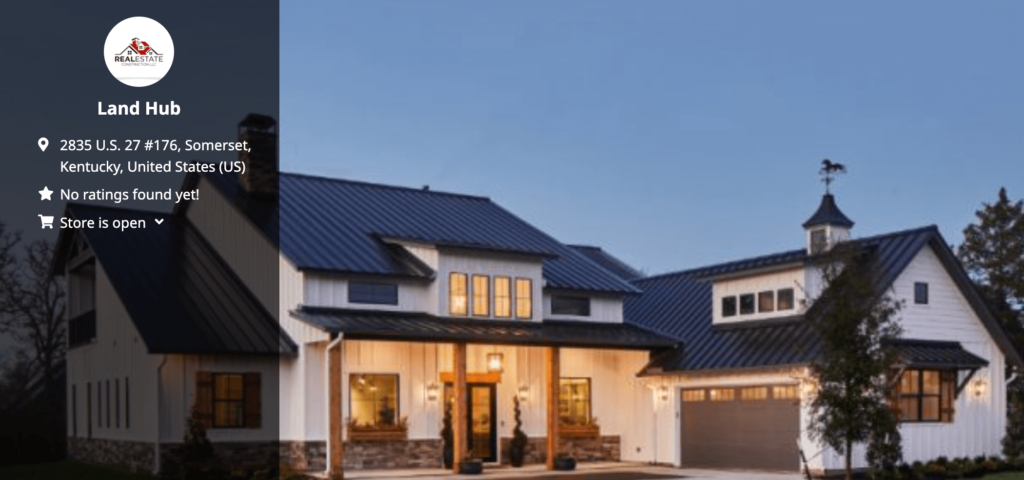 Dokan gives you a complete overview of your marketplace in one place. So, you can check all the updates right from your Dokan dashboard.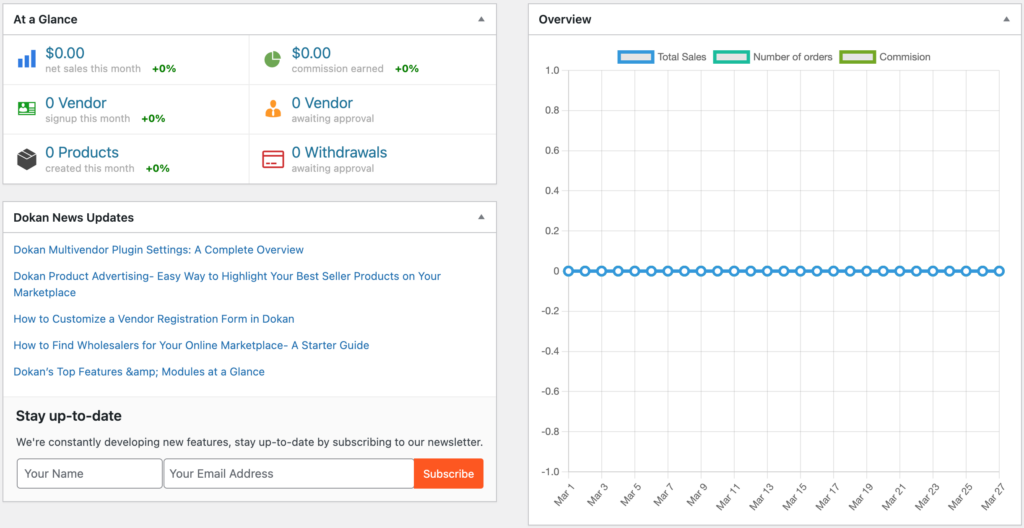 Special Note: Setting up the admin's shop is not mandatory unless you intend to sell your own products.

Step 5: Invite Vendors to Your Real Estate Multivendor Marketplace
All the basic configurations are done. Now it's time to open your marketplace for third-party vendors.
First, you need to enable the "Anyone can register" option. In order to do this, go to WordPress Dashboard → Settings → General Settings → Membership. And put the check mark on it.

Now vendors can fill up the registration form to sign up in your marketplace-
As an admin, you can check all the vendor registration requests from the backend. Review all the vendors' profiles and allow selected ones to sell products on your site.
After getting approval from the admin, vendors can design their own mini-stores with individual URLs. Dokan also provides an individual vendor dashboard to every vendor. So, they can upload, manage, and sell their products satisfactorily.
By clicking on the Settings tab, vendors can customize the shop with a unique cover page, logo, and other store details. For uploading new products click on the Products tab.
As an admin of a handmade marketplace, you can find all the stores on your site by visiting the store listing. Also, customers can see the store listings as well.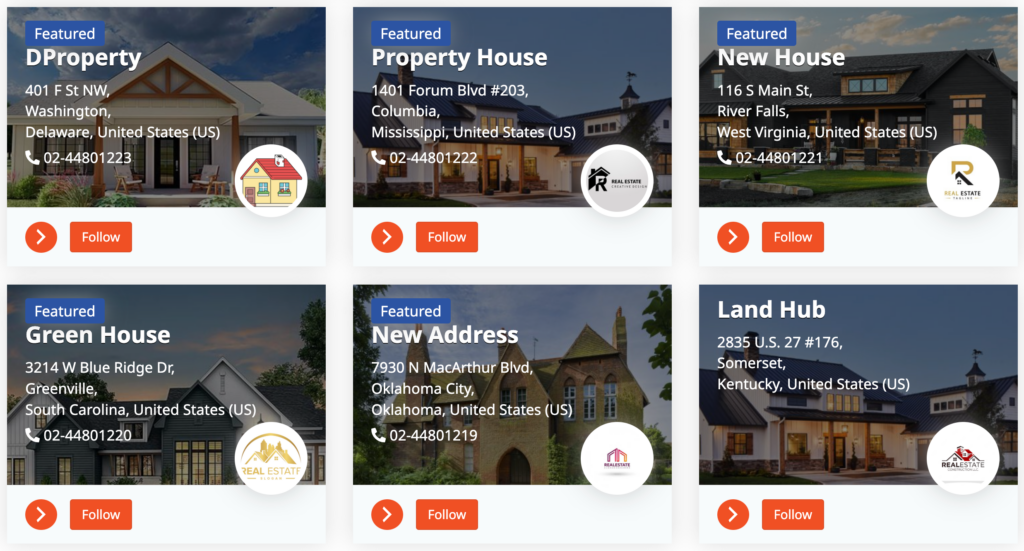 In order to see all the property lists click on the Shop from the main menu.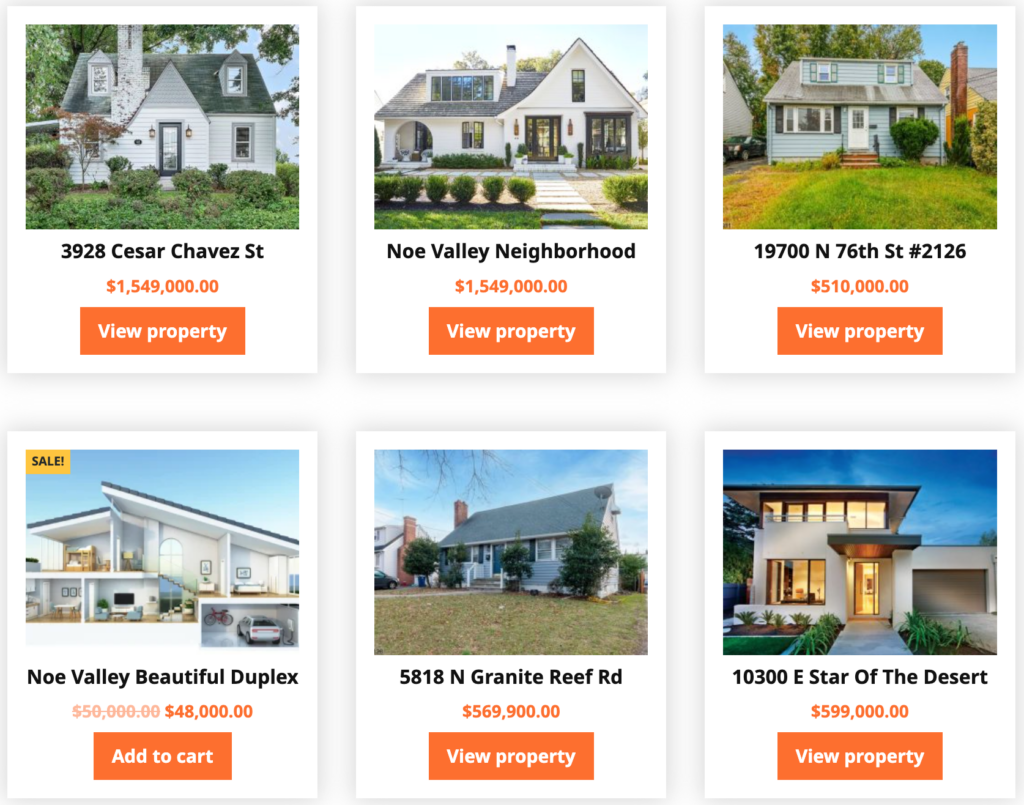 By clicking on the View Property anyone can check the details of the belongings.
While checking the details of a product, you can find a similar product list at the end of the page-
Are you ready to build your real estate marketplace now? ⤵️
Utilize Dokan Multivendor Premium Modules to Enhance Your Marketplace Experience
As we've mentioned above, Dokan lite is enough to build and run a basic marketplace with all the essential features. But as your business starts growing you may need some advanced features for your business.
Dokan has 35+ premium modules to take your marketplace to the next level. Below are some Dokan modules you can integrate into your real estate marketplace:
Geolocation
The Geolocation module can help customers to find properties that are located in their desired area. It would be helpful for customers who are relocating or who are looking for a specific type of property in a particular location.
Dokan Product Advertising
The Product Advertising module can help vendors promote their properties by creating custom listings with attractive images and descriptions. So vendors can stand out from the competition and grab more attention from potential buyers.
Seller Badge
The Seller Badge module can help to build trust and credibility among customers. When customers see that a vendor has a seller badge, they know that the vendor is experienced and reliable.
Request for Quotation
The Request for Quotation module can help customers to get the best possible price for a property. By requesting quotes from multiple vendors, customers can compare prices and find the best deal.
Create a Real Estate Marketplace & Make Money Online
To wrap things up, creating your own Real Estate Marketplace is an exciting opportunity.
If you're passionate about property dealings and have proper knowledge, it could be a profitable niche for an online marketplace.
With the five steps above, create a real estate marketplace or any other similar type of business in minutes. You can also check out our guide on Easy Steps to Build Your Dream Marketplace with WordPress to make your development journey easier.
When your store first goes live, you should check if everything works as intended. Sometimes new eCommerce sites have broken buttons, media files that don't load, or invalid product pages. Try to solve the issues immediately. So it can't impact your site's SEO or user experience.
Do you have any further queries about creating a real estate marketplace? Do use the comment section below.
Subscribe to Dokan blog
We send weekly newsletters, no spam for sure!