According to Statista's report, the famous handmade Product marketplace Etsy's annual revenue is 2.6 billion dollars. Etsy has an active seller base of 7.9 million globally. This tells you about the popularity of Etsy and also the craze for handmade goods.
Moreover, the trend for handmade products is on the rise and now is the best time to create your own marketplace like Etsy.
You may think creating an online store like Etsy sounds complicated. Not at all!
You can create a marketplace similar to Etsy using WordPress. With the help of WooCommerce and Dokan multivendor, you can create a marketplace with ease.
Today we are going to show you how to create a handmade marketplace like Etsy in 6 steps with WordPress.
Let's get started. But before that, we will learn-
What is Etsy? Check Handmade Product Marketplace Opportunities
Etsy is a peer-to-peer marketplace for handmade unique products. It started back in 2005 and now it is selling over 60 million products. These products include unique designer things, creative gifts, vintage items, etc.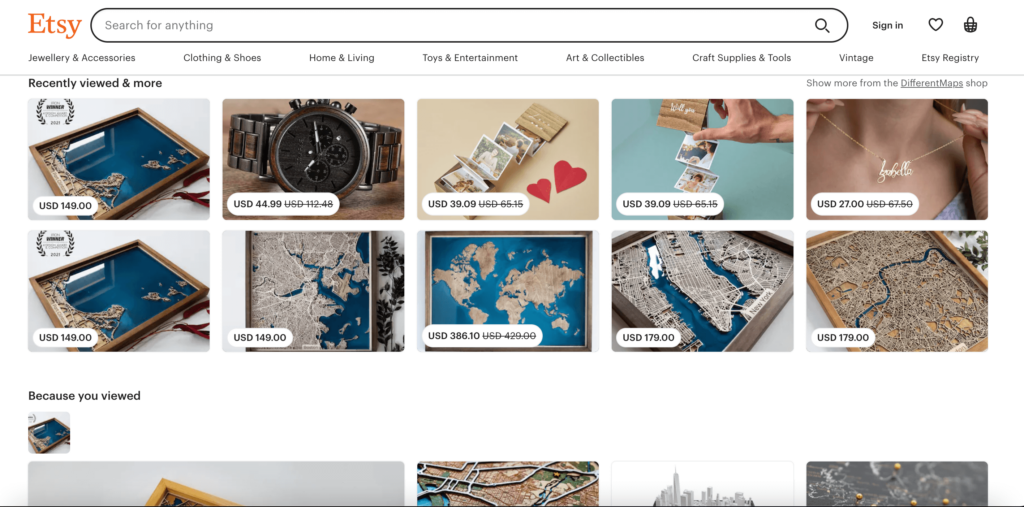 The platform has more than 80 million customers and 1400 employees. Etsy generated a revenue of $2.5 billion in 2022, a 10.1% increase year-over-year.
Here is a look at the revenue of Etsy year by year-
| Year | Revenue ($bn) |
| --- | --- |
| 2012 | 0.07 |
| 2013 | 0.12 |
| 2014 | 0.19 |
| 2015 | 0.27 |
| 2016 | 0.36 |
| 2017 | 0.44 |
| 2018 | 0.6 |
| 2019 | 0.81 |
| 2020 | 1.72 |
| 2021 | 2.32 |
| 2022 | 2.56 |
Source: Etsy data
Not only that, Etsy has more than one business model and has some unique features.
| | |
| --- | --- |
| Business Model of Etsy | Features of Etsy |
| Transaction fees | Product listing |
| Subscription fees | Different Payment gateways |
| Pattern tool fees | Individual Store for Vendors |
| Listing fees | Global Shopping |
| Order fees | Vendor Review |
| Advertising fees | Seller Live Chat |
| Currency conversion fees | Product Advertising and more. |
But, is the grass only greener on this side? No.
As we said, the trend of handmade products is increasing and it is an excellent time to start your handmade product marketplace.
The forecast for handicraft products is that the market size will reach US$ 1296.6 Billion in 2028 and the market growth rate is 9.1%. Also, the handicraft market is predicted to account for up to 10 percent of global GDP by 2030.
So, you can see the future is bright and if you don't act now, you might lose a big opportunity.
If you are reading this line, that means you are now ready to start your online handmade marketplace. So, let's begin.
5 Steps to Create a Handmade Product Marketplace Like Etsy
Because of WordPress, creating an online store has become relatively easy. With WooCommerce, anyone can start their own eCommerce store and earn.
And with the help of Dokan multivendor, you can turn that eCommerce store into a multivendor marketplace with a few clicks. Dokan Multivendor is a popular marketplace plugin with 60000+ active installations and has all the features to get your marketplace off the ground.
We will show you how to build an online marketplace for handicraft products using them.
What You Need To Set Up an eCommerce Marketplace
To start an eCommerce marketplace, you need the following items:
Too keep the development process easier, we're assuming that you've already both domain-hosting and configured your WordPress site. Now you need to follow these steps to create your handmade product marketplace,
Install & Activate the Dokan Multivendor Marketplace
Install a Dokan Compatible Theme
Configure the General Setting of Dokan Multivendor
Upload Products and Setup Admin Shop
Allow Vendors to Register
Step 1: Activate Dokan to Create Your Multivendor Marketplace
As WooCommerce creates a single store for your website you need Dokan to create a multivendor marketplace for your handicraft shop.
Installing Dokan multivendor is as simple as installing any other WordPress plugin. You can either install the plugin from the WordPress dashboard by,
Navigating to Admin Dashboard -> Plugin-> Add New-> Click the search
Type Dokan -> Install -> Activate.
Dokan multivendor will also provide a setup wizard that will help you easily set up your marketplace. Configuring Dokan is very easy by using its own Wizard.
As the Dokan multivendor plugin is powered by WooCommerce, you need WooCommerce to create your marketplace.
However, you don't need to install WooCommerce separately. When you install Dokan, it automatically installs WooCommerce.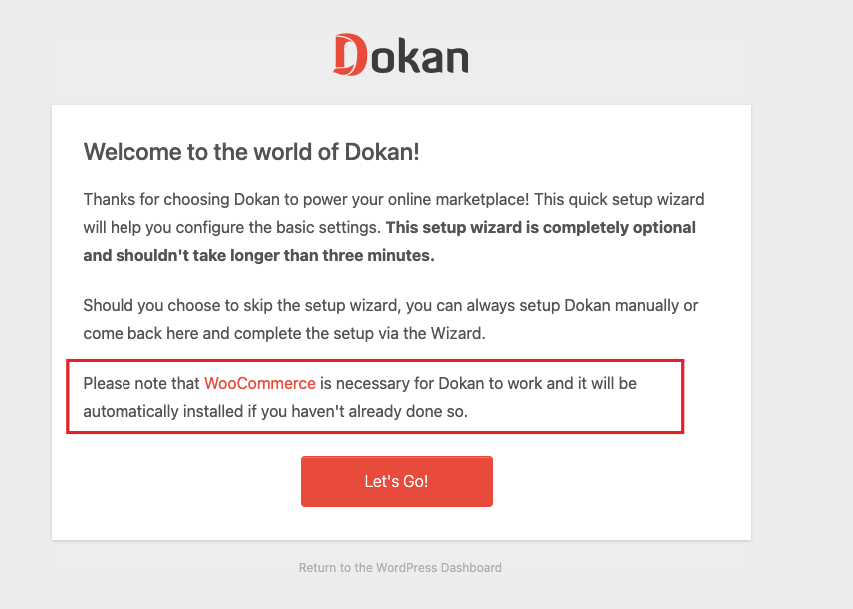 If you are still confused, go through the video tutorial on Dokan installation.
Before you install Dokan, you need to configure all the basic WooCommerce settings. So you can read the guide on how to fully customize WooCommerce to configure the plugin correctly.
Step 2: Install a Dokan Compatible Theme
After installing the Dokan multivendor plugin, you need to install a Dokan-compatible theme. Any theme that is compatible with WooCommerce is also compatible with Dokan multivendor.
However, Dokan has its own theme "Dokani" that you can use for your convenience.
You can download the Dokani theme.
You can find the themes in WP-Admin-> Appearance-> Themes. But make sure the theme is Dokan compatible.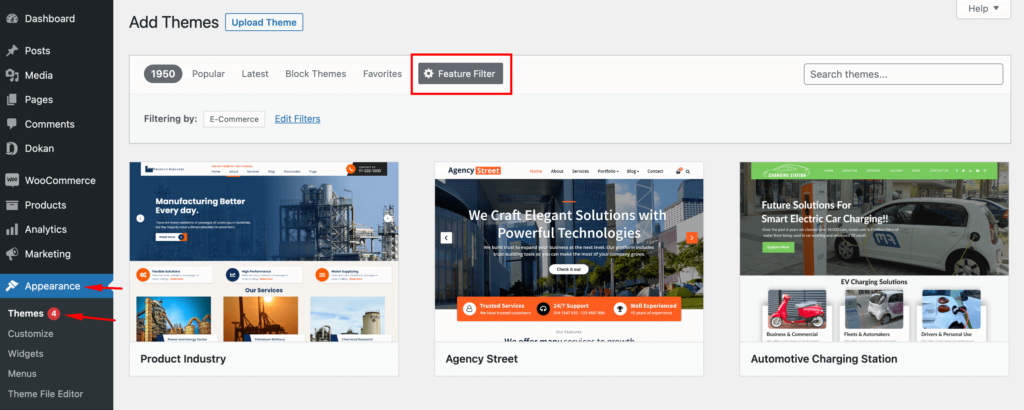 If you choose any other theme, then you will need to customize the theme to make it compatible with your marketplace.
Subscribe to
Dokan blog
Step 3: Configure Dokan General Settings
After installing and activating the Dokan multivendor plugin, now you need to configure all the basic settings. You will find all the settings options at WP-Admin–> Dokan–> Settings.
From here you need to:
Set up your store terms and conditions
Create store category (so that vendors can add different categories for their stores )
Enable payment gateways (more on this in the next part)
Configure withdrawal methods (more on this in the next part)
Allow vendors to upload new products
Create new tags
Set new product status
You can select the pages for the vendor dashboard, order page, store listing, and terms and conditions page.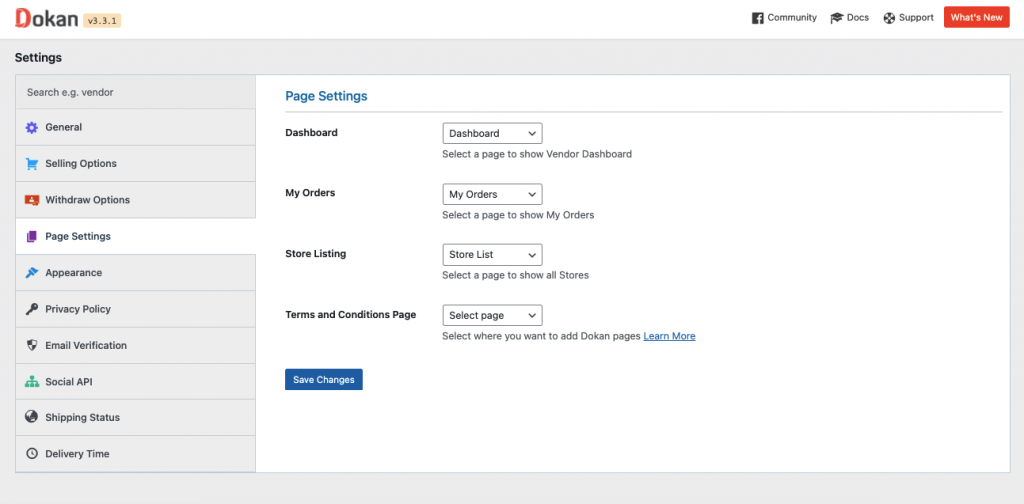 Don't forget to click the Save Changes button after configuring all the settings. Otherwise, you will lose all your settings.
Also, you need to configure your permalink settings as well. Otherwise, you may get a 404 error on certain pages.
Go to WP Admin -> Settings -> Permalinks -> Permalink Settings ->Product Permalinks. Select the check box "Custom Base" for product permalinks and write "/product" on the box.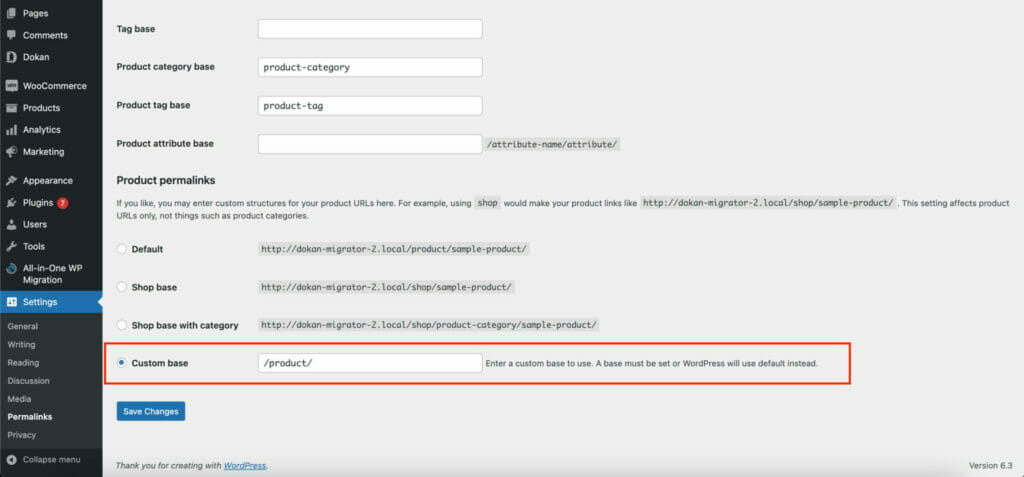 You have to set your commission rate as well. Go to WP Admin Dashboard -> Dokan -> Settings -> Selling Options -> Admin Commission.
You'll find different options to insert the percentage or fixed amount. Dokan supports various types of vendor commissions.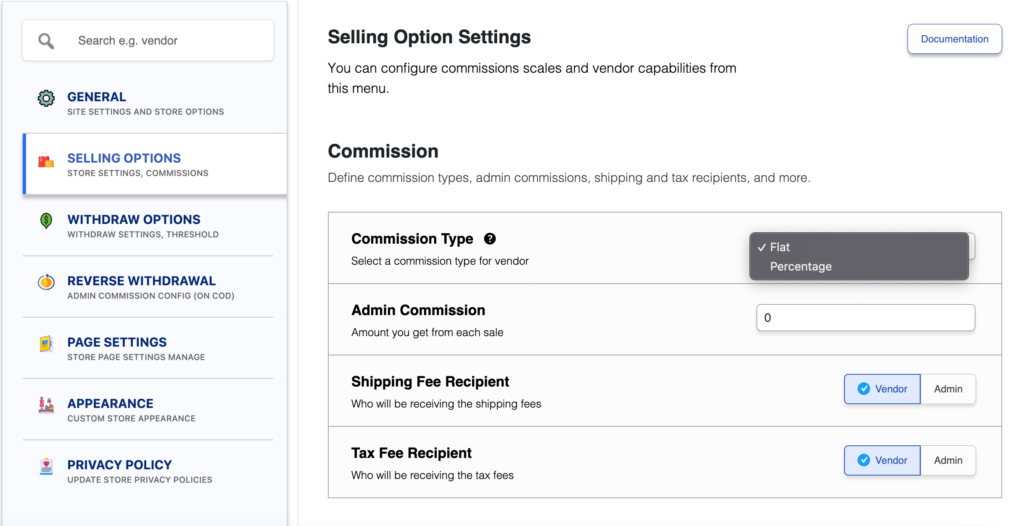 Dokan also enables you to set the category-based commission rate for the vendors. So you can define individual commission rates for different vendors.
Configure Payment Gateways
The Dokan multivendor plugin supports all WooCommerce-compatible payment gateways. This means you get a wide range of choices to make the transaction process easier on your marketplace.
With the Dokan free version you can use non-adaptive payment gateways like check payments, bank account transfers, cash on delivery, etc. You can install the WooCommerce Payments plugin to get support for credit cards, debit cards, and other payment methods.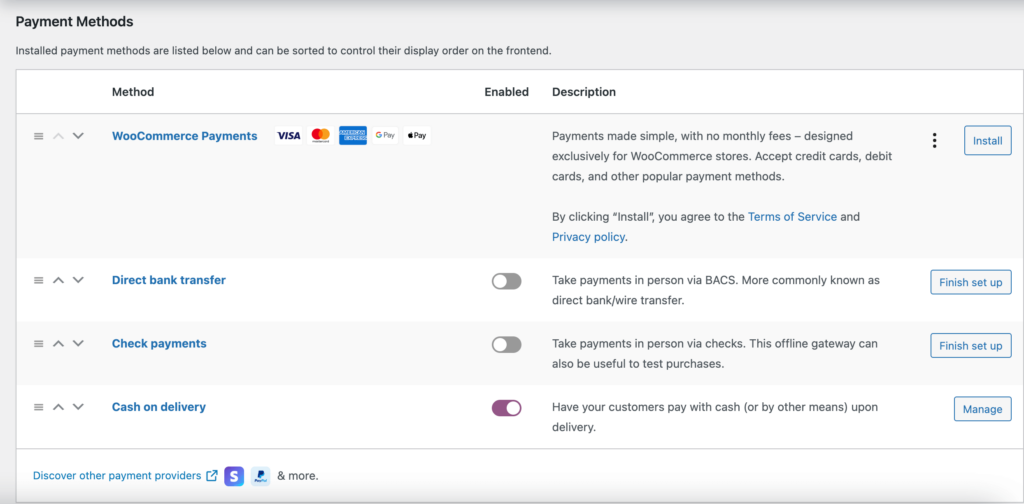 However, if you want your marketplace to support adaptive payment solutions like Stripe Connect and MOIP you need to install the Dokan Pro version.
Enable Withdraw Methods
Another vital part of running an interactive online marketplace is to ensure a smooth withdrawal system. The Dokan multivendor plugin helps you take care of this section as well.
Go to WP Admin -> Dokan -> Settings -> Withdraw Options. Here you'll find options to customize the withdrawal method and set the minimum balance a vendor needs to make a withdrawal limit.
You will get more withdrawal options with the Dokan Pro version.
Step 4: Upload Products and Setup Admin Shop
This is an optional step. If you want to earn some extra money, you can create your store on your marketplace. All you need to do is enable yourself to sell.
Go to Dokan-> Vendors. There you need to enable selling by toggling the button. You can upload your products by navigating to WordPress Backend -> Products -> Add New.
And to upload products from the front end navigate to, WordPress Dashboard -> Visit Site -> Vendor Dashboard -> Products-> Add New. Your registered vendors will upload products this way.
Vendors can add functionalities like shipping, taxes, product atrributes from the product creation form.

Step 5: Allow Vendors to Sign up to Your Marketplace
Now that you have added all the functionalities to your marketplace, you can invite vendors to sign up for your marketplace.
To make sure vendors can sign up to your marketplace, enable the "Anyone can register" option from WP Admin–> General–> Settings. So, it will open the default registration form for vendors to sign up.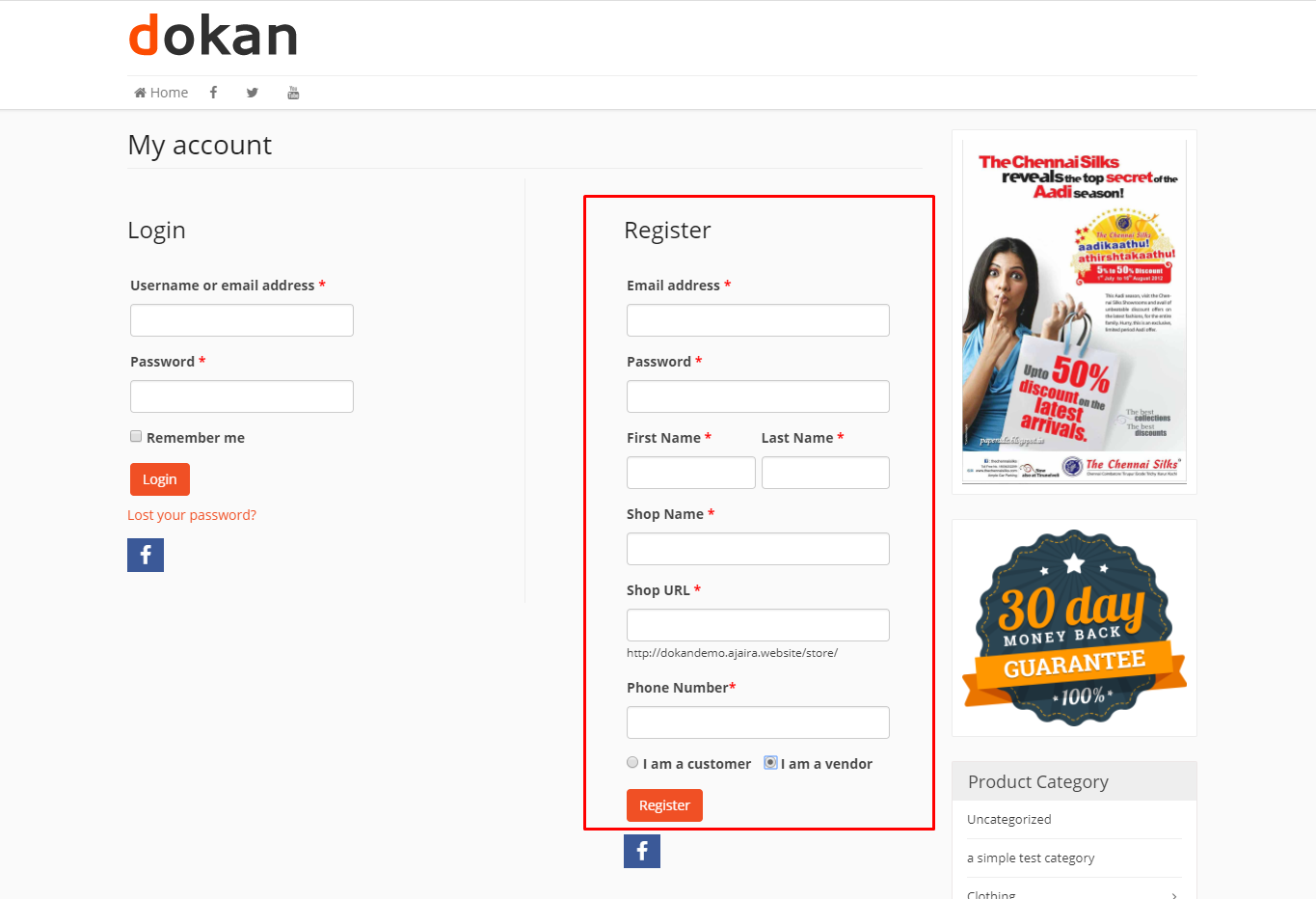 Or you can create customized registration forms with the necessary fields, especially for your marketplace.
For vendors to start selling, you need to enable selling status from Dokan-> Vendors.
Also, if you want the vendors to upload their products, then you need to change the product status from Dokan->Settings-> Selling options. You need to enable the New Vendors Product Upload

Vendors can upload their products from frontend as we've shown above for the admin shop.
You Are Ready to Sell!
Your marketplace is ready. Here is a preview of your new handmade marketplace may look like-
Don't forget to add and install some other plugins like security and caching plugins to run your marketplace smoothly.
Bonus: Get Dokan Pro Version to Add Advanced Features Like Etsy
As you are creating a handmade product marketplace like Etsy, you need to add features like them too!
With the free version of Dokan, you will get all the basic functionalities. But you need to purchase the pro version in order to add all the advanced features like Etsy. Features including-
1. Facility of Live Search
If you visit the Etsy homepage, you will see a search bar at the top. This helps people search for products they are looking for without going through all the products. This saves time and also increases the conversion rate.
With the Dokan Pro version, you can easily add a live search bar to your online handmade marketplace. All you need to do is activate the Ajax Live Search module, configure the settings and you are good to go!
You can refer to this guide to configure how to use the Ajax Live Search module of Dokan.
2. Multiple Payment Gateways
As Etsy is an international marketplace, you will see various types of payment methods on the checkout page. This makes sure that people from all over the world can easily purchase products and gives them a sense of security while purchasing.
We already told you about the available payment gateways in the Dokan free version. However, in order to get international clients on board, you need to add more trusted payment gateways.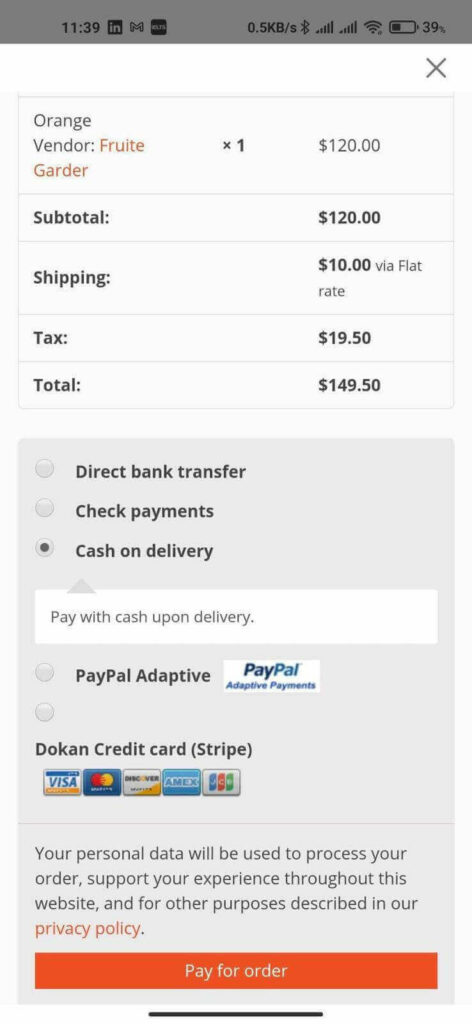 With the Dokan pro version, you can add payment gateways like PayPal, Stripe, Google Pay, Apple Pay, Mangopay, Razorpay, and Wirecard. These payment gateways will make the transactions easy and add more trust amongst your customers.
3. Advanced Shipping
If you are getting international customers then you need to have the shipping feature for your marketplace as well. Now, shipping features can be quite complex to configure as it depends on many factors.
You need to consider the distance, weight, quantity, and timing while setting shipping rules. It all sounds quite complicated. But you don't need to worry. Dokan Pro offers Table Rate Shipping and Distance Rate Shipping modules that will help you set the perfect shipping rules.
4. Options for Vendor Review
Before buying anything, customers like to read the reviews of the store or the vendors. That is the typical behavior of the customers. So in order to gain the trust of the customers, the vendor review feature is necessary for a marketplace.
Using the Dokan Vendor Review module, you can easily add a review feature to your marketplace. The module is very easy to configure. Just follow the guide on configuring the vendor review module.
You can follow this guide to learn how to use the Dokan vendor review module.
5. Live Chat for Smooth Communication
Not only Etsy but every small to large business owner is implementing live chat on their website. This should tell you the importance of implementing live chat on a marketplace or any other business website.
Live chat usage distribution in the top 1 million sites on the internet shows that there are over 179,934 installations of chat widgets on popular websites. This means that about 18% of the most popular websites use live chat.

Tidio
Dokan Pro offers a live chat feature. You can use Tawk.to, TalkJS, WhatsApp, and Facebook to add a live chat feature on your marketplace.
Follow this guide to figure out how to implement a live chat feature on your Dokan marketplace.
6. Extended Subscription Feature
This feature is more for the market admin than the vendors. Etsy uses a subscription revenue model to earn extra money. They have two types of subscriptions:
Etsy Standard, which is available to all sellers, and Etsy Plus, which costs $10/month. The Plus subscription offers more benefits to the sellers. This way Etsy earns extra money from the marketplace.
You can also do that using Dokan. Using the Dokan Vendor Subscription module, you can sell subscriptions to your seller. For example, you can create a Premium Subscription which enables a vendor to list 50 products on their store. You can charge $8/month for this subscription.
You can read the guide on Dokan Vendor Product Subscription to know how this module works.
7. Product Advertising
This is another revenue model you as a marketplace admin can use to earn extra money from the marketplace. By selling the top and featured product places, you can promote the seller's best products.
The Dokan Product Advertising module does exactly that. It will help you sell the top spots to vendors for a fixed fee and also get the product featured as well.

Follow this guide to learn how the Dokan Product Advertising module works and how to configure it.
8. Product Variations
As a handmade marketplace, you need to offer variations for your products. People have different tastes, and based on that you need to offer different sizes, colors, materials, etc. of your products.
You can achieve that using the product variation feature. You need to activate the Dokan Pro version so that your vendors can use that feature directly from the vendor dashboard.
These are the advanced options you need to add in order to match the feature list of Etsy.
How Much Does it Cost to Create a Marketplace Like Etsy?
So, how much do you need to spend in order to create a marketplace like Etsy using Dokan?
We have made an estimated budget including the marketing costs-
| Expense | Cost |
| --- | --- |
| Domain name | $10-15/year |
| Web hosting | $5-10/month |
| Dokan Pro plugin | $149/year |
| Other plugins and add-ons | $50-100 |
| Design and development fees | $500-1,000 |
| Marketing and promotion | $100-200 |
| Total | $1,000-2,000 |
The price can vary depending on how much you spend on domain, hosting, and marketing.

Start Your Dream Handmade Product Marketplace Today!
We are at the end of our tutorial and hopefully, you got the clear picture of how to create a handmade marketplace like Etsy.
After launching your marketplace, you can't keep still. You need to promote your marketplace because you are going head to head with a powerful foe like Etsy. You need to buckle down and come up with innovative marketing ideas to get the users and vendors to notice and join your marketplace.
But, before doing something out of the box, make sure you have all the basic marketing strategies fixed like email marketing, blog/promotional content, videos, social media marketing, etc.
Also, keep an eye on our blog posts to find ideas on how to promote your marketplace. You can subscribe to our newsletter to get those posts right in your inbox.
Subscribe to
Dokan blog
We send weekly newsletters, no spam for sure!