Seller announcement is a really important feature of Dokan Pro when you need to communicate with all your sellers. The seller announcement goes right into the seller's dashboard. We are also working on sending email notifications for announcements.
Create Announcements
You can create new announcements from wp-admin -> Dokan -> Announcements. It's as simple as creating as a post. You just have one extra option to define the visibility.
You can choose all the sellers. Or you can choose "Selected Vendor" and search for your desired sellers to assign the announcement to them.
Or you can choose other options. View the screenshot below,

Seller View in Frontend
After successfully publishing the announcement, your assigned sellers will be able to see the announcement on their dashboard page.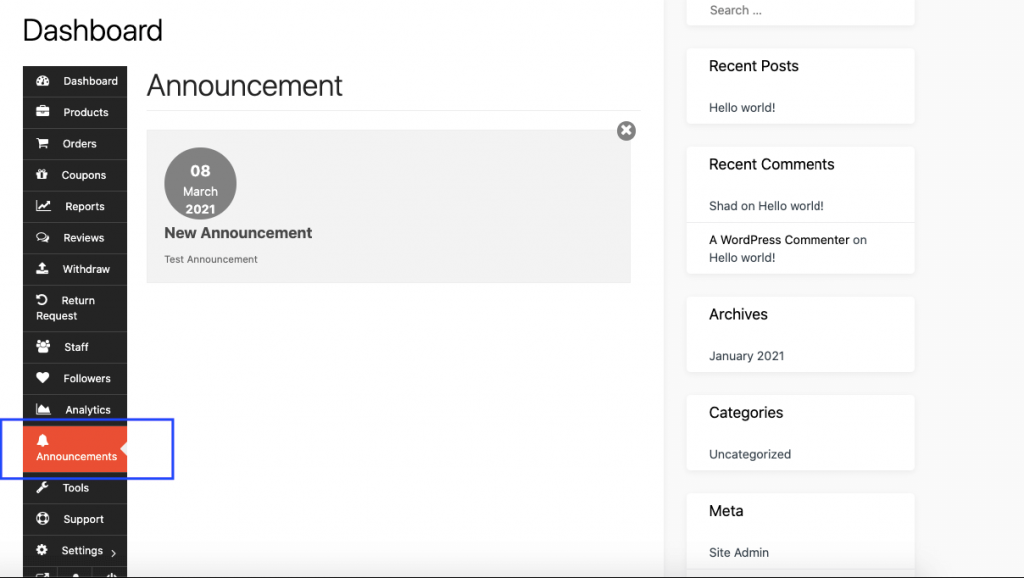 Each of the notification titles is clickable. Clicking on the announcement title will take the seller to the details of the announcement. The seller can also click on the "See All" link to see all the announcement altogether on a page.

Schedule an Announcement
Sometimes you can be super busy as an admin and you might want to schedule an announcement that will be published later and notify the sellers. As the announcement feature of Dokan is a custom post type and you can always schedule a post in the same way as you do with regular posts.
Just click on the top right widget "Publishing" while creating the announcement. You will see an option named Published and should be set to "Immediately". You can change that to any date and any time. Just click on Edit and set the time and date you want to notify your sellers.
But remember, this has to be done before publishing the announcement. It can not be scheduled after publishing.