Dokan PDF Invoice Documentation describes how to install and use the free Dokan PDF Invoice module.
Prerequisites
You will only need WooCommerce PDF Invoices & Packing Slips plugin to begin with. Here is a complete list of things you will need –
1. WordPress (latest)
2. Dokan plugin
3. WooCommerce PDF Invoices & Packing Slips
4. Dokan PDF Invoice
Installation
Navigate to your WP Dashboard→Plugins→Add New→Search.

From here, first search for and install the WooCommerce PDF Invoices & Packing Slips and then search and install the Dokan PDF Invoice plugin. For both modules, click on Install Now, and then click on Activate.
Do not install Dokan PDF Invoice at first. Doing so will cause it to malfunction.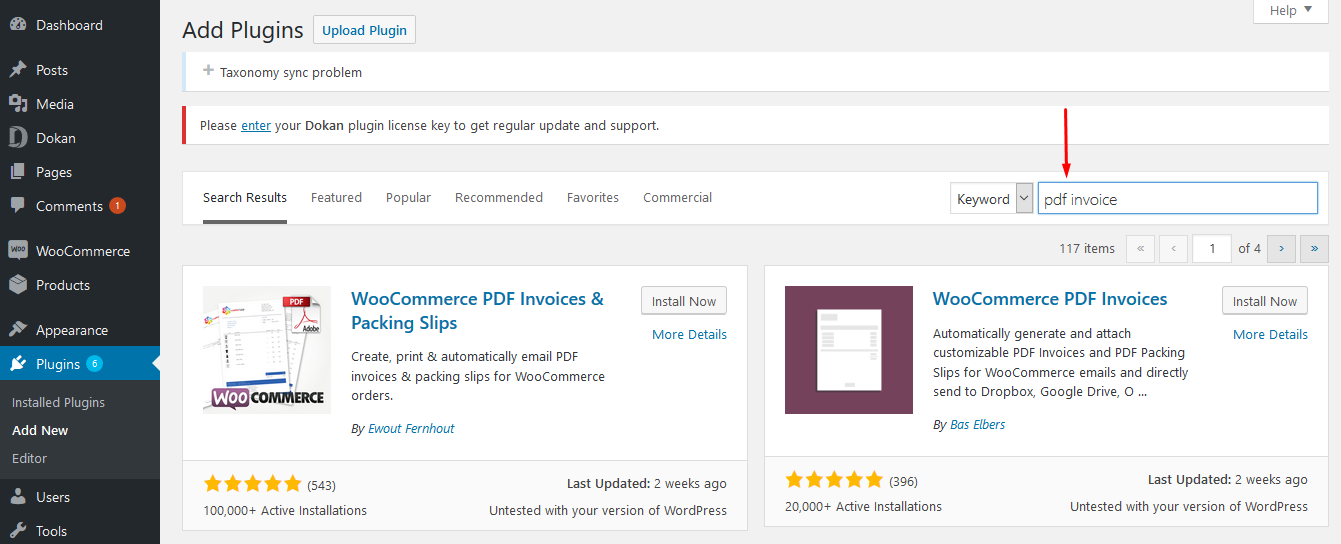 Format
The invoice comes in PDF format (.pdf) and is readable by any pdf viewer. The file downloads to your default or predefined download folder.
Functionality
Dokan PDF Invoice has a threefold usability. Admin, Seller and Customers have their own menu of generating invoices through this add-on.
Note: This is something that gets many people confused. When you are generating a invoice of an order with sub-order, you will only get the name of the Market and names of the Vendors/Seller only. However, if you generate individual invoices for the sub-orders separately, you will get full address and information of the Vendor.
Important to note
You need to head over to wp-admin→woocommerce→pdf invoices→template and add your market logo and information there for a proper output of your invoices.
Usage – Vendor
Vendors can also generate their invoices. Vendor has to go to Seller Dashboard→Orders press the Dokan PDF Invoice button which appears at the right of each order. The admin and seller's invoice are absolutely the same.
Usage – Customer
Customers can also get their invoices for the orders they make. Customer has to go to My Orders and click Download Invoice (PDF).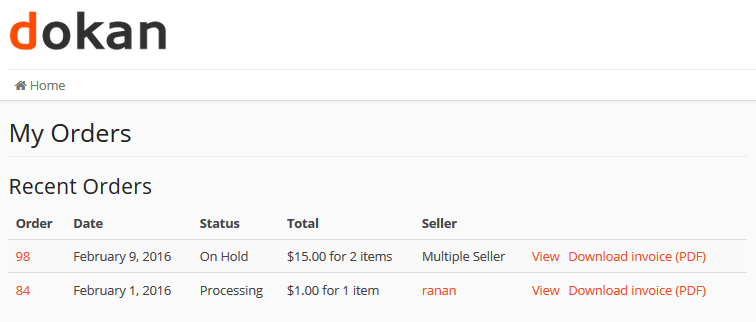 The customer invoice is something like this:
Order types and Invoices
If you are creating a single invoice from an order which has suborders you will get an invoice with the admin/market address with only the sellers shop name. Something like this –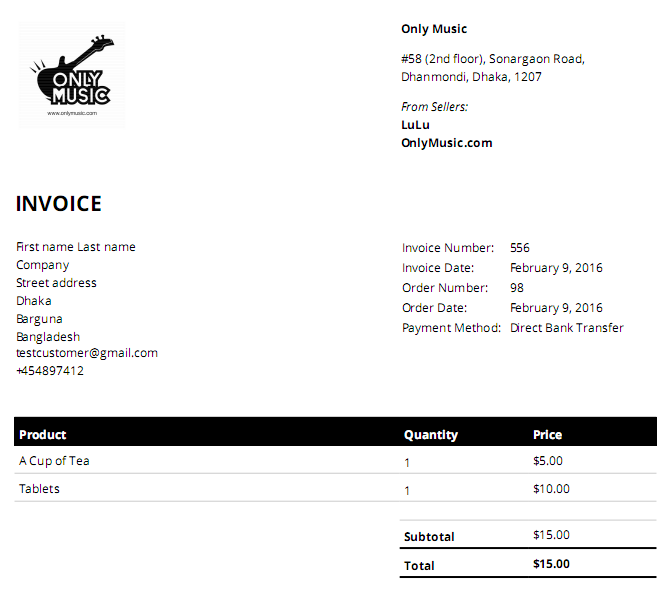 You can generate separate invoices for the sellers of the suborder and it will have the full address and information of the seller/shop.