Dokan has a built-in Escrow feature. That means you can hold the payments from being released right away to the vendors. This feature is available with all the payment gateways of WooCommerce except PayPal Adaptive and Stripe Connect.
Because the automated payment system does not allow holding payments. They deliver the money in real-time.
So let's see how to apply Escrow Feature in Dokan to set the minimum withdraw amount for the vendors:-
Where You'll Get it?
To find the escrow feature in Dokan navigate to WP-Admin → Dokan → Settings → Withdraw. Then you will find similar options like this:-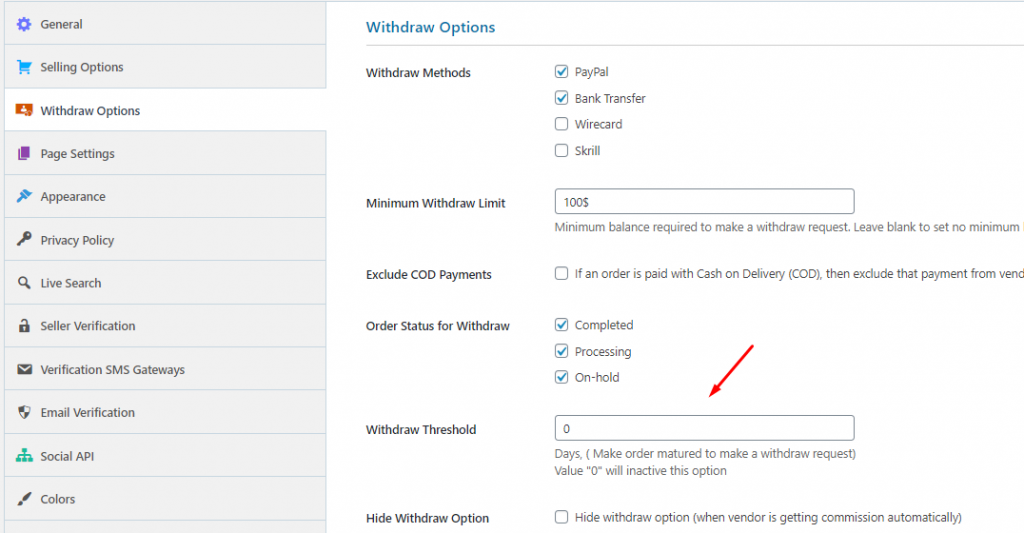 1. Withdraw Methods: These options will appear on the vendors' settings page and he can select one of the methods enabled here to send a withdrawal request to the admin.
2. Minimum Withdraw Limit: This is the minimum amount the vendor can send the withdrawal request for. That means if the vendor has less than $50 in his account, he can not send a withdrawal request.
3. Order Status for Withdraw: This option will define when to add the balance to vendors' accounts and will be available to withdraw.
4. Withdraw Threshold: This is the main option for the escrow feature. By default, it is set to 0. That means the sales amount is instantly added to the vendors account and available to withdraw. If you want to keep the money for a certain period, then you can put numbers here. It can only be calculated as days.