Dokan is fully compatible with WPML. Follow this tutorial to learn how to run a multilingual and multi-vendor marketplace using WPML and Dokan.
Getting Started
You will need to install, activate, and configure the following:
WPML core plugin, WPML String Translation, and Media add-ons
Dokan Lite or Dokan Pro plugin
WooCommerce Multilingual – Comes with your WPML CMS account
Installing and Configuring WPML
When you first activate WPML, you need to finish a setup wizard. Follow it to register WPML and choose your site's languages, URL format, and translation mode.
If you're new to WPML, check out their Getting Started Guide to learn more about the process.
One of the translation options is Translate Everything, which automatically translates your site's content as you add or edit it.
If you are working with multiple vendors, you may not want to translate all products and pages. In this case, we suggest choosing to Translate Some, which allows you to control how your content is translated, and who will translate it.

Choosing how to translate your website in WPML Setup
Installing and Configuring Your Remaining Plugins
Once you have installed Dokan and WPML, you can install the remaining plugins. In the example below, we'll walk you through the installation of the Dokan WPML plugin. You'll need to follow the same process for WooCommerce and WooCommerce Multilingual.
From your WP Dashboard, navigate to Plugins → Add New and search for the plugin you would like to install. We are searching for the Dokan WPML plugin.
Click on the Install Now button.

Installing the Dokan WPML plugin
After you finish installing the required plugins, make sure to also activate them.
Translating WooCommerce Products
Start by reading through WPML's page on WooCommerce Multilingual if this is your first experience with the plugin.
To translate your WooCommerce products:
Go to WooCommerce → WooCommerce Multilingual. In the Products tab, click on the plus icon that corresponds to the language you want to translate your product into.

Translating WooCommerce products
You will be taken to WPML's Advanced Translation Editor. Click on the plus icon next to each string to enter your translations. Alternatively, if you have translation credits, you can choose to translate your content automatically.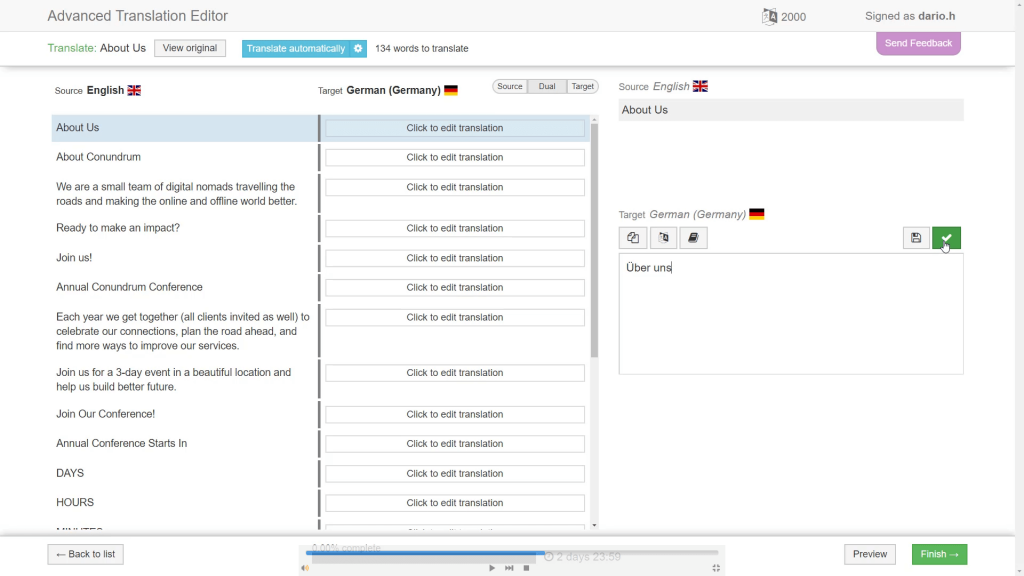 Once you have entered all your translations, click Complete.

Translating a product in WPML's Advanced Translation Editor
That's it! The product will now appear translated on the front-end of your store.

Translated product on the front-end
Translating Product Categories, Tags, and Attributes
You may have already noticed that any taxonomy terms assigned to your product are available for translation in the Advanced Translation Editor.
Alternatively, you can head to WooCommerce → WooCommerce Multilingual and translate all of your categories, tags and attributes from their respective tabs.
In the example below, we are translating our category terms, labels, and slugs.

Translating Categories in WooCommerce Multilingual
Click on the plus icon to add translations, and the pencil icon to edit existing translations.
Translating Pages
From the left sidebar, go to Pages and click on the plus icon next to the language you would like to translate your page into. This will take you to the Advanced Translation Editor, where you can insert your translations.

Clicking the plus icon to translate pages
Notice that some of your pages, such as the Cart and Checkout pages, already have translations. This is because out-of-the-box, WooCommerce comes with translations for the default store pages.
You can also go to WPML → Translation Management and translate your posts and pages in batches.
Translating Other Texts from Plugins and Themes
Besides the content that comes from posts and pages on your site, there are some additional texts you may need to translate. These texts usually come from themes and plugins.
To learn how to translate these texts, read WPML's documentation page on String Translation.
Text Domain Setup
You have to rename the .mo file according to this format for translating: pluginname-languagecode_countrycode.mo
for this extension, just rename the .mo and .po file to the following –
dokan-wpml-languagecode_countrycode.po/mo
For example, in case of French Language, the code will be- dokan-wpml-fr_FR.mo