Dokan Multivendor Marketplace helps you to create your own 'Amazon & eBay' like websites in minutes. That means you can invite users to become your vendors, promote your marketplace, and sell products using your marketplace.
And you can set the minimum discount on each vendor. As a result, whenever your vendors make a sale, discounts or commissions will automatically be added to your account.
So you can swiftly handle all these things using Dokan – Multivendor Marketplace. And your users can easily create products from their dashboards, manage orders, and most importantly create their own stores.
Let's see how you can manage & list your Vendors using Dokan:-
Vendor Listing & Management
Navigate to WordPress Admin Dashboard → Dokan → Vendors
Here, you will be able to find all your vendors in a single place. Besides that, you will get all data related to your vendors.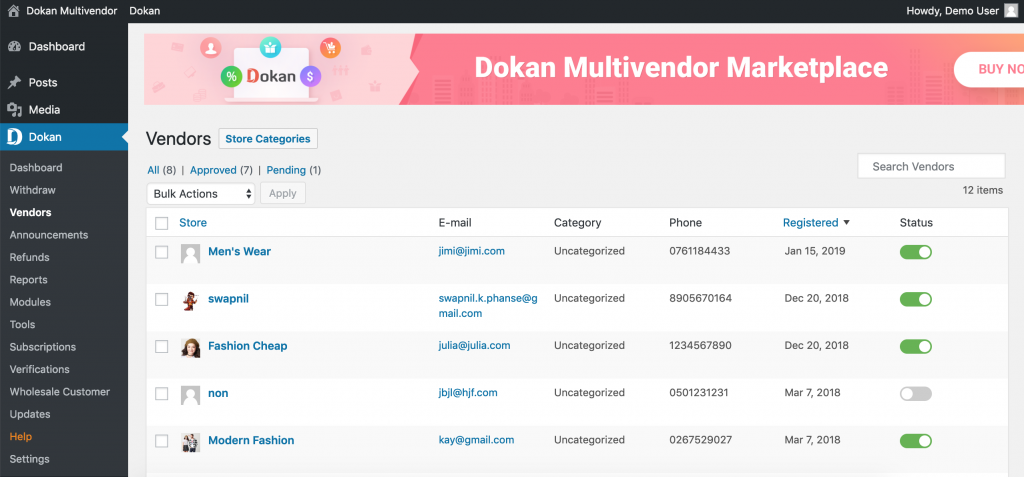 Also, you can find their details like store name, email, store category, and phone number. However, you can also enable & disable your vendors with a single toggle button.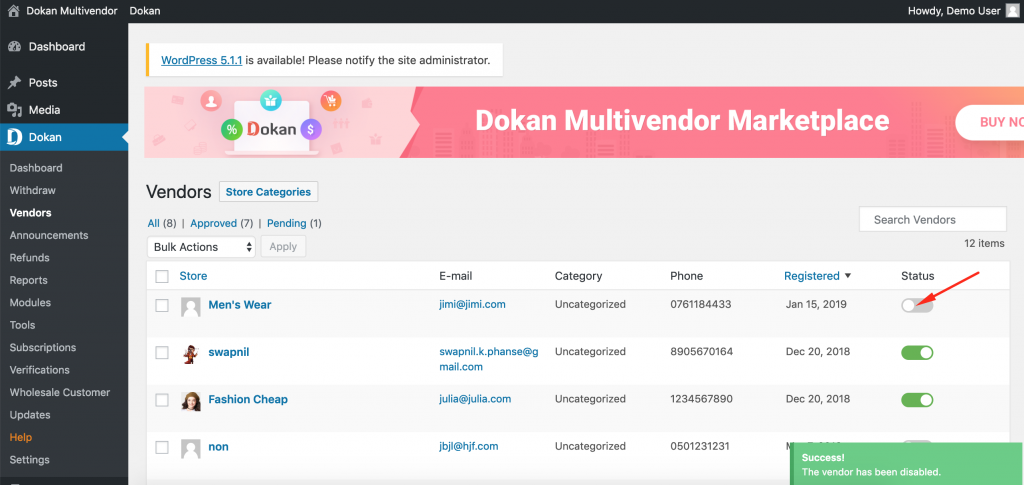 Editing Vendors
To edit your vendor's profile, simply just click on the vendor that you want to edit. The vendor store overview page will open.

Here, you will find more detailed information about your vendors. You can view their ratings and contact information. Also, you can send emails to them directly from this page. There is a link to visit vendor store and also edit if required.

The vendor summary section shows the total number of products, items sold, and visits. It also shows revenue and other information including commission rate, current balance, and reviews.
Finally, you can view their social profiles, payment methods, and conditions that you have set while accepting the vendor. At the top of the page, there is a back button that lets you go back to the vendor listing page.